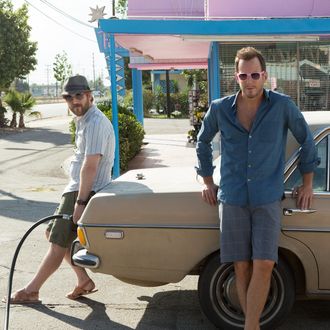 Breaking: Arnett leans on things in Flaked.
Photo: Benjamin Cohen/Netflix
Not satisfied with the already enormous amount of time you spend consuming scripting streaming television, Netflix announced the premiere dates for 10 of its original series throughout 2016 today. "Peak TV" is truly here.
First up is Flaked, a comedy-drama starring Will Arnett as Chip, "a celebrated long-time resident of the insular world of Venice, California, who falls for the object of his best friend's fascination." The series is co-created and co-written by Arnett and Mark Chappell (The Increasingly Poor Decisions of Todd Margaret), while Peter Principato (Wet Hot American Summer) and Mitch Hurwitz (Arrested Development) are executive producers. Flaked premieres March 11. If it exists solely to put Will Arnett in pink sunglasses, that will be enough.
On April 1, we get The Ranch, a multi-camera comedy with Ashton Kutcher, Danny Masterson, Sam Elliott, and Debra Winger, about a failed semi-pro footballer (Kutcher) who comes home to his family's ranch. It's produced by Don Reo and Jim Patterson (Two and a Half Men). Your parents will love it. That same day, Netflix also releases Lost & Found Music Studios, an "action series" about teen musicians targeted at tweens. Your tweens will love that.
Unbreakable Kimmy Schmidt returns April 15. We're getting a Christmas episode! Also on April 15, Netflix plans to release animated kids' series Kong: King of the Apes. (Is this a sign that Kimmy will be even less kid-friendly this year?)
Netflix will put the very French Marseille online on May 5. An elaborate drama about the construction of a casino in the port city, Marseille follows Mayor Robert Taro (Gérard Depardieu) as he faces off against his successor, Lucas Barrès (Benoît Magimel). Check out the first teaser trailer for all your "tricolor flag twisting in the wind" needs.
Later this year: Grace and Frankie returns May 6, kids' show Word Party premieres June 3, and (announced separately in its teaser) Orange Is the New Black returns June 17. On July 15, we get Stranger Things, a supernatural thriller "involving top-secret experiments, terrifying supernatural forces, and one very strange little girl" from Matt and Ross Duffer (Wayward Pines). Stranger Things is described as "a love letter to the '80s" and, maybe because of that, its cast is led by Winona Ryder. Finally, Baz Luhrman's The Get Down will air its first episode on August 12.