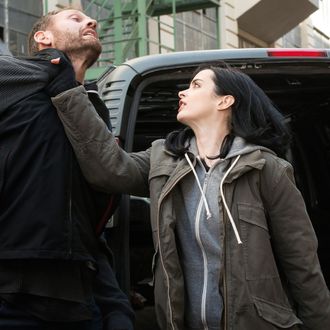 Take that, doubters!
Photo: Myles Aronowitz/Netflix
Alias Investigations is coming back! Netflix announced today that Marvel's Jessica Jones, the site's most recent superhero show starring Krysten Ritter, will return for a second season. Though season renewals are all but ensured for nearly every Netflix original series, Jessica Jones had previously seemed like an exception. Netflix has an elaborate slate of interlocking Marvel series in the works — Daredevil (which returns March 18), Luke Cage (a character who first appeared on Jessica Jones), The Iron Fist, crossover series The Defenders, and possibly The Punisher — and many speculated that Ritter's character might simply appear in other shows instead of continuing on in her own. Luckily, Jessica Jones does what she wants, and Jessica Jones runs her own show. Netflix hasn't announced any details on the timing of the next season's release yet — it'll probably happen once Jones recovers from a drunken stupor.