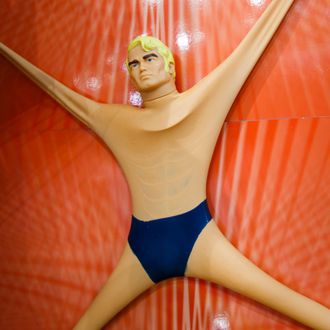 Stretch, doing some stretchin'.
Photo: Tristan Fewings/Getty Images
Hey, remember Stretch Armstrong? Y'know, the toy that was a dude and you could pull his arms and legs out really far? Maybe you'd try to see if you could dismember him? And that was about all you could do with it? Well, according to Deadline, the good people at Netflix also vaguely remembered this fourth-tier childhood plaything and decided it would be a great idea to green-light an original series for kids that's based on Ol' Stretchy. (In the early 2010s, Taylor Lautner was attached to a Stretch movie, but for a variety of reasons, that project never ended up happening.) The Netflix series follow the adventures of an "overscheduled teenager named Jake Armstrong and his two best friends," who find themselves exposed to a chemical that turns them into "Stretch Armstrong and the Flex Fighters, a team of unlikely stretchable superheroes who expand beyond the confines of their lives and embark on a series of adventures." Between this and the Trolls movie, it's only a matter of time before we get a gritty origin story for Bop It.