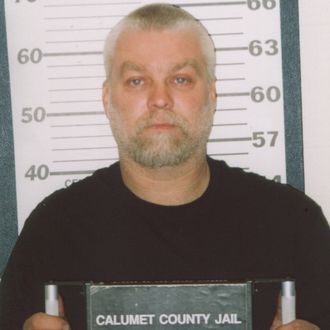 Steve Avery.
Photo: Netflix
The sensational success of Making a Murderer is not lost on the show's home or creators. The latter revealed at a Sunday TCA panel that although they might tackle another story for their next project, they've still started stockpiling extra Steven Avery material for possible new Murderer episodes. "We've had several telephone conversations with Steven Avery and did record those calls with an eye toward using them in future episodes," Laura Ricciardi said, noting that the duo had not returned to Wisconsin lately. Avery, who asked the prison warden to see Making a Murderer but had his request denied, told the filmmakers he's been getting letters of support.
Ricciardi and co-creator Moira Demos are reportedly keeping tabs on "significant developments" within the Avery case, because they consider the project "ongoing." When questioned about the domestic-abuse charges against Avery, Ricciardi said they weren't making advocacy journalism. "We wanted to find out how someone wrongly imprisoned for 18 years could find himself back in prison two years later," she said. "The media are now demonizing this man to prove his guilt. It's like history is repeating itself."
At an exec session earlier that same day, Netflix's chief content officer Ted Sarandos also noted that he and his people are thinking about ways to continue telling the story ("Well, the story is still unfolding, so we'll certainly take a look at it," he said). So, good news: Netflix's version of Serial sounds like it's here to stay. Bad news: Details of a return are murky (and likely will be for a bit), so you might need to develop a similarly generous sense of patience.