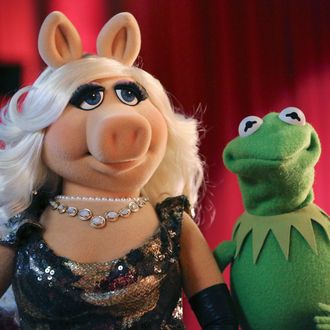 The curious case of The Muppets has been puzzling critics and viewers alike — who the hell is Denise, and where the hell is Camilla? — since the mockumentary-style comedy premiered on ABC in the fall to a lukewarm response. The show, which chronicles the adorable anthropomorphic characters in Los Angeles as they work on the late-night talk show Up Late With Miss Piggy, was noticeably more adult in narrative and oddly morose in its overall tone. But instead of muttering a signature Beaker meep meep and continuing on with production, showrunner Bob Kushell was let go, soon replaced by Galavant showrunner Kristin Newman to give it a Dr. Bunsen Honeydew–calculated change. And what are those changes, you may ask? In a recent interview with The Hollywood Reporter, Newman discussed at length about how her main goal will be to make the show less mean-spirited and instead fill it with more "joy and friendship." As she explains, that means bringing in a new baddie, played by Utkarsh Ambudkar (a.k.a. Mindy's younger brother on The Mindy Project):
I'm bringing in a human bad guy who will, I hope, be used to unite the Muppets fighting against him — instead of fighting against Piggy and fighting against each other. The human threat is obviously from the network because they work on a TV show. He is a branding guru named Pache … and he has rebranded warlords and network presidents and he has a lot of slick ideas and it's all about new, new, new and slick, slick, slick, which is not The Muppets. The Muppets are all about joy and zaniness and heart and the way that they have to fight this bad guy is by binding together.
Up Late With Miss Piggy will itself be changing to a "Jimmy Fallon–style" format (we're sure Fozzie Bear will be thrilled) by incorporating recurring sketches and bits that will echo the original Muppet Show. "We're taking some of the inspiration from a lot of the old stuff and trying to think about how would Fallon do it? How would Kimmel do it?" Newman explains. "And getting to see the Muppets being zany and not just being guys who are having a hard time at work but also getting to perform and do silly things." Additionally, Newman confirmed that old characters, such as Gonzo's girlfriend Camilla and Lew Zealand, will be coming back.
As for Kermit and Miss Piggy, their relationship status is still up in the air. "The heart of the whole franchise has always been Piggy and Kermit and I think breaking them up was really smart," Newman says. "I believe Piggy and Kermit, deep down, are drawn to each other — and always will be, even if they have a hard time working it out … she's going to be finding her voice again — and Kermit is going to notice."

Meep meep?