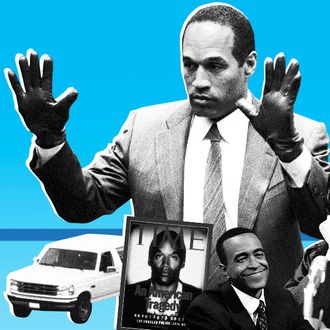 Photo-Illustration: Vulture
It's been said many times that the O.J. Simpson murder case seemed made for TV from the very beginning, but that doesn't quite tell the whole story. The trial was a pervasive pop-culture phenomenon, made for TV, music, comedy, radio, books, and magazines. At its most obvious, it transformed the television business, while also inspiring forgotten ephemera, like these Pogs. With The People v. O.J. Simpson: American Crime Story coming to FX on February 2, we went back to a time before O.J. references were as tired as Kato Kaelin after a guest-house rager, and came away with this timeline cataloguing how pop culture responded to the trial as it was happening.
June 1994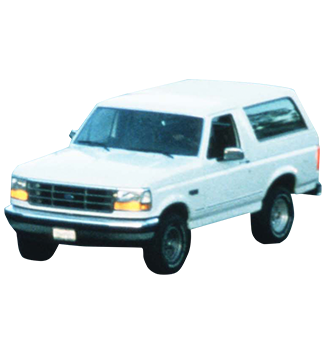 June 17
After failing to turn himself in and threatening suicide, O.J. leads police on a low-speed chase throughout L.A. that provided the template for how the media would cover the case for the next year and half. Everything would be everywhere. The chase was televised on all the major networks, with NBC reducing game five of the NBA Finals to a small box in the bottom of the screen. Ninety-five million people are said to have watched the chase — 5 million more than watched the Super Bowl earlier that year.
Howard Stern goes on The Late Show With David Letterman wearing a shirt with O.J.'s face on it and calls the host out for not telling jokes about O.J. Letterman's response: "I guess I just don't find double homicide as amusing as I used to."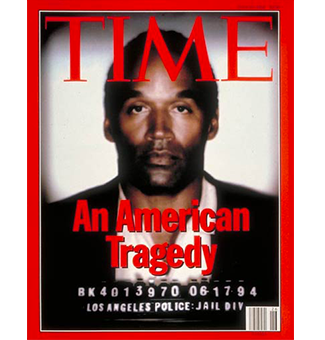 27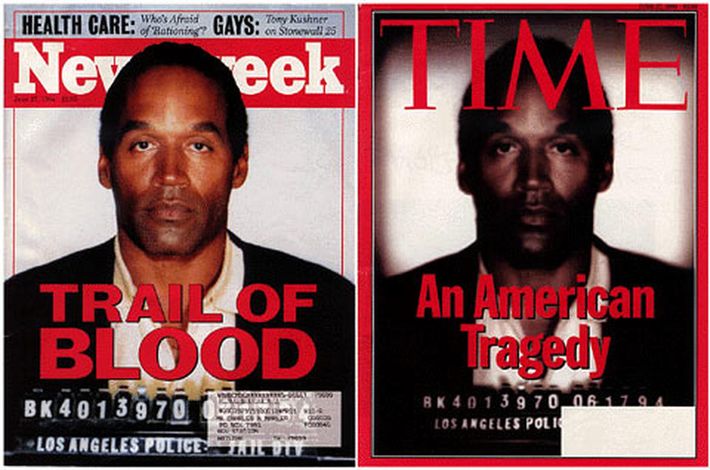 Time magazine puts O.J.'s mug shot on its cover and creates a huge controversy by darkening his face. The alterations are made particularly obvious by Newsweek, which uses the same picture without darkening it.
July 1994
25
The New Yorker publishes the first of many Jeffrey Toobin pieces on the case. Toobin would go on to write a nonfiction book entitled The Run of His Life: The People v. O.J. Simpson in 1996, which FX's anthology series was based on.
August 1994
2
Howard Stern plays "We Can't Free O.J.," a parody of "The Lion Sleeps Tonight" with some disturbingly racist lyrics ("String him up" replaces "Awimbawe").
September 1994
14
CNN Interactive puts out People v. O.J. Simpson: An Interactive Companion to the O.J. Simpson Trial. It's meant to serve as "a primer" for the trial, one of its producers says, and includes "everything you need to know going into it."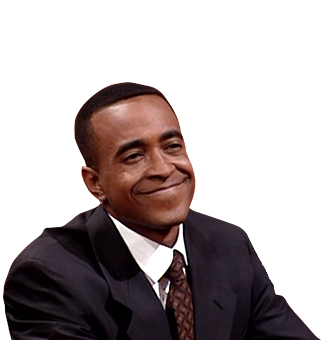 24
SNL airs the first of many sketches about the trial in the premiere episode of its 20th season. "O.J. Simpson Trial Begins" tackles jury selection, pizza delivery, and the collection of misfits who would take the witness stand.
CBS airs a Murphy Brown episode called "Where Have You Gone, Joe DiMaggio?" that centers on an astronaut who kills his brother and leads police on an Simpson-like chase.
CBS also airs a Love & War episode called "A Nation Turns Its Lonely Eyes to You," which has the show's characters distracted by media coverage of the crime from the preceding Murphy Brown episode.
NBC airs "The Big Salad," a Seinfeld episode that ends with Kramer leading police on a low-speed chase down the New Jersey Turnpike. He's driving a white Bronco, and his passenger is an ex–Major League pitcher suspected of killing his dry cleaner. Footage from O.J.'s actual chase is used.
October 1994
1
SNL has host Marisa Tomei reprise her Oscar-winning role from My Cousin Vinny. Just as she did in the movie,  Mona Lisa Vito uses her expert knowledge of cars on the stand to help the defense.
Nicole Brown Simpson's friend Faye Resnick capitalizes on Simpson's brutal murder by writing Nicole Brown Simpson: The Private Diary of a Life Interrupted. Nicole's father, Lou Brown, describes it as "T-R-A-S-H."
O.J. Simpson masks, wigs, and jerseys become some of the top-selling Halloween costumes. The L.A. Times declares it "a macabre Halloween sensation."
Playboy releases a VHS workout tape entitled O.J. Simpson: Minimum Maintenance Fitness for Men. Filmed less than a month before he was arrested, the tape shows lazy men how to stay fit.
After taking a week off, SNL returns with its third trial sketch in four weeks. This one has host Dana Carvey dusting off his Johnny Carson impression and joining Simpson's defense team.
November 1994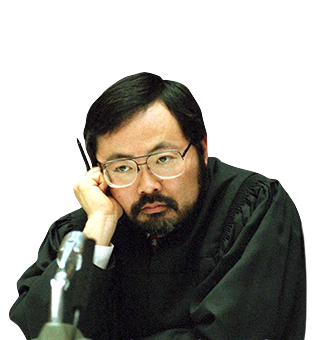 7
Judge Ito decides to allow TV cameras in the courtroom, a ruling that helps alter the TV-news landscape forever and leads to a boom in viewership for Court TV and syndicated programs like Inside Edition and Hard Copy.
Fox airs "Homer Badman," an episode of The Simpsons that parodies, among other things, the media circus surrounding the O.J. case.
December 1994
1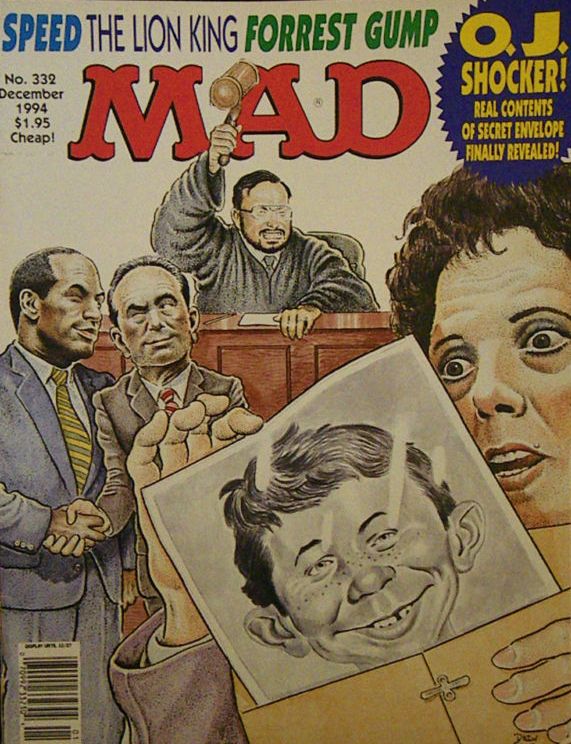 The trial lands on the cover of Mad magazine, along with the shocking suggestion that Alfred E. Neumann, Mad's fictional cover boy, is a suspect in the grisly double murder.
Yo! MTV Raps premieres the video for Dr. Dre and Ice Cube's "Natural Born Killerz." The lyrics reference O.J., and the video shows Nicole Brown Simpson and Ron Goldman getting shot by the two rappers, just before O.J. drives up and discovers their bodies.
After a full month without any O.J. content, SNL goes back to the well, albeit only for a tiny sip. On "Weekend Update," Adam Sandler performs "Hanukkah Song" for the first time, which includes the line, "O.J. Simpson: Not a Jew."
January 1995
1
O.J. teams up with Lawrence Schiller to write a book from jail. I Want to Tell You: My Response to Your Letters, Your Messages, Your Questions is published by Little, Brown, which planned an initial printing of half a million copies.
The Charles Grodin Show premieres on CNBC. The star of Beethoven would become obsessed with the case, turning what was supposed to be a "light, fun thing at 10 o'clock after Geraldo" into a far more serious show.
With opening statements days away, SNL's cold open puts Mike Myers's Judge Ito front and center in a sketch that has him deciding which evidence will and will not be allowed at the trial.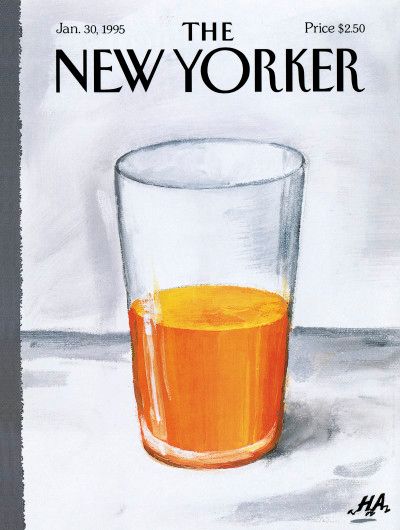 Simpson lands on the cover of The New Yorker in the form of a glass of orange juice.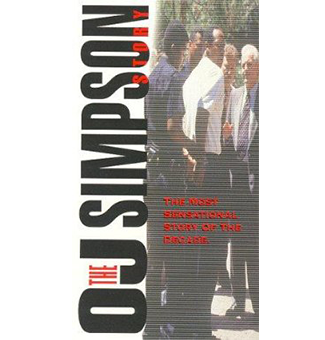 31
Fox's made-for-TV movie The O.J. Simpson Story airs four months after the network initially scheduled it. Amid heavy criticism about tainting the jury pool, the network delayed the movie, which stars Bobby Hosea in the title role. The management team that decided to make the movie was fired from Fox in the intervening months, and the new heads of Fox promised a less lurid network, but the movie was broadcast anyway.
February 1995
18
SNL leaves the courtroom for "O.J. Jury Field Trip," which ends with a party in O.J.'s bedroom.
March 1995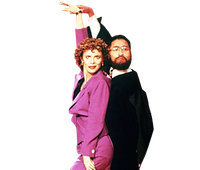 2
The Dancing Itos appear on The Tonight Show for the first of many times. The five-man dance troupe becomes Jay Leno's most successful riff on the case, which, according to the L.A. Times, provides " half the fodder for his jokes."
David Spade's Kato Kaelin busts out a few impressions on this "Weekend Update" segment that Norm Macdonald doesn't seem all too pleased with.
April 1995
8
With Damon Wayans hosting, SNL has him play Anton Jackson, his drunken-vagrant character from In Living Color. Jackson testifies that he saw Simpson at the L.A. airport and then attempts to juggle jars of pee.
May 1995
10
O.J.'s Legal Pad: What Is Really Going On in O.J. Simpson's Mind? is published. The 64-page satirical book written from O.J.'s perspective — a sample gag: "Who Really Did It: drug dealers; mafia hit men; Somali warlords; Shamu, the killer whale (ha, ha); Manson family; Brady Bunch; space aliens (abduction gone bad, they panic); one-armed man." It would go on to sell at least 300,000 copies.
In Roseanne's "The Birds and the Frozen Bees," Roseanne and Jackie are captivated by the trial and crack a few jokes at the expense of F. Lee Bailey, a member of O.J.'s defense team. Then Marcia Clark, played by Laurie Metcalf, crawls out of the TV so Roseanne can pat her on the back and offer her some cheese.
July 1995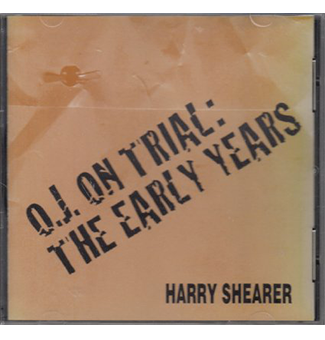 5
Comedy bits from Harry Shearer's NPR-broadcasted Le Show are collected on the CD O.J. on Trial: the Early Years. Among the standout bits are "F. Lee Bailey Buys Orange Juice" and "John Tesh and Kaito's Peter and the Wolf."
In the season-four premiere of The Larry Sanders Show, "Roseanne's Return," the O.J. trial captivates Larry as Hank Kingsley (Jeffrey Tambor) complains that people like him, who live on the same street as O.J. and have watched their property values decline, are the real victims.
August 1995
Steve Harvey's HBO special That's Deep features a fair bit of unflattering O.J. material. As Harvey succinctly puts it, "Fuck O.J."
September 1995
28
Dismissed in March for having notes about the trial on his laptop, former juror Tracy Kennedy turns those notes into the book Mistrial of the Century: A Private Diary of the Jury Systems on Trial.
October 1995
Find O.J.: The Juice Is Loose is published by Fantasma Books. People describes the illustrated book as a "lame rip-off of 'Where's Waldo?' with zero wit and cruddy drawings."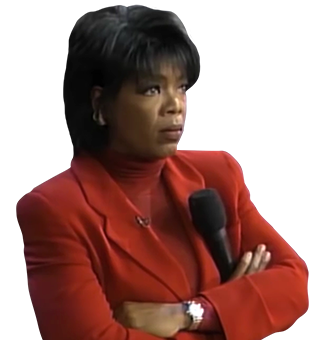 3
On the day of the verdict's announcement, Oprah broadcasts her audience's reaction as Judge Lance Ito reads it live on television.
CNN launches Burden of Proof, a legal analysis show hosted by Greta Van Susteren and Roger Cossack, both of whom rose to prominence while covering the trial for the network.
O.J. calls into Larry King Live the day after the verdict and thanks King, who covered the trial religiously, for his fair coverage. O.J. also criticizes the voyeurs obsessed with those who cover religiously.
A few days after the verdict, David Letterman outlines "A Day in the Life of O.J. Simpson."
Seinfeld introduces Jackie Chiles (Phil Morris), a character inspired by Johnnie Cochran, in "The Maestro." As Morris would later recall on the DVD commentary, he and Cochran visited the same barber for years, so he was even more familiar with the lawyer's mannerisms than those who watched Larry King every night.
"Weekend Update" host Norm Macdonald announces that "murder is legal in the state of California." When Macdonald was fired from SNL in 1998, he would blame O.J. friend and NBA executive Don Ohlmeyer for pushing him out because of his "vicious barbs" at O.J.'s expense.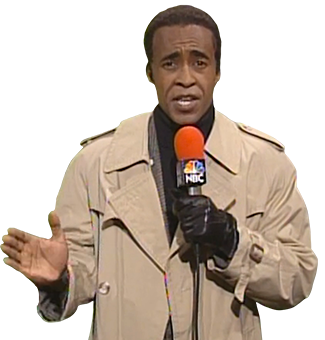 10
SNL saves its best O.J. sketch for last. In its first episode since the not-guilty verdict, O.J. is out of the courtroom and back of the football field, where he makes an accidental admission via telestrator.
In 1996, The Dana Carvey Show would mine the Simpson trial on several occasions. Carvey previews some of that in his special Critic's Choice.
Kato Kaelin appears on the MADtv series premiere.
Kato is back on the second ep of MADtv. He plays the character he plays best: himself.
November 1995
1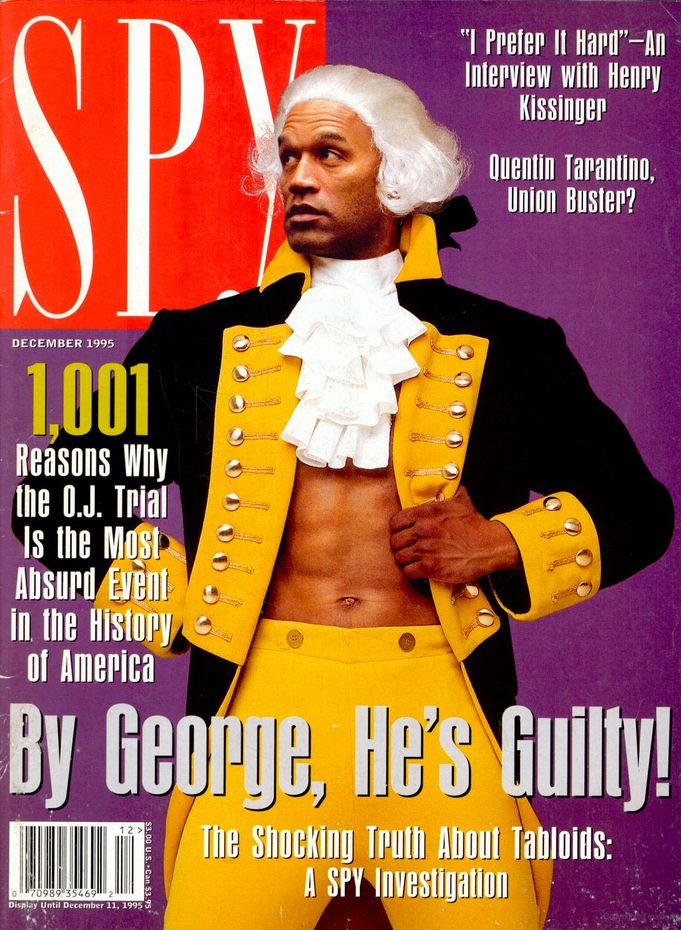 Spy puts O.J. on its cover in a parody of the Cindy Crawford George cover. Inside is a list 1,001 reasons "the O.J. Trials Is the Most Absurd Event in the History of America."
Once again, Kato plays himself. This time he's partying at the home of America's most-dedicated Method actor on an episode of Mr. Show.