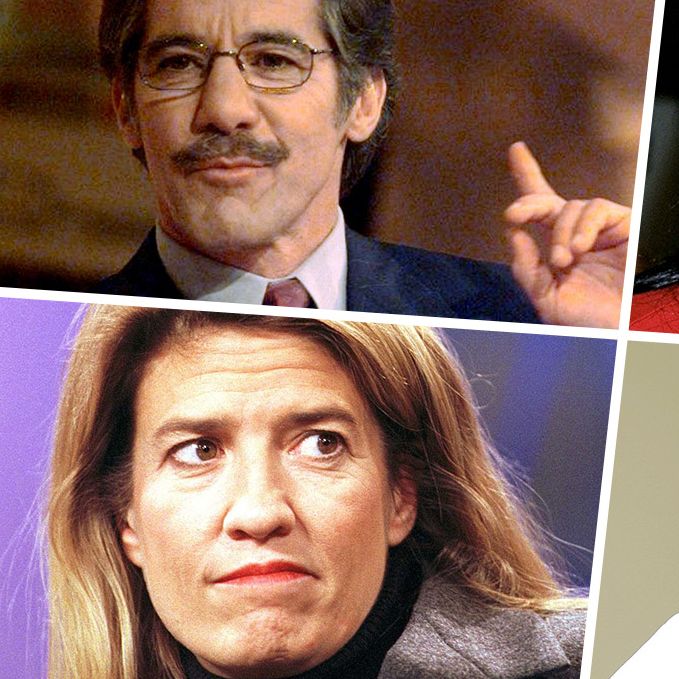 Clockwise from top left: Geraldo Rivera, Star Jones, Harvey Levin, Greta Van Susteren.
Photo: Getty Images
When the O.J. Simpson verdict was handed down in 1995, 90 percent of all televisions that were on were tuned to news about the trial. The only thing that comes that close to gripping national attention via TV was the moon landing. As the greatest legal spectacle of the television age returns to the tube again in FX's The People v. O.J. Simpson: American Crime Story, we're looking back at how the trial, the coverage, and the attendant circus had a lasting and far-reaching impact on television. Here are some of the people, channels, and genres that owe themselves to the trial of the century.
Greta Van Susteren: The former lawyer first came to national attention as a legal analyst for CNN. That attention led her to host two shows on the channel, Burden of Proof and The Point. In 2002, she moved to Fox News and now hosts On the Record With Greta Van Susteren. Her husband served as an adviser for Sarah Palin, if you're looking for a link between O.J. and the GOP scourge.
Harvey Levin: Another former lawyer, Levin was a reporter on the law and crime beat at L.A.'s KNBC for 12 years before being assigned to cover the O.J. case for the affiliate. He used the spotlight to start working on The People's Court and eventually on his own show, Celebrity Justice. In 2005, he started the website TMZ, which quickly became notorious for reporters digging around in celebrities' court documents and publishing public 911 tapes. Nowadays, he's back to talking celebrity scandal on the tube on TMZ Live.
Star Jones: Jones is the third legal analyst to ride the trial to a media future. She started as an analyst for CourtTV in 1991 and then worked at NBC News in the same capacity. In 1994, she was the legal adviser on Inside Edition, where she covered The People v. O.J. Simpson. She was the only journalist to interview Simpson during the trial, which aired on American Journal. In 1997, Barbara Walters hired Jones as one of the inaugural hosts of The View. In 2007, she went back to Court TV, now truTV, for an ill-fated talk show that only lasted six months. The last time she made headlines was when she let Donald Trump humiliate her on Celebrity Apprentice, like so many other lawyers before her.
Geraldo Rivera: Already famous as a sleazy talk-show host who let skinheads get into fisticuffs on camera, Rivera used his new nightly CNBC show Rivera Live to reposition himself as the conservative "voice of reason" about the trial, and covered it night after night. At one point, Judge Ito even called him into chambers for an off-the-record chat during the trial. His presence as a commentator was so memorable that in 1998, he played himself on the final episode of Seinfeld, covering the Jerry Seinfeld trial. As CNBC's resident right-winger for many years, Rivera eventually moved to Fox News in 2001 to become a war reporter in the wake of the 9/11 bombings, and has stayed there, posting naked selfies, ever since.
Court TV: When it started in 1991, Steven Brill's channel sought to make real law just like L.A. Law. It rose to prominence with the William Kennedy Smith rape trial in 1991, and again with the Menendez Brothers trial in 1993, but it wasn't until O.J. Simpson that it became must-see TV (sorry, NBC) for the whole nation. Its ratings soared 1,200 percent from a .1 average to a 1.3 in the first week of the trial. It broadcast every moment and transfixed a nation. However, everything it aired after O.J. thus seemed like a disappointment. In 2007, it rebranded as truTV and tried to focus on real-crime reality TV. That strategy failed, and in 2014, the channel pivoted to general entertainment fare. Its biggest hits now are Impractical Jokers and Billy on the Street.
CNN: The network had been around for about 15 years at this point, and the nonstop barrage of news during the O.J. trial had an immediate effect on the channel. The afternoon ratings at the 24-hour news network went from an average of 460,000 to 3.3 million viewers the first week of the trial, and only went up from there. It was also leeching viewers away from other networks, who had anchors like Tom Brokaw and Peter Jennings in place to cover it only during nightly news broadcasts, making them very nervous, indeed. The trial made CNN the place where Americans turned when there was breaking news. As technology continued to roll on, the 24-hour news cycle it helped usher in would be outdone by the internet and social media. Now CNN averages about 500,000 viewers a day, and just shy of 1 million during prime time.