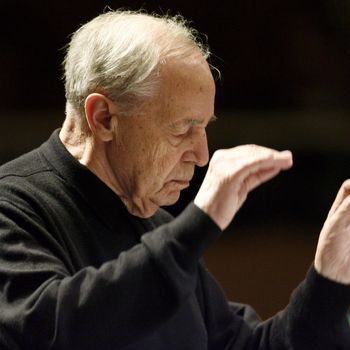 Pierre Boulez, on the podium in 2008.
Photo: Rolf Haid/AFP/Getty Images
BOULEZ IS DEAD.
In 1952, when the French composer, conductor, sage, and musical potentate Pierre Boulez was in his 20s, he concluded a biting essay about his elder, Arnold Schoenberg, with the regicidal flourish: "SCHOENBERG IS DEAD." He meant that the man's genius had gone off course and backed itself into a historical dead end — that the revolutionary needed to be overthrown. Boulez, the perpetual guerrilla leader who died yesterday at 90, outlived his enemies, his acolytes, the stylistic wars he inflamed, and the century whose musical culture he shaped.
For my generation, and for several earlier and a couple of later ones, he was a prophetic figure — revered, resented, admired, and feared. In person, he always seemed mellower, and funnier, than his reputation suggested. Even when he was flicking away neoclassicism, neoromanticism — neo-anything, really — as lazy nostalgia, he did so with a distinctively wry tone. "This younger generation, they think the answer is to go back in history, but they don't understand where it went wrong," he told me. "You can protest against pollution, but the solution does not come from using horses." (He evidently hadn't spent time in Brooklyn.)
As a conductor, he was famous for an implacable ear and a fetish for precision. He could listen through a tornado for a wrong note, and he wielded total command of hair-raisingly complex rhythms. As a philosopher of music, he believed in teleological progress, that some composers mattered and others simply didn't exist. He was an institution-builder, comfortable with power, and though his stint as music director of the New York Philharmonic in the 1970s won the orchestra few fans, he was for many years he was the virtual sovereign of music in France.
But he will be remembered best as a composer. Relentlessly self-correcting, he revised pieces so radically that they swallowed the original, like a chateau that starts with a doghouse. I remember watching him give a talk at the Paris Conservatory about a suite of tiny bursts for solo piano, modestly titled Notations. He pointed to a single low note on the piano and asked rhetorically, "What does this imply?" The answer, he revealed, was a teeming page of a vast orchestral score that bloomed from the original nugget.
He reveled in complexity and rigor, and yet what I love about his music is an undercurrent of fuck-it-ism. All the constraints, systems, principles, and craft can't quite disguise the wildness of his imagination. When I listen to Boulez, I hear not the workings of a logical mind but miniature solar storms and novas and wispy songs tossed into a gale. At bottom, he was an entertainer. I can't forget the time in 2003 when he persuaded Carnegie Hall to float a new stage and bleachers above the seats and let him perform his Anthèmes 2 and Répons in the round. The hall was darkened, and the notes of a solo violin, passing through a computer, generated a shower of glittering splinters and enveloped the audience in swirls of sound.
For all his relentless modernity, Boulez's sensibility was actually baroque. From the Vivaldi-like fireworks of the violin playing in Anthèmes 2 to the theatrical, almost religious grandeur of the event and the flamboyant surfeit of ornament, he played the role of wizard musician. He was an illusionist of sound.