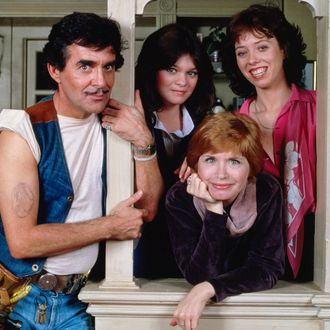 Photo: CBS Photo Archive/Getty Images
This is it, One Day at a Time fans: Netflix and Sony Pictures Television are reviving the classic Norman Lear sitcom for a new generation — but with a twist. The streaming giant has ordered 13 episodes of a new, Lear-produced One Day in which Bonnie Franklin's iconic single-mom character, Ann Romano, will now be Cuban-American, rather than Italian. Men of a Certain Age co-creator Mike Royce, a sitcom veteran who worked on CBS's Everybody Loves Raymond, is partnering with How I Met Your Mother and iZombie writer/producer Gloria Calderon Kellett to write and executive-produce the new take. Instead of being an Indianapolis divorcée, the as-yet-uncast lead of the new show will now be a freshly separated ex-military servicewoman trying to raise her two kids with the assistance of her tradition-minded Cuban-born mother (UPDATE: The grandmother role will be played by legendary actress Rita Moreno, Vulture has confirmed). And while the new Ms. Romano (whatever she ends up being called) will still have a rebellious teenage daughter (like the one played by Mackenzie Phillips), the younger tween character, Barbara, played by Valerie Bertinelli in the original, will now be a boy. There will, however, still be a building manager/surrogate dad named Schneider. (Pat Harrington Jr., who played the first Schneider, passed away last week.) The show will also be shot multi-camera style, as the original was.
Producers have been working on the new One Day for several months now, but Netflix is just now confirming its deal with producer Sony Pictures Television for the resurrected show. In addition to Lear, Royce, and Kellett, Michael Garcia (Devious Maids) is also set to be an executive producer on the comedy, with Brent Miller joining as a co-executive producer. Casting is said to be getting under way this week; there's no word yet on when Netflix will release all episodes of the show (though late 2016 seems quite possible). While One Day hasn't gotten the same sort of acclaim as Lear classics such as All in the Family and Maude, the CBS show was every bit as groundbreaking in its portrayal of a divorced single mom, and tackled a slew of social issues. It ran for nine seasons, from 1975 until 1984, and was a top-20 show for eight of those seasons. Franklin passed away last year.