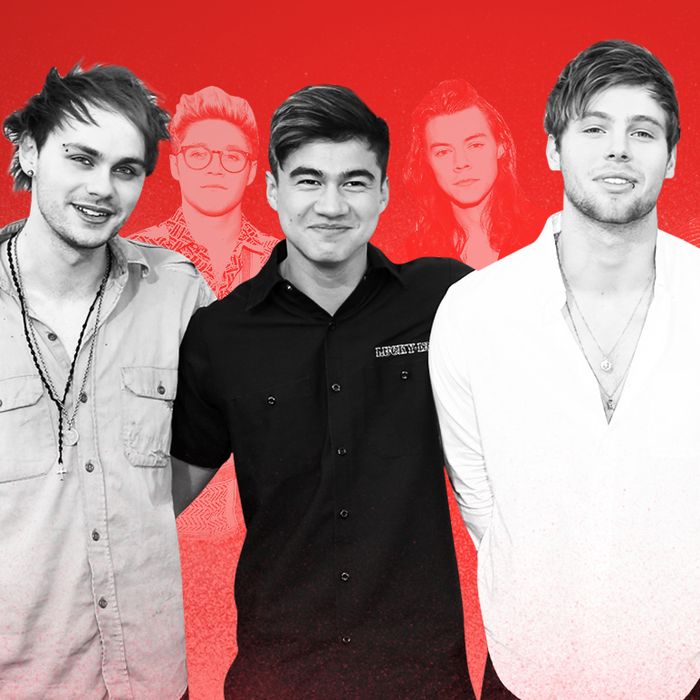 Photo-Illustration: Maya Robinson and Photos by Getty Images
One Direction left the pop-music world the same way they entered it: clutching each other on an X Factor U.K. finale, hoping for an encouraging word from career dad Simon Cowell. The difference: In that moment, broadcast mid-December, 1D were in control of what would happen next. After five years and five albums, they chose to pull the plug on the world's biggest boy band, at least for now.
Last year was pretty dramatic for the lads. They released Made in the A.M., their first album without Zayn Malik, and one many Directioners assume is their last. In their final public performances, de facto heartthrob Harry Styles stepped back, while the outgoing bro bunch — Liam Payne, Niall Horan, and Louis Tomlinson — found their own ways of standing out. Even still, there was no Zayn, and the guys appeared tired. Anyone who went to the last few dates of their On the Road Again stadium world tour this summer will tell you: It felt like saying good-bye before the end.
One Direction have said time and time again that they're taking a break this year, but the whole thing stings of the dreaded "indefinite hiatus." It's sad, really, when you consider that there's not another group quite like 1D at the moment. With the exception of Taylor Swift, they are the only musical act specifically aimed at the very young not only to play stadiums, but to sell them out. 1D shows were girl mecca. Preteens and proper teens alike went there to pray, to cry, to shake at the knees, to find solace in one another. While adolescence can be the most painful part of a young woman's life, 1D reminded her that it has the potential to be the most beautiful. And so, a certain faction of pop fandom is left with a hole in its heart. Where else can these young listeners find that same kind of judgment-free vulnerability matched by uncompromising melody? The answer, perhaps, lies in 5 Seconds of Summer.
With the help of Good Charlotte masterminds Joel and Benji Madden and pop-punk maestro John "Feldy" Feldmann, 5 Seconds of Summer have crafted a sound that's more Blink-182 than Backstreet Boys; however, the reckless abandon of the former benefits greatly from the latter's PG attraction. Even with 5SOS's close ties to One Direction — Harry, Liam, Louis, Niall, and Zayn own shares of London-based company 5SOS LLP — the Australian power-pop-rock quartet sound little like their British brethren. Operating like a boy band, it turns out, is no longer dependent on sounding like one. It boils down to 5SOS's relationship with their fans, who skew more toward the traditional boy-band crowd than the pop-punk set. (The latter is a subgenre where the audience might be filled with young women, but the music typically isn't aimed at them.) The fans aren't much younger than the guys themselves, who average around age 19 (bassist Calum Hood and guitarist Luke Hemmings are still card-carrying teenagers). As is boy-band tradition, each member has a definitive personality: Front man Luke's the heartthrob, Calum's the quiet and creative one, drummer Ashton Irwin's the big-brother figure, and guitarist Michael Clifford is the edgiest.
This strategy of meshing worlds — to create pop-punk on a One Direction–size scale, something that alludes even Fall Out Boy — has clearly worked. Two years and two No. 1 albums later, 5 Seconds of Summer have risen from 1D's opening act to Rolling Stone cover boys and arena headliners. Before this year's tour even ended, they'd announced their 2016 tour at slightly larger arenas; within minutes of going on sale, 5SOS had mostly sold out Madison Square Garden. The only direction for 5SOS, it seems, is up.
Where One Direction revolutionized the way boy bands operate by feeling deviant (see: their tattoos, flippancy toward choreography) yet accessible (see: their social media accounts), 5SOS push the envelope even further. A quick peruse through their recent Rolling Stone cover story, the photos for which were shot in the buff, easily proves that: There's open talk of wild sex and wilder partying, punctuated throughout by a prankster's energy. At its best, this attitude extends beyond mere debauchery; in their songs, 5SOS speak to the adolescent experience in a more direct way than even 1D (thank pop-punk's eternal immaturity for that). It's life without mom in the room, inappropriate inside jokes whispered in class, and above all, a celebration — and lament — of the teenage experience. With their latest album, Sounds Good Feels Good, released in October, these delinquents from down under have Gone There, discussing isolation ("Invisible"), anxiety ("Safety Pin"), and divorce ("Broken Home") head-on before concluding with a hopeful blast of invincibility ("Carry On"). It's, like, recorded puberty.
Despite their decidedly high-school themes, the fact that 5 Seconds of Summer are an actual band, playing actual instruments, in an actual rock-show setting, can only help with the potential adult-crossover appeal. (One Direction have seen more and more popularity among grown-ups on the last two albums as the classic-rock influences have grown more prevalent.) Can't you just see it — dads clamoring to take their daughters to 5SOS concerts because secretly — or hopefully not-so-secretly, let's be honest — they dig the guitar solo on "She's Kinda Hot" or the "Hungry Like the Wolf" sample in "Hey Everybody!" From day one, the 5SOS guys have said that their main goal was to bring guitars back to pop radio; so far they've succeeded, with eight songs cracking the Top 40 in less than two years. Now comes the battle against the main downside to the boy-band strategy: being taken seriously. "Seventy-five percent of our lives is proving we're a real band," Irwin tells RS. "We're getting good at it now. We don't want to just be, like, for girls. We want to be for everyone."

Whether they score the dude or the dad votes is mostly beside the point, though. Like 1D, where 5SOS shine brightest is in making pop's young, female listenership feel less alone. They embrace and empathize with the now while still looking toward the hope of what comes next. In some cases, that future may very well include a guitar; it's easy — and awesome — to see how their palm-muted power chords would inspire such a reaction among 5SOSers. In that sense, 5 Seconds of Summer are not One Direction. But just know that in 1D's absence, 5SOS can fill the boy-band-shaped hole in your heart — if you're willing to break the mold a little.