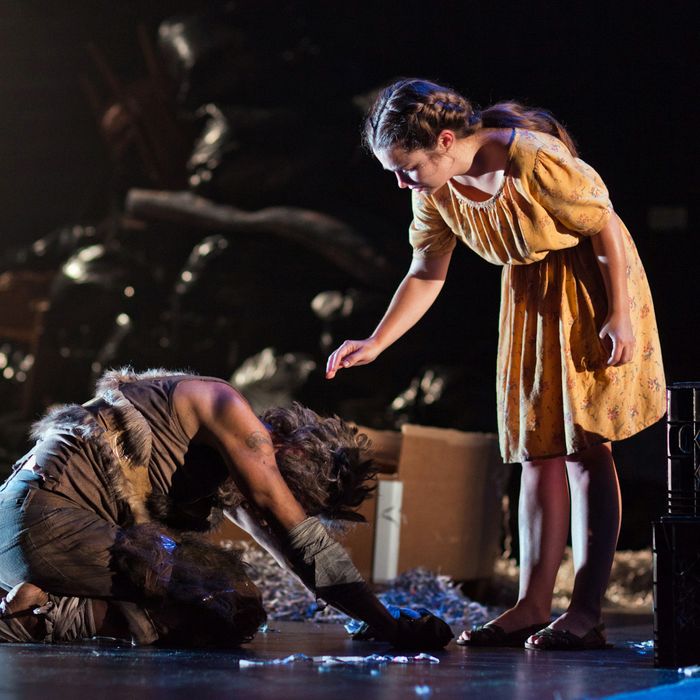 From Dog Days, which just wrapped its brief run at the Skirball Center.
Photo: James Matthew Daniel
The opera Dog Days opens with a family, "not unlike your own, sit[ting] in a house, watching a TV that isn't on." Now, I don't know your family — mine does not include two perpetually stoned, semi-verbal, shirtless teenage brothers sprawled on a broken couch in the basement; a younger sister who talks to a man dressed as a dog; a raging, defeated father who's quick to grab his rifle; or a mother who dishes out a steady diet of pickled carrots and dandelions from the yard. I suppose it could, though, which is precisely the point: We're all just one tiny apocalypse from a state of savage survival. With a blunt, merciless libretto by Royce Vavrek and wheeling, nimble music by David T. Little, Dog Days portrays an American family brutalized by war, and the result is by turns intolerable and superb.
It's a deeply claustrophobic drama. Except for the brief, unwelcome appearance of a pair of soldiers, the house might almost contain the world's last living beings. We never see outside it. Little intensifies the sense of walls closing in with music that bangs against them. The orchestra (expertly conducted by Alan Pierson) is small but amplified, and the final 20 minutes trace one enormous crescendo that threatens to unleash migraines and bruise eardrums. It's a scene some will call harrowing and devastating, and mean that as compliment. I found it loathsomely manipulative. (No spoilers here: Three of the four performances are over, and if you're not able to go tonight you'll have to figure it out later for yourself.) Little is a hyperinsistent composer, and when a character erupts in anger, the instruments do some table-pounding of their own, with buzzing, heavy-footed repetitions strobing like police lights. A helicopter thuds overhead every so often, and the roar acts like an adrenaline drip on the score, making it pulse with super-operatic energy.
But in between these sledgehammer moments, there are long stretches of astonishing, painful beauty. The protagonist — and only fully realized character — is 13-year-old Lisa, sung with staggeringly childlike bravura by Lauren Worsham. She has two long solo scenes. The first is delivered to the silent, flea-bitten creature of uncertain species played with feral expressivity by John Kelly. She starts with clipped, jerky phrases: ("Hey, dog-man … Ya got a family?") and spins out ecstatic lines while the chamber ensemble tracks her flickering state of mind. Coming early in the opera, the aria lets us know we have been dropped into a state of mind already so far gone that she hardly cares that her new best friend may be man or beast, or both. 
Lisa sings the other aria to the mirror, a slightly more responsive interlocutor. "Hello, beautiful" is a soliloquy of furious lyricism. Starvation has finally given the young girl a model's body and fashionably protruding cheekbones, and she sings a tour de force of bitterness and self-satisfaction. With vocal writing that must make sopranos weep in terror and gratitude, Little captures the way vanity endures even when civilization has vanished, the way solitude can drive a person mad. 
Other characters circle around Lisa like wax effigies vying to pose with an actual human. James Bobick fumes mightily as Father, who sees himself aging by the minute. Marnie Breckenridge's Mother suffers and sets the table. The brothers (sung by Michael Marcotte and Peter Tantsits) would be primitives even in prosperous times. Each is a sharply drawn (and powerfully sung) sketch, and yet the opera is devoid of real relationships. The characters live in a kind of Sartrean hell, resenting the people they happen to be trapped with as the world spins away.
Director Robert Woodruff finds a way to represent this island of misery in a sea of bleakness, without sending everyone screaming from the hall. Ceiling cameras project aerial views of the stage onto a big screen, making the audience complicit in the state's surveillance. Twice, a crate of emergency rations plummets from the sky. And the atmosphere was so thick with menace as to make gore superfluous. (Naturally, we get some anyway.) Woodruff has put together the sort of lean, effective, tourable production that can keep a new opera alive long enough for people to learn to like it. Dog Days had its premiere in 2012 at the Peak Performances series at Montclair State University, and it's taken its time wending its way to New York, as part of the Prototype Festival. No matter: The wait has allowed Little's reputation to rise and sweetened the wait for his next work, JFK, which opens at Fort Worth Opera in April. Let's hope for some genuine rapport between Jack and Jackie and not just another set of characters coexisting in the solitary confinement of the soul.