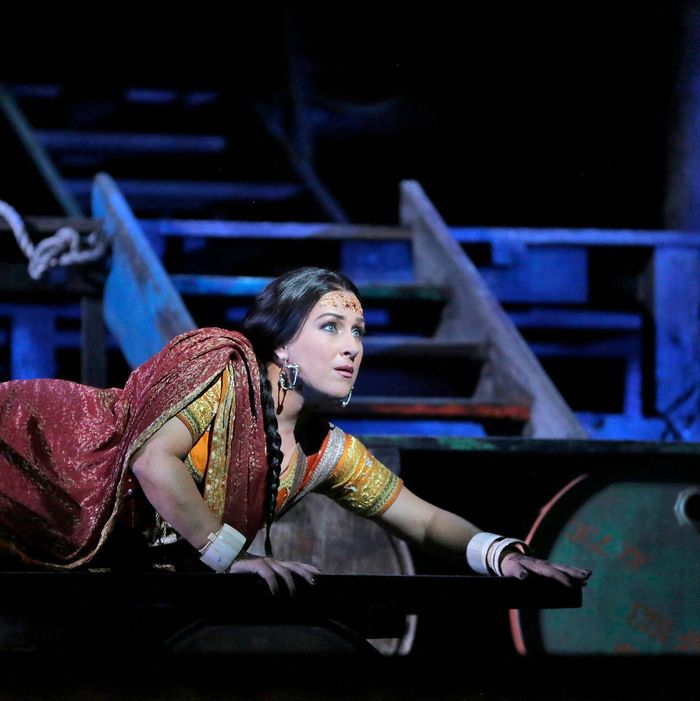 From Les Pêcheurs de Perles, at the Metropolitan Opera.
Photo: Ken Howard/MetropolitanOpera
At a time when college campuses are roiled by fights over insensitive Halloween costumes, ersatz sushi, and the cultural plunder of yoga, it's almost a relief to come across an example of honest-to-goodness, old-fashioned, ham-handed Orientalism. Bizet's 1863 opera Les Pêcheurs de Perles (The Pearl Fishermen), ostensibly set in a Ceylonese village, was an opportunity for bourgeois Parisians to dream up sultry virgin priestesses and bare-chested swains. From a cultural sensitivity point of view, the opera's only redeeming aspect is that the characters are so half-dimensional and the plot so skeletal that the libretto can hardly even muster a fully realized prejudice. On the other hand, if you're in the market for escapist melody delivered in high Parisian style, there is nothing more exquisitely authentic than Bizet's loose bundle of tunes.
The Metropolitan Opera has steered clear of Pêcheurs for nearly a century, but it's hardly a discovery: Other companies (including New York City Opera) have produced it regularly and with relish. Musically, it's never deserved neglect. Even the 25-year-old Bizet (a dozen years before Carmen) could unfurl loveliness by the yard, and the amiable filler only brings out the highlights. The buddy duet "Au Fond du Temple Saint," in which tenor and baritone vow undying (yeah, right) friendship, is a gala staple. Opera fans with short attention spans can catch Act One's clutch of hits and still make it to dinner at a reasonable time, but it's worth staying for the dénouement.
If Bizet's original audiences felt that the score didn't live up to the sumptuous South Asian setting, today the opposite is true. Gianandrea Noseda leads a gilded performance of the tremblingly French score, while director Penny Woolcock provides downmarket exoticism, setting the opera in a floating shantytown designed by Dick Bird. Tin shacks, linked by creaky platforms, bob on oil-drum pontoons. An apartment-block façade of mildewed concrete, a steady stream of Namaste-ing, and a global-village mixture of saris, sarongs, suits, and T-shirts, all clamor for realism points. The production, which originated at the English National Opera in 2010, is crammed with contemporary imagery of fragile cities caught between poverty, globalism, and rising seas. A seductive billboard presides over the slum, which is consumed twice, first by a tsunami and then by flames. This is all striking imagery, but if you find that it adds up to a trenchant commentary on megacity slums, you might want to read an actual book on the topic. Woolcock's poverty postcard is just a frame for a lot of lovely music.
Bizet painted the scene not so much in strong exotic colors as in subtle French gouache, and the Met's fine-tipped orchestra and brilliant chorus execute it in style. So does Matthew Polenzani, a tenor of enormous gifts and versatility, who commands a legato so smooth it's practically liquid, a light, clear voice free of wobbles and warbles, and an intimate relationship with French. You can't get any purer than Alain Vanzo's version of the aria "Je Crois Entendre," but Polenzani comes close.
If the Met's been holding out for the right cast all these years, it finally got the timing right. Mariusz Kwiecien brings a muscular authority and tough-guy tenderness to Zurga, the potentate with a heart of gold. He swaggers and slouches like a genuine warlord, but his cognac baritone is a giveaway that in the end he'll do the right thing. (Or sort of the right thing, anyway: He winds up torching his village to rescue his pal.) As Leila, Diana Damrau spends a good deal of time behind a veil, but there's nothing retiring about the way she unleashes her voice, which gyres about the stage in a swirl of golden notes. She is assertive enough to be implausible as the passive virgin, but that's fine with me: I'd rather hear her vault spectacularly through "O Dieu Brahma" than worry about whether she's really a priestess in distress.
Noseda, a Met veteran who has just been appointed music director of the National Symphony Orchestra, kept the music as buoyant as a wave and luxuriantly tragic. We are not asked to believe in the characters or their destiny, only in the vivid wistfulness of the score, in music that fills concert halls with the scent of coriander and dangerous love.