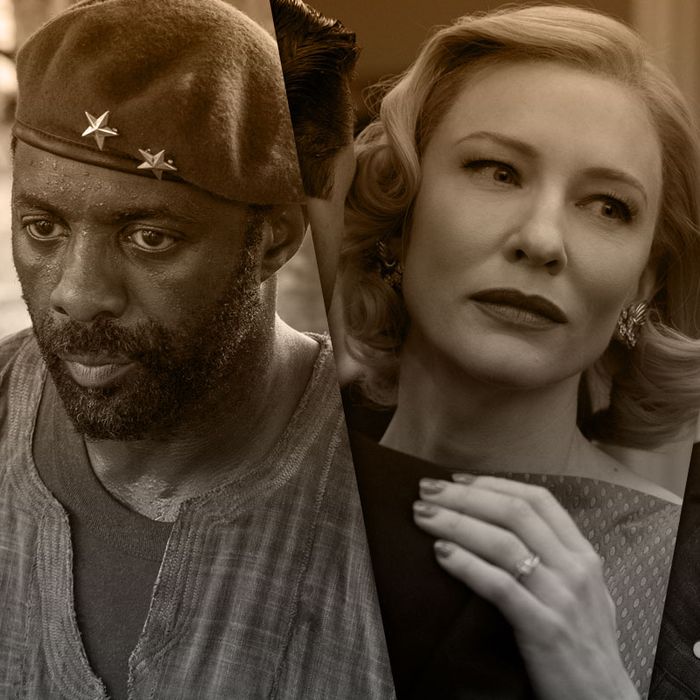 Photo: Netflix, The Weinstein Company, Cross Creek Pictures
The Oscar nominations were announced this morning, and as befits a topsy-turvy season, there were still some last-minute surprises and sins of omission. What thrilled us, and what has us boiling mad? Read on as we break down all the major snubs and surprises.
Mad Max made it!
Mad Max: Fury Road is destined to take its place as one of the greatest action films of all time, but that is one of the Academy's least favorite genres, so there was plenty of reason to think it would be passed over in all but the technical categories. Fortunately, voters recognized George Miller's helzapoppin franchise reboot as high art, and the film made it into categories like Best Picture and Best Director. Tonight we all ride, shiny and chrome, into Valhalla!
Seriously, #OscarsSoWhite again?
The Academy took a lot of flak last year for nominating 20 white actors, and incredibly, it once again failed to recognize an actor of color this year, despite great performances from the likes of Beasts of No Nation's Idris Elba and Sicario's Benicio Del Toro, and a wealth of options from critically respected hits like Creed and Straight Outta Compton. It's especially telling that the latter film didn't make it into the Best Picture lineup, despite strong guild support: It's the first movie since Bridesmaids to earn top nods from the Screen Actors Guild, the Producers Guild of America, and the Writers Guild of America yet still get snubbed for Best Picture. What more does the Academy need?
Ridley Scott didn't get a Best Director nomination.
Though Ridley Scott directed a Best Picture winner in Gladiator, he's never won the Best Director trophy himself, something many pundits expected to be rectified this year after The Martian became such a crowd-pleasing hit. But after the film was utterly blanked by SAG, I started to wonder if Scott's gold-watch win was really so assured, and sure enough, he missed out on a nomination this morning, leaving … well, room for Room's Lenny Abrahamson, one of this season's most underrated directors, to sneak in.
Spotlight shored up its strength.
This journalism drama emerged as the de facto Best Picture front-runner back in September, but a few recent developments — including a Best Drama snub from the Golden Globes, no nod from the editing guild, and the puzzling lack of SAG attention for castmates Mark Ruffalo and Michael Keaton — seemed to take the wind out of its sails. But the quiet movie that could reasserted itself this morning, nabbing a bellwether Best Editing nomination (which it's hard to win a Best Picture prize without), supporting nominations for Ruffalo and Rachel McAdams, and all-important Best Director and Best Picture among its six nods. And with The Martian hindered by Ridley Scott's snub, Spotlight will likely square off against The Revenant and The Big Short in the final phase of awards season.
The Academy is taking Pixar for granted.
Since the Academy expanded the Best Picture field beyond five nominees, powerhouse animation studio Pixar has earned two Best Picture nominations, for Up and Toy Story 3. To my mind, the fabulously creative Inside Out is every bit those films' equal, and yet it didn't break into the Academy's biggest category. A nomination for Best Animated Film will have to prove consolation, but even there, the studio faces bad news: The Good Dinosaur didn't make the final five, becoming only Pixar's third film to receive no Oscar nominations.
"See You Again" was snubbed!
Can someone please check on Vin Diesel? Back when it was breaking box-office records, the Furious 7 front man suggested that the film should have a bona fide shot at Best Picture — and while pundits scoffed, at least they could all agree that the film's emotional theme song "See You Again" would warrant a Best Original Song nod. Alas, the road diverged, and the Academy left one of the biggest songs of 2015 in the dust. At least they still saw fit to nominate "Earned It," the Weeknd's hot jam from Fifty Shades of Grey (and it was even better that the critically derided sex drama got the first Oscar nod of the morning, especially after it was Razzie-cited earlier this week).
Aaron Sorkin and Quentin Tarantino didn't earn screenplay nods.
Tarantino's two Oscars have come in the Best Original Screenplay field, and he's said that he wants to win so many that the category comes to unofficially be thought of as the Quentin Tarantino Award. Well, that ambition will take longer to realize than he anticipated, since The Hateful Eight wasn't even nominated in that category this morning. He's got A-list company to commiserate with, though: At the beginning of the season, people pegged Aaron Sorkin's wordy, Golden Globe–winning Steve Jobs script as a front-runner, but the Oscar-winning writer didn't make Best Adapted Screenplay's final five.
Carol fans were crushed.
Let's first focus on the positives when it comes to this critically adored lesbian romance: It earned a few well-deserved below-the-line nods in Best Adapted Screenplay, Best Cinematography, Best Costume Design, and Best Score, while both its leading ladies were nominated (even though Rooney Mara's nod came fraudulently in the Best Supporting Actress category when she should have been nominated as a lead alongside Cate Blanchett). Still, Film Twitter was aghast when Carol didn't break into Best Director and Best Picture. I'd heard all season from voters who found the film too chilly or overrated, and in the end, the Carol Corps simply couldn't draft enough partisans to storm the biggest categories.
Johnny Depp missed out.
After a snub from SAG, Matt Damon managed to fight his way back to an Oscar nomination — a story of awards-season survival that's apropos, given that the nod came for The Martian. Alas, his nomination came at the expense of SAG nominee Johnny Depp, whose prosthetic-enhanced performance in Black Mass earned early attention but faded alongside the film as flashier contenders entered the fray. At least, when it comes to vowel-stretching Boston accents, we'll always have Spotlight.