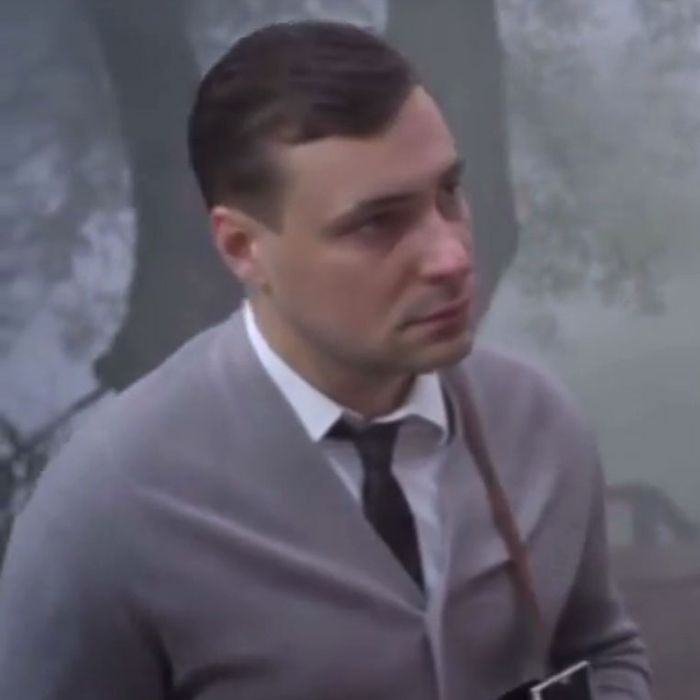 Did you know there's a Russian Mad Men?
It's called Ottepel (The Thaw), and it's been running since 2013. I didn't know about the show until a few weeks ago, when I was asked to create a video essay for the International Film Festival Rotterdam comparing Ottepel (The Thaw), a moviemaking drama set in early 1960s Moscow, to Matthew Weiner's AMC show about the New York advertising industry during the same decade. Although Ottepel is not a copy, or even a close match, plotwise, it's so tonally and visually similar that if you've watched even a few minutes of Mad Men, you'll immediately sense an affinity.
Watch Matt Zoller Seitz's video essay on the show, with editor Jono Bernstein, above.
Comparing the shows drove home how influential Mad Men has been. For seven seasons, Weiner's series immersed viewers in the world of Madison Avenue creative director Donald Draper (Jon Hamm) and his colleagues as a tumultuous decade unfolded around them. It was a world of elegant fashions, hard liquor, changing sexual mores, political and historical allusions, and meditations on the image. The show was never a hit by the standards of broadcast television. But it did become an industry standard-bearer, and an object of fascination for viewers and critics alike. I was obsessed enough to write a whole book about it, Mad Men Carousel, and here I am writing about it again. It's rich enough to withstand repeat visits and new angles of scrutiny.
One vein that's only begun to be mined is the show's influence on the TV industry. Mad Men's acclaim spawned other U.S. series that examined our history through the prism of psychology — shows that reimagined the past as a living diorama, filled with immaculately designed sets, sleek clothes and period cars, but also riven by misogyny, homophobia, racism, class warfare, and all the other ills that still plague us, albeit in a different form. Examples include ABC's short-lived 1960s international travel soap Pan Am, Showtime's study of 1960s sexual politics Masters of Sex, AMC's 1980s tech-business series Halt and Catch Fire, and, in a roundabout way, HBO's Boardwalk Empire, an obsessively designed Prohibition-era gangster saga that sometimes played like The Sopranos by way of Mad Men.
A few imports showed traces of Don Draperism as well, notably the BBC's Cold War–era journalism drama The Hours (Mad Men meets All the President's Men), Netflix's Peaky Blinders (part domestic soap, part gangster drama, with a Weiner-like period fetish), and ITV's post-Edwardian family soap Downton Abbey (which owes its basic concept to Upstairs Downstairs and its upfront discussion of social mobility and changing times to Mad Men). The Americans is another secret child of Mad Men. It's sold as a spy thriller, but it's nearly as attentive to the week-to-week historical events of the Reagan era as Mad Men was to the Kennedy, Johnson, and Nixon years.
Ottepel (The Thaw) is one of the more fascinating descendants of Weiner's show. To watch it is to step into a parallel universe where a lot of Mad Men's themes reappear in a different cultural context, with different characters and stakes. The title refers to the late-1950s and early 1960s period of Soviet history when the country's then-premier, Nikita Khrushchev, eased back some of the repressions and restrictions imposed by the Cold War and let the nation loosen up a bit, allowing for a more sophisticated modern culture and greater communication with artists, writers, musicians, and filmmakers in other countries. The show is not as self-conscious and fanatically detailed about the interplay of personal and national history as Mad Men. For the most part, it's about the psychology of artists, money people in the film industry, the effect that moviemaking has on the lives of their loved ones, and the sense of movies as a dream factory that simultaneously propagates national mythology and offers people an escape from their humdrum daily lives.
The Thaw is created by writer-director Valery Todorovsky, who based his experiences on growing up in Moscow in the 1960s as the son of a film director. It has a lyrical, expressive sensibility, and it loves surfaces every bit as much as Mad Men did; there's a lot of slow-motion, lots of cutaways to people walking through rain and pigeons taking flight and the like. But it's a much heartier, earthier show than Weiner's American drama – more Russian, you might say. There's more explicit sex, plus full-frontal nudity, which is something Mad Men never showed. And the social drinking tends to spiral out of control more quickly, becoming antisocial. The pilot episode, which can be viewed below, contains more booze-soaked debauchery than most seasons of Mad Men (at least until you arrive at season six, when Don implodes).
The plot kicks into gear at the midpoint in the pilot, when Viktor's friend, a brilliant but almost entirely unproduced screenwriter at the studio, unexpectedly dies young. Viktor devotes himself to making sure that somebody shoots the writer's last script, and does it right, but he's compromised at every turn by workplace and political roadblocks (and sometimes workplace politics of a Mad Men variety — the studio boss dislikes Viktor, and the director hates the leading man who's been forced on him).
And it's here that the show arguably has much in common with Mad Men. It's about the tug of war between art and commerce in popular culture. The relationship between life and the movies is multifaceted and contradictory throughout — not as fine-grained as Mad Men's portrayal of the intersection of advertising, history, and private life, but just as impassioned. Even when the characters are talking about filmmaking as if it were just another manufacturing job, albeit one that makes images rather than consumer goods or munitions or what have you, there is always a sense that they are involved in the creation of something finer and more mysterious, even when the result is somehow unsatisfying to them personally. It's an addictive series. The next two episodes can be viewed here and here.
* An earlier version of this piece incorrectly said Downton Abbey was a BBC show. In fact, it is an ITV show.