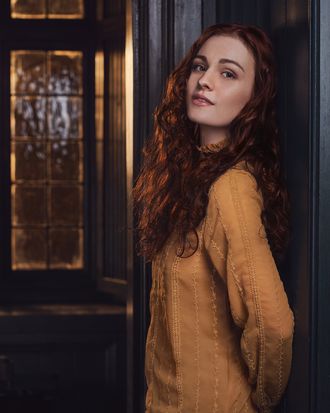 Sophie Skelton.
Photo: Courtesy of Starz
For hard-core Outlander aficionados, #Breewatch is over. Sophie Skelton, a relative newcomer, will play Claire and Jamie's daughter, Brianna. Fan campaigns had nominated a number of candidates for the role, including Karen Gillan, Deborah Ann Woll, Rose Leslie, and Lily Cole, among others. Vulture ran all of these options by Outlander while on set in Scotland, before executive producer Maril Davis had settled on a Brianna. "Ah, yes," Davis smiled knowingly. "I feel like some of the leads that people feel like [should be Brianna] are difficult. It's hard to find someone who is willing to put Outlander in the first position." Plus, when fans play casting director, they tend to fixate on mutable physical characteristics, such as eye and hair color — traits that could be altered with contacts, hair dye, and wigs.
"Certainly, Brianna has certain physical traits we're trying to adhere to," Davis said. "Red hair, but we could make her hair red, and there are so many different shades of red, I think we can find it. The height is an issue, and we did ask for that in our casting call. I think five feet, six inches was the lowest we said we could go just because there are only certain things we can fudge. We couldn't have a five-foot-one Brianna, you know?"
When Outlander first cast both Sam Heughan as Jamie and Caitriona Balfe as Claire, they initially got "a lot of flak," Davis recalled, because fans were upset that Balfe didn't have Claire's "whiskey-colored eyes" and that Heughan was not a natural redhead. But eliminating superficial physical details from the casting process doesn't necessarily speed up the search, because everything boils down to the essence of the character. "I wasn't thinking about Claire's eyes as much as how Caitriona just embodies Claire," Davis said. "It's weird, because when we started this project, we thought the guys would be the ones who would be difficult to cast. And yet, finding Claire, that's what we had so much trouble with." They didn't end up finding Balfe until three weeks out from filming.
This time, the Outlander team anticipated that finding Brianna would be complicated, as the character herself is. Davis discussed this with author Diana Gabaldon, because she was finding the character "difficult" to warm up to, until at least book eight. "Figuring out how to portray her has been difficult," Davis said. "When we meet her in the books, it's a very traumatic experience, when she's finding out all these things about her heritage, and so I think right off the bat, she's introduced in a way where she comes off maybe a little bit shrill. Hopefully we can dial that back a bit."
Brianna, like her father, Jamie, is plenty stubborn. But like her mother, she's scholarly and "very detail-oriented." "In some ways, she does not get the best of both Jamie and Claire," Davis said. "I don't know if it's because I've lived with the books for so long, but I just had something in my head that I had not seen yet," she continued. "Even with our casting people and other producers, we cannot quite put our finger on what exactly it is we're looking for. It's a combination of things. But I think someone will come in and hit it out of the park. I'm waiting for that moment to see someone and go, 'Oh! That's Brianna!'" Sophie Skelton, the rest is up to you.