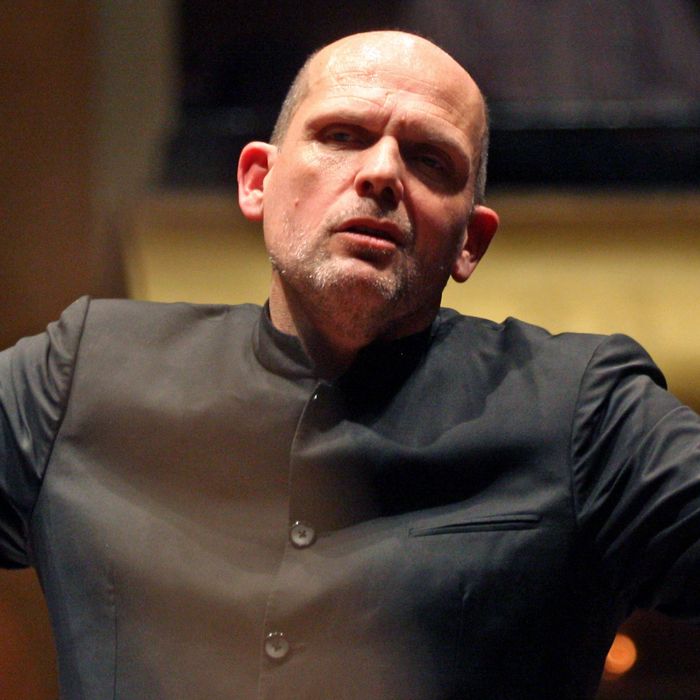 Van Zweden will take over in 2017.
Photo: Hiroyuki Ito/Getty Images
The New York Philharmonic, facing a near-future that looks rocky even by the standards of a modern orchestra, has appointed the 55-year-old Dutch violinist and conductor Jaap van Zweden to succeed Alan Gilbert as music director next year. It's hardly an obvious choice. As music director of the Dallas Symphony Orchestra since 2008, van Zweden has been slowly ratcheting that group's reputation up from second-tier to mezzanine. The step to the New York Philharmonic is a major leap. In hiring him, the orchestra is acknowledging that the age of the celebrity conductor has passed — only the Los Angeles Philharmonic's Gustavo Dudamel has anything resembling popular fame. The choice is also significant for what the orchestra didn't, or couldn't, do: hire a woman (Susanna Mälkki and Marin Alsop were plausible options); go for an aged eminence of undisputed gravitas (they are in dwindling supply); pluck a young upstart (conductors mature slowly); poach a competitor's exciting chief (the Boston Symphony Orchestra's Andris Nelsons or the Philadelphia Orchestra's Yannick Nézet-Séguin were unavailable). The Philharmonic also declined to name a conductor who has experience with two unavoidable challenges of the coming years: designing a new hall and keeping the orchestra healthy while it's homeless.
Ultimately, the choice of music director depends on a collective emotional reaction and a hunch that his — or, occasionally, her — sensibility will mesh with the orchestra's. In van Zweden's case, there was not much to go on. He has led the Philharmonic just four times, most recently in October, when he conducted a program that included Beethoven's Fifth Symphony. That performance earned mixed reactions: The New Yorker's Alex Ross objected to "van Zweden's habit of pushing for effect"; the Times' Zachary Woolfe wrote "I've heard [the symphony sound] grander and more propulsive, but never quite so seductive." 
With his bald pate, gray perma-stubble, intense stare, and columnar build, van Zweden looks more like Hollywood's idea of an enforcer than a maestro, and he does come with a reputation for toughness: The musicians of the Dallas Symphony Orchestra complained publicly last year about his bluntness and "tactics of fear." If there's any accuracy to that characterization, he'll find scores of formidable sparring partners in the ranks of the New York Philharmonic. 
Van Zweden came late to his current career, but only because he started his first one so early. As an 18-year-old Juilliard violin student, he received a phone call from the great conductor Bernard Haitink, asking him to return to the Netherlands as concertmaster of the Royal Concertgebouw Orchestra. He remained in that job for 17 years. In van Zweden's telling, what eventually nudged him in a new direction was an odd request from Leonard Bernstein, who was conducting the Concertgebouw Orchestra on tour in a newly renovated hall in Berlin. Bernstein wanted to hear the balance the way the audience did, so he handed the concertmaster his baton and told van Zweden to conduct the first movement of Mahler's First Symphony. "That was pretty bad," Bernstein said afterward. Still, he had perceived a natural gift, which he encouraged the violinist to pursue. 
It's too early to sense what the van Zweden era will bring musically: He has solid credentials in the biggies — Mahler, Bruckner, Brahms, and Shostakovich — but he has also championed living composers with gusto. In any case, he will almost certainly have to lead the orchestra out of its current home, David Geffen Hall, in 2019, when the renovations begin, and back again two seasons later. During that period, the Philharmonic will have to raise hundreds of millions of dollars, hold on to its audience, and maintain its musical standards under adverse conditions. In Gilbert, the orchestra has had a patient institution-builder with a taste for adventure. During his tenure, the orchestra launched a biennial new music festival, struck a three-year deal with Lincoln Center to stage an opera each summer, started a collaboration with musical institutions in Shanghai, and colonized venues like the intimate new Williamsburg venue National Sawdust and the immense Park Avenue Armory for events that would once have seemed the province of BAM or experimental theater companies. Van Zweden will have to start his tenure at a dead run.