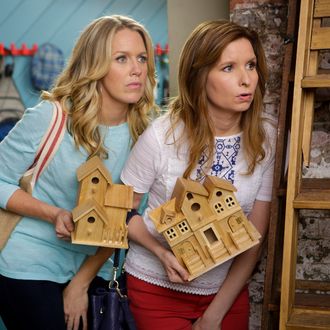 They're best friends forever!
Photo: Nicole Wilder/USA Networ
USA's Playing House is returning to USA for its third season, and Jessica St. Clair and Lennon Parham are thrilled, probably! We don't know firsthand, but we can imagine they're thrilled. If we could, we'd get a dollhouse with two lady dolls and one baby doll and make them all jump up and down and say, "We're getting a third season and we're really thrilled!" The show was able to double its audience from season one to season two by introducing a new distribution model, allowing viewers to watch episodes on video-on-demand before they aired on USA, a dream for any superfan. That model will continue for season three, the season everyone is thrilled about, according to our dollhouse.