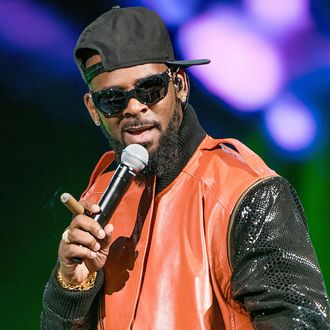 Oof.
Photo: Mike Pont/Getty Images
In late December, when HuffPost Live journalist Caroline Modarressy-Tehrani asked R. Kelly during a live interview to address the numerous sexual abuse allegations that have plagued his entire career, the singer cut her off, questioned her intelligence, and abruptly ended the interview. Kelly's interaction with GQ's Chris Heath, however, is a different story: In a sprawling, detailed new conversation that reads like a character evaluation (the interview ends with Heath trying to catch Kelly in a lie), Kelly is more or less an open book. No topic is off limits — the singer speaks on being sexually abused by a relative in more detail than he ever has before; his relationship with his presumed ex-wife, Aaliyah; accusations of sexual contact with underage women; and even Bill Cosby. He maintains his innocence — as he has done since the beginning, and did to Vulture last November — but clears the air on several specifics.
On Aaliyah:
Out of respect to Aaliyah's parents and her memory, Kelly says he won't comment on whether or not he and Aaliyah were illegally married when she was 15 and he was 27, or whether or not they had a sexual relationship. He does, however, say this: "But yeah, I would say I was in love with Aaliyah just like I was in love with anybody else. But in a different, friend type of way." "And she was in love with you?" Heath asks. "I would think so. Absolutely. I would say that," Kelly says. Asked if his silence suggests there's something to hide, Kelly says Aaliyah had opportunities to speak for herself on the matter when she was an adult, before she died, but chose not to. "People can say, 'Hey, well, he's just trying to protect hisself.' Well, I have nothing to protect myself from. I'm still successful, and I've got an album out now," he argues. Kelly insists he did nothing wrong with Aaliyah.
On being abused as a child:
Though Kelly has spoken about being sexually abused before, in a 2012 memoir, Heath claims their conversation is the first time Kelly has ever confirmed his abuser was a female blood relative. Kelly says he was abused between the ages of about 7 to 15, at least every other day or every other week, by this woman, but never told anyone because he believed it was a "generational curse": "As I'm older, I look at it and I know that it had to be not just about me and them, but them and somebody older than them when they were younger, and whatever happened to them when they were younger. I looked at it as if there was a sort of like, I don't know, a generational curse, so to speak, going down through the family. Not just started with her doing that to me." Asked later in the interview if that curse applies to him and his alleged pedophilia, Kelly says that it was a curse he never had to break: "There's things that you don't want to do that you're not gonna do. It was just as simple as that."
On Bill Cosby:
Kelly names Cosby as an early influence on the kind of father he aspired to become. When asked how he's able to reconcile the present allegations against Cosby with Cosby's former image as the model family man, Kelly defends Cosby: "Well, my opinion on that is, I don't know what happened. I'm a fan of Bill Cosby's from the Bill Cosby show, of course — who's not? — and for me to give my opinion on something that I have no idea if it's true or not, all I can say is that it was a long time ago. And when I look on TV and I see the 70-, 80-, 90-year-old ladies talking about what happened when they were 17, 18, or 19, there's something strange about it. That's my opinion. It's just strange."
On accusations that he sexually abused underage girls:
Kelly says it isn't legally wise for him to comment on the 2002 video that allegedly showed him having sex with and urinating on a 15-year-old girl, but he denies ever having sex with underage women: "When a person is found not guilty, they're found not guilty … I think, man, abso-effing-lutely I've been treated unfair … Do I like to sleep with underage girls? Absolutely not. I've said it a million times." He claims that that women were extorting him, and his settlements with alleged victims came at the advice of his lawyers — which he says he now regrets. Kelly suggests that any woman who has accused him of sexual misconduct could be an ex looking for revenge: "Look, if I break up with a girl, and she don't wanna break up, and I'm R. Kelly, she's gonna be pissed. So pissed that she's gonna go out there, she's gonna say this, she's gonna say that, she's gonna say the other. And if she's really pissed, whoever she said it to is gonna spread the rumor, and if the wrong people get ahold of that rumor, that's gonna come out."
On Dave Chappelle:
When asked about Chappelle's famous "Piss on You" sketch mocking the alleged Kelly sex tape, the singer says he's never heard of the comedian and hasn't seen the sketch: "David Chappelle? [as though trying to place the name] David Chappelle? I don't …" And when asked directly if urination during sex is something he prefers, he simply answers, "Absolutely not."