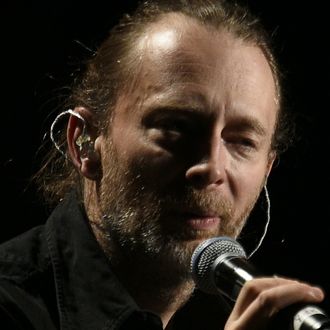 Thom Yorke, of Radiohead.
Photo: MARTIN BUREAU
Head over to Radiohead message boards and you'll notice some excitement. It stems from the group's recently unearthed Dawn Chorus LLP, created last October. The company hasn't done anything of note yet, but fans predict it could signify a new album, any day now. There's precedent: In the summer of 2007, the independent band founded Xurbia Xendless Ltd. to distribute that October's In Rainbows, and in December 2010, Ticker Tape Ltd. paved the way for February 2011's The King of Limbs. If you compare those timelines with Dawn's, as many Redditors have, this situation might give you the impression of a "code red," like the "time to Radiohead" could be very near. (What a time — maybe we'll get more of this.)
Of course, there is an unfortunate alternative. Maybe the speculation is just that: speculation. Maybe Dawn Chorus was established for something else. Maybe Thom Yorke and Co. are now just cycling through new company names like you used to cycle through new AOL screen names. The band has yet to comment on the matter, but in the name of consistency you should knock on wood, grab whatever good-luck charm you have, and pray the hype train drops off LP9 as soon as possible.