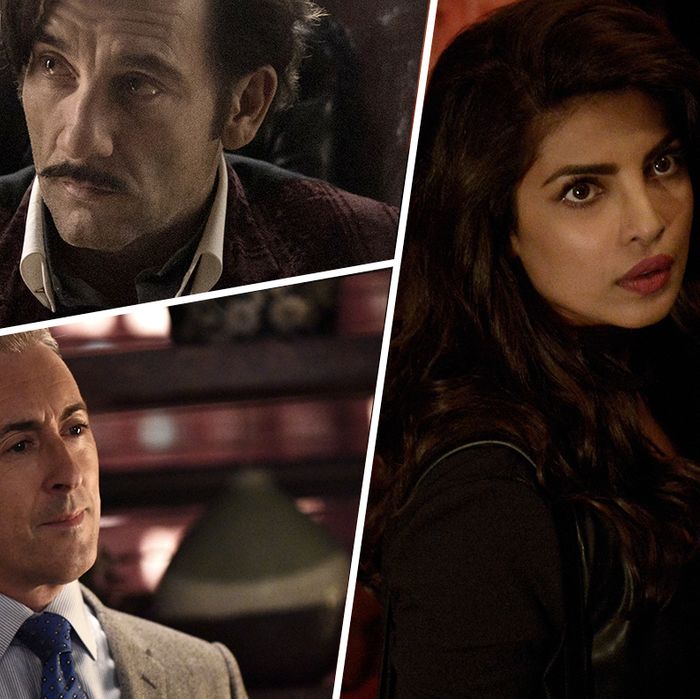 Speaking with Vulture last year, British actor Dominic West joked that landing his gig on The Affair meant "taking work from honest, hardworking Americans." Of course, he's hardly the only expat playing a Yank on TV these days. From The Walking Dead to The Knick to Jessica Jones, there's a boatload of actors from the U.K. and Down Under currently imitating us on the small screen. Which means that, in addition to creating credible characters, they have to sound like natives week after week.
So, which foreigners deliver consistently convincing American accents, and which are merely paying lip service? We asked in-demand dialect coaches Bob and Claire Corff, who've worked with A-listers including Jennifer Lawrence, Naomi Watts, Channing Tatum, and Samuel L. Jackson. "Accents are like a deep habit," the Corffs explain. Breaking one means retraining the brain and learning a whole new way to consistently sync up pronunciation, attitude, and energy — while also acting. We gave the Corffs a by-no-means-complete list of foreign-born actors portraying Americans on TV; here's their breakdown of the imitation game.
All-American
Dominic West
The Corffs know firsthand what a great ear the former Wire star has, since Bob worked with the U.K. actor on his New Yorkese for Punisher: War Zone. Now, as The Affair's philanderer, Noah Solloway, West is faithful to an American intonation, which, unlike others, "ends sentences on a down note."
Clive Owen
The Knick's M.D. extraordinaire aces his period American, among other things. The Corffs say the English actor's "mid-Atlantic, more articulated" cadence — the accent foreigners are coached to use in international blockbusters — "is perfect for this show's time and place."
Eve Hewson
As early-20th-century nurse (and southern preacher's daughter) Lucy Elkins on The Knick, Bono's Irish-born daughter manages to completely submerge her brogue. Her diction, like Owen's, "is good and right for the time period."
Melanie Lynskey
In the Duplass Brothers' Togetherness, stay-at-home mom Michelle's marriage is on shaky ground, but the New Zealander's diction is rock-solid. "No vowels, word stresses, or placement are off," the Corffs boast.
Damian Lewis
The Brit is moving up the social rank from Homeland's Marine turned terrorist to all-American alpha male in Showtime's new drama Billions. His hedge-funder character may be questionable, but his accent is "excellent, nailing the pronunciation, melody, and stresses" you'd hear in a Stateside speaker.
Marianne Jean-Baptiste
The English actress has gotten a promotion since her tour of duty on Without a Trace, now playing FBI assistant director Bethany Mayfair on NBC's new crime drama Blindspot. But her accent is still "fabulous, right down to the cadence and attitude."
Antony Starr
Everything about Banshee sheriff Lucas Hood's speech is choice. The Auckland-born actor's got "the melody, placement, and pronunciation — the major areas that make up an accent — down pat."
Alfred Enoch
If you didn't know him from Harry Potter, you'd hardly suspect the man playing Wes Gibbons in How to Get Away With Murder was born in London. Though his character's proven clueless about the fate of his girlfriend Rebecca, Enoch's elocution is "perfect."
Not Quite Native
Alan Cumming
Good Wife campaign manager Eli Gold is doing his best to get revenge on his former boss, Peter Florrick. If only the accomplished Scotsman's vowel sounds were as exacting. "The o in words like not and got would be more convincing if he dropped his jaw and opened wider."
Rupert Friend
No one wants to pick on Homeland CIA assassin Peter Quinn, but the Brit needs a little work on vowels — specifically, the Corffs say, "the o in operation." Like Cumming, his Friend's jaw is too tight while speaking. As with most things American, our vowel sounds are big. "The English have the decency not to open their mouths as wide as we do," the Corffs say.

Rachael Taylor
The Aussie who plays Patsy Walker on Jessica Jones is "good, but sometimes certain vowels, like the o in hope, are too far forward on her lips. She also has what coaches call the "educated u" in words like assume, which sounds like "asyume."
Juliet Rylance
The Englishwoman's aristocratic Cornelia Robertson on The Knick "has got most of her upper-crust New Yorker right," save for a couple of slips with rs, in words like welfare, and as, in words like can, where her roots show a little.
Rose McIver
Only a trained ear could find fault with the brain-eating iZombie star's speech, the Corffs note. The New Zealander's rapid-fire delivery could be a recipe for disaster emanating from anyone else's lips. "But she's got the dialect down, except for the o in words like on, which sounds like awn, because the sound needs to come from further back in her throat."
Christopher Eccleston
Preacher Matt Jamison may experience crises of faith on The Leftovers, but the Brit's speech is steady, "though a little overarticulated. Still, that's what you might expect from a man who delivers sermons for a living."
Fresh Off the Boat
Andrew Lincoln
Who has time for a consistent southern drawl when you're dealing with the zombie apocalypse? The Walking Dead's London-born star "doesn't always maintain his regional drawl, and the lilt that should come at the end of sentences, defaulting to a more standard elocution," the Corffs say.
Priyanka Chopra
India's beloved Bollywood star doesn't quite do the American accent justice as Quantico badass Alex Parrish. "It's too articulated with some English pronunciations leaking out. The same diction that's period-perfect in The Knick isn't appropriate for modern-day, when people speak more casually." (Chopra, who studied in the States as a teen, has often seen her real-life accent pointed out, even dubbed "fake." It's complicated, to say the least, but Parrish is intended to sound American.)
Ruth Wilson
As The Affair's Montauk-born Alison Lockhart, the Brit doesn't sound like a Long Islander, "stressing her syllables in words equally, or emphasizing the second one in words ending in -ing, -er, and -ious. She also has problems with rs, in words like daughter and fire."
Sullivan Stapleton
"Is Blindspot's Kurt Weller supposed to be southern?" the Corffs wonder. The Aussie actor's origins, plus some southern twang, "sometimes slip out" in his portrayal of the FBI special agent.