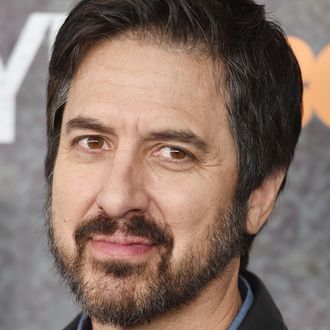 New Year, new Ray.
Photo: Dimitrios Kambouris/2016 Getty Images
You might have heard everybody is really about to love Ray on his next show, HBO's Vinyl. The actor told Jimmy Fallon last week that, among other things, his character gets to be in a wild threesome. Which means yeah, you get to see Ray Romano as close to naked as you probably ever will, thanks to HBO and a nifty sock. "That's a warning," Romano told us, when we caught up with him this weekend at Vinyl's first East Coast screening. "It's your job to inform the public."
Well, here you go: Romano's character in the show is Zak Yankovich, the head of promotions for the record label at the center of Vinyl's story. In episode seven (memorize for better or for worse), he and his boss (Bobby Cannavale) head to Las Vegas to sign Elvis Presley, who, in 1973, has decided to leave his old label. It's while in Vegas, he told us, that things go awry in that special way that's a first for Yankovich — and Romano:
Although the on-set situation was crazy, he at least got a new joke from it: "It was a week of stress, because I not only had to be naked, I had to be drunk in that episode, which, as an actor, is equally stressful, because you have to play drunk just the right way," he added, during this weekend's premiere after-party at Cipriani 42nd Street. "Too much is horrible, too little — you got to find the level. And being naked is horrible. But drunk is more stressful. My joke is the director's not gonna yell, 'Too big!' during the naked scene. [Laughs.] No, it was fun."
Yep, sounds like it — viva Las Vegas? Anyway, Vinyl, and a Ray you've likely never seen before, will be on screens near you on February 14.