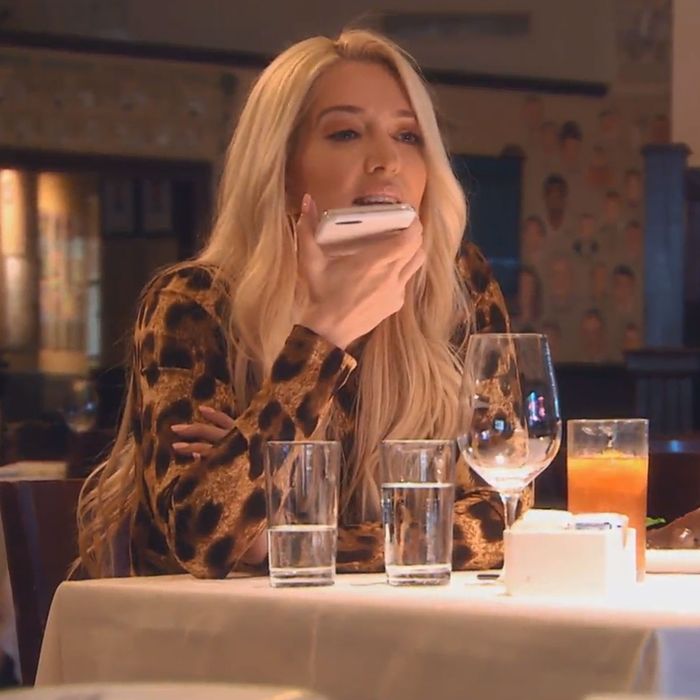 Erika Girardi.
Photo: Bravo
Kyle Richards, the person who invented white parties and runs the world's most famous one out of her backyard in Beverly Hills, tried to get away with wearing pale pink to a white party in the Hamptons. First of all, as the summer enclave of New York City's one percent, every party in the Hamptons is essentially a whites party, so to have a white party for Lisa Vanderpump's cover of Bella magazine — a periodical that can only be found in dermatologist's offices and abandoned in the back of Ubers like last night's panties — is a bit redundant. Eventually, Kyle Richards, who gets $1,000 and three Fatburgers every time someone throws a white party around the globe, came to her senses and wore white to the Hamptons. Boy, do we love it when these girls travel.
Speaking of traveling, I would like to thank Ben Rimalower, vice-president of gift-shop sales at the Real Housewives Institute and writer/director/star of OG of the OC: The Vicki Gunvalson Story: The Musical! (Sundays at the Duplex), for filling in for me while I was traipsing around southeast Asia, looking to see if Real Housewives of Hanoi would be an interesting show. (Yes. Yes, it would.)
Now that I'm back, I think that there might be something terribly wrong with me, because I'm feeling some very strange feelings, most of them above the waist, which are very strange feelings to feel, indeed. I'm blaming the jet lag, but I actually am starting to like this Erica Jayne character. Ugh, I know. Actually, it shouldn't be that surprising because, as I predicted, I'm always like, "Ack, the new girls!" like they're a Monday and I'm a Cathy mug, and then I end up loving them. It happened with Eileen last season, and Dorinda in New York, and now, Erica. God, I'm so predictable.
So, yes, I like Erica, but it's a conditional love. I still don't think she's that mysterious or different, as her intro line would lead us to believe. She's just a skanky fag-hag who likes nude illusion body-stockings and is married to a much older and disgustingly wealthy man. West Hollywood is littered with Erica Jaynes. I'm starting to kind of like this one, though. I like her crazy, half-braided Barbie hairdo, I like how she calls herself Erica Jayne and Erica Girardi like they're two different people, I like how she knows that she's trashy when she talks about her two different planes and still doesn't care, I like how she eats cake alone in the middle of the day and doesn't even shed one tear, I like that she enjoys grinding on her 76-year-old husband, I like that she never wants to get rid of her fake boobs. I like it all.
What I'm really waiting for, however, is Erica's 23-year-old cop son. Why doesn't she bring him to Gay Pride in Chicago and see if he can really protect and serve? The thing I hate the most about Erica Jayne, however, is Mikey, her "creative director," who is also a host at Turdburglar Mary's on Santa Monica Boulevard. Just like Erika, there is just something so obvious about him that it makes me want to give him a wedgie. I wouldn't mind hearing about his three-way with Tom Daley and Dustin Lance Black over vodka sodas at the Abbey, though.
I'm also blaming the jet lag for wanting to hang out in all of the awful suburban places that the Housewives visited this week. The QVC headquarters outside of Philly looked so incredibly sad, like a fluorescent light fixture in a children's cancer ward. Did you get a look at the Days Inn continental breakfast in the break room, which was just, like, three boxes of Rice Krispies, a handful of Keurig pods, and cellophane-wrapped muffins? But then you get to queen out with Dennis Basso and Isaac Mizrahi and talk about Shirley, the QVC customer who buys $120 shearling coats in the middle of a Thursday afternoon in August. I want to meet Shirley, just like I want to meet anyone who watches Big Bang Theory unironically each week on CBS.
I certainly don't blame Lisar for going on QVC and making some "munty, hunty" (as Mikey would say in his gay patois), especially because one of the things that I love about her is that she is just an unrepentant hustler who will do anything for money. But when she said she does it to "empower women," I wanted to turn my entire body into this St. Camille of Grammer GIF and just run forever. Seriously, how is selling slouchy sweaters made in Cambodia empowering women? If you want to empower women, how about you travel to actual Cambodia and hand out a ton of those sweaters for free to some women, along with some microloans?
To complete my "jet lag is a bitch" trifecta, I kind of want to go to Dr. Feng's clinic compound in Cleveland, even though I promised my grandmother on her deathbed that I would never have surgery in a room with purple wallpaper. Dr. Feng is baller and dresses in some crazy Asian-patterned mishmash scrubs that look like a game of Sorry and a mah-jongg set got busy on your mother's bookshelf and gave birth to a bolt of fabric. In Vietnam, all the women who ride motor scooters wear face masks in crazy patterns that usually match their fashion helmets. She is just like that, except hers does not come in a Hello Kitty pattern.
The only awful thing was that she took out Yolanda Bananas Foster's leaking breast implant and showed it to us in a gelatinous mound of maroonish jiggle that looked like some sort of alien placenta, or something else threatening and disgusting. You know, like a vegan dessert. I hope for Yolanda's sake that this will make her better. I can't imagine it will make her worse. I mean, I don't even want that thing on my television screen, much less in my body.
We didn't get to see much of the actual white party, mostly because Kyle and Eileen checked out of the awful hotel where Bella magazine put them up. I don't blame them. The place looked fine, but the vibe was off for this crowd. I mean, who wants to stay at a place where they serve mimosas for breakfast and the EDM starts at 9 a.m. by the pool? Okay, you're right, every girl who spells her name Courtenay with too many vowels and guys who wear board shorts in neon colors would want to stay there. But 40-something-year-old women don't want to mess with that. They need alone time to show off their caftans by a pool. Trust, Courtenay doesn't want those old biddies and their one-pieces around trying to outmaneuver her for the attention of some guy named Chad who works in marketing for a line of flavored iced-tea energy drinks infused with vitamins.
The highlight of the party was that Lisa, Lisar, and Cult Jam (in this instance, Cult Jam is Eileen) wanted to talk to Kyle about her sister, Kim, who was arrested for shoplifting $600 worth of stuff from a Target in the Valley, which is not a mean thing that I made up for a recap but a real, actual news story that happened this summer. Just like the rest of us, Kyle heard about it on TMZ because she's not talking to her sister. That is the saddest thing that could ever happen to a person, other than finding out you got fired from your reality show on Twitter.
I have a hard time feeling sorry for a dream-feasting soul demon like Kyle Richards, but she must be really sick of this Kim shit. Not only has she been dealing with it for most of her adult life (or so it seems), but she's cut her off and is not even talking to her, and still she gets peppered with questions. Yes, I totally understand the women's curiosity, especially because it's not idle gossip if they're also worried about Kyle's well-being, but damn, it's got to be hard to talk about. Kyle doesn't really seem to know much more than anyone else. It's like when you're watching the same show with your boyfriend and he keeps asking you about what is going to happen like you have some sort of computer-generated spoiler algorithm implanted in your skull. Still, it must be hard for Kyle because it seemed like Kim was going to be sober for good. Every time that Kyle thinks it's over, it comes back to bother her like a shopping cart at Target you parked on a slope, and it keeps rolling lazily into your bumper, busting out your taillight.
The white party didn't seem like much of a success, though it did seem like a fun afternoon in the Hamptons. Out front, a woman stood in the graveled parking lot of the hotel on the other side of her black SUV, wobbly in her high heels. She smoothed the front of her green dress, which offset her red hair quite gloriously. She took deep breaths and went over lines. "Oh my gawd! What are you doing here?" she would bark to the gaggle of her former co-workers. "My friends dragged me here, I had no idea it was a white party," she visualized herself saying with a Diet Coke in her hand. It's so easy, she thought, going over the plan once again in her head, plotting out every step like it was the course on a treasure map. See them, act surprised, pose for pictures, try to get on camera, she thought, going over the game-plan once more. She checked her makeup in a compact and clasped it back into her clutch. She hung the smile on her face like the "Open" sign in the window of the Kyle by Alene 2.0 Pop-up Shop down the street. It's time to go to work, Jill Zarin thought as the grating of her heels on the stones sounded like the crunching of a million cockroaches all crowded around the same tiny bit of food.