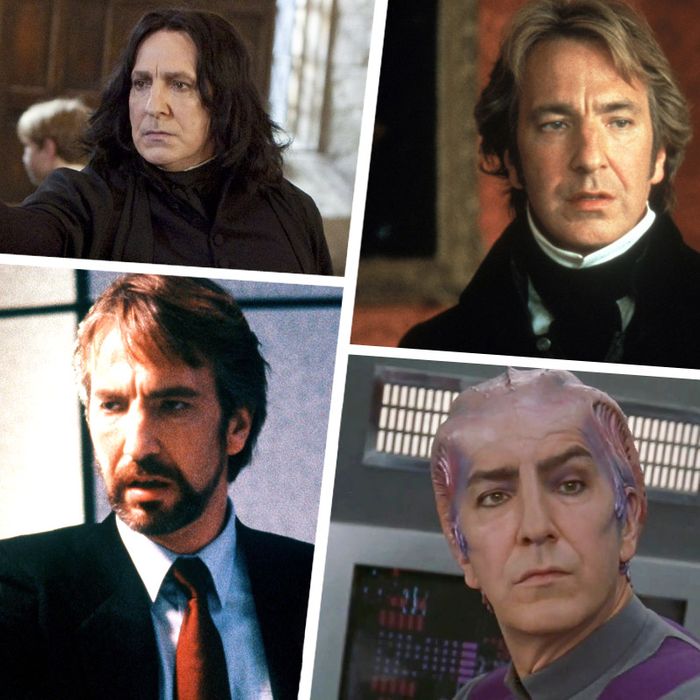 Photo: Warner Brothers, Twentieth Century Fox, Columbia Pictures, Dreamworks
By the time Alan Rickman caught the eyes of American moviegoers in Die Hard, he was already 42 years old, and a veteran of British stage and television. When he strolled onto the big screen for the first time, he didn't just look like he belonged there — he looked like he'd already been around for years, menacing action heroes and criminal lackeys with his withering looks and cutting remarks. Moviegoers were sure they'd seen Rickman before; character actors with his kind of presence rarely just spontaneously appear.
In the decades after Die Hard, and right up until his death this week at the age of 69, Rickman worked enough in big Hollywood movies to become the kind of go-to villain and supporting player that he already seemed to be back in 1988. But he also took leads in smaller films, often gravitating to low-key comedy, where his deadpan style worked just as well as it did in blockbusters. Rickman had an amazing voice — deep and thick, like his tongue was coated in honey — and he paired it with a civility that bordered on world-weariness. He was frequently cast as the smartest guy in the room, and in his best films, he was able to explore exactly what that meant: whether it turned his characters cold and mean or it instilled a rare compassion.
Here are some of the prime examples of how Rickman found a wide range of notes to play within that simple, low-boil type that he defined in his motion-picture debut.
Hans Gruber, Die Hard (1988)
Rickman was hardly the first refined European to play a villainous dandy in a Hollywood shoot-'em-up, but just as Die Hard defied convention by making its bad guys merely greedy (instead of politically motivated), its actors redefined pulp archetypes. While Bruce Willis was playing lawman John McClane as both resourceful and vulnerable, Rickman was making his Gruber into someone eerily calm and commanding, whose ultimate (and literal) downfall is oh-so-satisfying to watch. He's so convincing in the role that dozens of action pictures since have tried to introduce their own Hans Gruber: the brilliant tactician tripped up by arrogance. More than a few filmmakers would cut out the middleman and just hire Rickman to play the part. His take on the Sheriff of Nottingham in 1991's Robin Hood: Prince of Thieves, for example, is essentially Gruber in a doublet. (Read our lengthier appreciation of Rickman as Hans Gruber.)
Jamie, Truly, Madly, Deeply (1990)
Hans Gruber may be Rickman's most iconic role for moviegoers over the age of 35, but his best performance overall is in writer-director Anthony Minghella's cult classic rom-dramedy Truly, Madly, Deeply, playing the ghost of a grieving woman's dead boyfriend. Juliet Stevenson plays Nina, who's initially thrilled to have her lover back in her life, until she begins to realize that he's a lot needier and more demanding than she'd remembered. Rickman strikes a tricky balance between charming and obnoxious throughout Truly, Madly, Deeply, fully embodying Minghella's meditation on the complicated feelings that accompany a loss.
Colonel Brandon, Sense and Sensibility (1995)
After establishing his ability to play the louse early in his career, Rickman spent a good remainder of his life taking on roles that exploited — and subverted — audience expectations. As Colonel Brandon in director Ang Lee and writer/star Emma Thompson's lovely version of Jane Austen's Sense and Sensibility, Rickman initially comes across as chilly to the point of inhumane. That's what makes it all the more moving when the Colonel generously nurtures Kate Winslet's sickly Marianne Dashwood, revealing a hidden tenderness that blossoms into romance. Many of Austen's stories are about the unexpected depths of virtue within seemingly unremarkable men and women, which made the casting of Rickman a kind of masterstroke. It showed how well Thompson and company understood the material.
Alexander Dane, Galaxy Quest (1999)
The loss of Rickman may permanently squelch the long-standing talk about a sequel to Galaxy Quest, the science-fiction comedy that saw the actor playing the reluctant Leonard Nimoy–like star of a Star Trek–esque TV series. Rickman is sublimely funny as depressed thespian Alexander Dane — and as the heroic character, Dr. Lazarus, he can't seem to escape — but Galaxy Quest itself is such a little gem that maybe it's for the best that it can't be tarnished now by a disappointing follow-up. As it stands, the performance is just about perfect, following an arc from prickly to powerful as Dane discovers what it really means to be Lazarus during an actual outer-space adventure. Plus, Rickman developed a real rapport with his co-star Sigourney Weaver, with whom he'd appear again in the heartbreaking 2006 melodrama Snow Cake.
Dr. Alfred Blalock, Something the Lord Made (2004)
Rickman won an Emmy and a Golden Globe for playing the mad monk Rasputin in a 1996 HBO movie, but he was even better eight years later in another HBO production, Something the Lord Made, playing pioneering cardiac surgeon Alfred Blalock. The film is primarily about the relationship between the white doctor and his black assistant, Vivien Thomas (played by Mos Def) as they worked together to pioneer new techniques while dealing with the pervasive racism of the mid-20th century. This was an atypical part for Rickman — a straight biopic, concerning a relatively uncomplicated hero — but he played it with grace, focusing on how Dr. Blalock's clinical approach to his work and his life helped break down social and medical barriers.
Severus Snape, the Harry Potter series (2001–2011)
Because he had such a one-of-a-kind voice and face, Rickman fit easily into genre pieces, be they fantastical (as in The Hitchhiker's Guide to the Galaxy, where he provided the voice of "Marvin the paranoid android") or horrific (as in Tim Burton's version of the Stephen Sondheim musical Sweeney Todd, where Rickman was the coldhearted Judge Turpin). But perhaps the most perfect match of the actor to a role came in the series of movies based on J.K. Rowling's best-selling young-adult novels, which saw Rickman playing the morally ambiguous "Defense Against the Dark Arts" instructor Severus Snape. Rowling herself courted him for the part, and reportedly fed him details about Snape's past that even Harry Potter fanatics didn't know. For the generation born after Die Hard, Snape will likely always be the character that Rickman's best known for — and there's absolutely nothing wrong with that. He brought everything in his skill-set to those movies: the wit, the flintiness, the air of danger, and the secret sweetness. From moment to moment, Severus Snape could come across as awful or as an unlikely ally. Not many actors could play those variations without radically modulating their performance. Rickman had that quality. We won't see its like again.