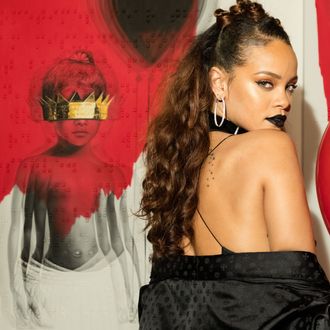 Rihanna, 'Anti' artwork.
Photo: Christopher Polk/Getty Images
Not long after Tidal's earlier Anti-release mishap, Jay Z's music service re-released Rihanna's eighth studio effort Wednesday night. The 13-song track list you might have seen earlier was legit; Anti indeed has that SZA feature, as well as the newly minted Drake single, "Work." (No "BBHMM," "FourFiveSeconds," or "American Oxygen," though.) Aside from Drake and SZA, Kuk Harrell, Bibi Bourelly, Boi-1da, Hit-Boy, the Weeknd, Travi$ Scott, DJ Mustard, and Timbaland, among many others, also had hands in the creative process. The full album — also including the likes of the artist's 4/20 gift "James Joint," "Kiss It Better," and "Higher" — is available via Tidal for purchase here, or streaming here.
You can also listen to "Work" below:
Rih's latest will stream exclusively on Tidal for its first week, according to the service; it was originally planned as a Thursday surprise (at 12:01 a.m.), but because of the leak, it came a few hours ahead of schedule in its standard form. (A 16-track deluxe version is still slated for a Friday release.) These are the current 13:
"Consideration," feat. SZA
"James Joint"
"Kiss It Better"
"Work," feat. Drake
"Desperado"
"Woo"
"Needed Me"
"Yeah, I Said It"
"Same Ol' Mistakes," (Tame Impala cover)
"Never Ending"
"Love On The Brain"
"Higher"
"Close To You"
From the reggae-pop-y "Work," on through her pitch-perfect cover and impassioned closing third, Rihanna shows off in chameleonic fashion — Billboard making good on its early promise that Anti would be "more diverse than her prior releases, with a wide array of styles that move the overall product away from 'BBHMM' territory."
Tied to the much-anticipated roll-out, the final door of the ANTIdiaRY was also unlocked:
As well as a limited amount of free download vouchers (which include a 60-day Tidal subscription):

At time of publication, a flurry of the gratis downloads were still available as gifts from RiRi and Samsung, which worked with the pop star on her prolonged mobile marketing campaign. The tour for the album kicks off next month.
This post has been updated throughout.