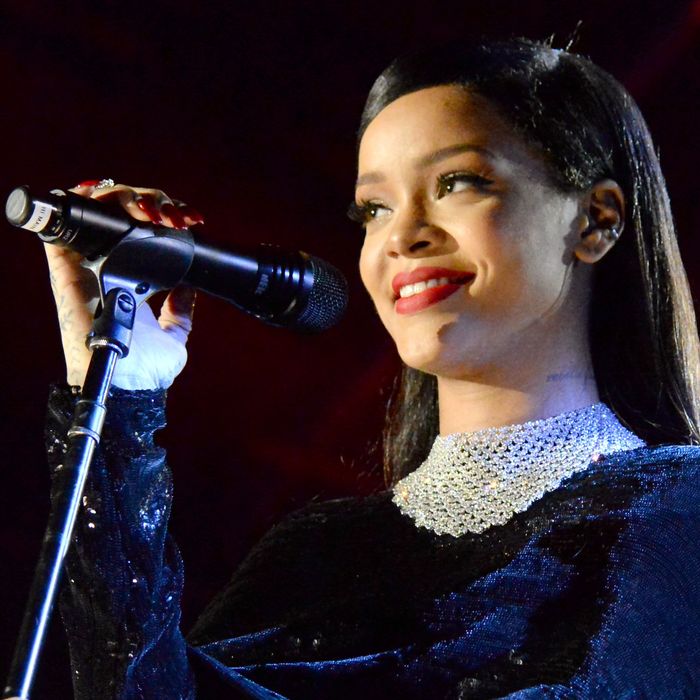 Pay me what you owe me: Nothing.
Photo: Jeff Kravitz/Getty Images
Late Wednesday night, just shy of 10 p.m., Rihanna did the unthinkable: She released an album. It was an event that, given her track record, should've happened in 2013 (from 2005 to 2012, she released an album every year, save for 2008). But Rihanna was not interested in playing par for the course. With Anti, she took her sweet time, likely surveying the changing music landscape poolside in Barbados, blunt inevitably in hand. Not that she hasn't been work, work, working: Rihanna has used her mid-20s to build one of the most profitable multihyphenate empires — in 2015 alone, she became the first black woman to star in a Dior campaign, launched an apparel line with Puma, took co-ownership of a little something called Tidal, and tried out some Anti singles that ultimately didn't make the cut.
Like a lot of pop giants who've been playing this game for at least a decade, Rihanna has been on the fence about music streaming in the past. She denied Spotify of 2012's Unapologetic for weeks, instead favoring the traditional pay-me-what-you-owe-me route, which led to her first No. 1 album. Putting her faith (and dollars) in her trusted mentor Jay Z's latest business risk, it turns out, has not meant a full embrace of streaming just yet. Throughout 2015, Rihanna granted Tidal considerable access, releasing some songs and videos exclusively for paid subscribers — but not all her work. While Tidal continues to carve out its place in the streaming wars, Rihanna seems done waiting. Hours after the site appeared to bungle her album's surprise drop — putting it live on the site then yanking it immediately — Rihanna did something even more unthinkable for someone in her position: She gave it away for free.
All too many disgruntled artists have been in a similar situation. They're tangled in an impossible web of industry bureaucracy; their major label won't effectively market their album; or, in some dire cases, it won't release it all. So they'll pull an Azealia Banks and kick and scream their way out of a contract, later releasing an album on their own terms. Or they might do what Jeremih did late last year and tap out, quietly releasing their years-overdue album in the middle of the night with virtually no press or promotion (and then proceeding to low-key trash the label). But those are the beleaguered efforts of an artist backed into a corner with not nearly as much clout or coins as Rihanna. Why, then, would she release Anti for free — personally tweet out the code to download it, even — at a time when one of her biggest competitors is penning op-eds with the rigid message "music should not be free," while another has refused streaming altogether and sold more than anyone else this decade while doing so? For the first time in Rihanna's career, her primary concern isn't commercial bragging rights (though Anti has already gone platinum). She's got legacy on the brain, and Anti's more subdued and cohesive sound isn't the only reflection of that.
First, keep in mind that Rihanna is not the total rule-breaker her zero-fucks-given attitude would suggest: On the same day she made Anti a freebie, she also revealed its first single, "Work," featuring Drake, having scrapped all previous singles from the album, as we later learned. The song went to Tidal and, eventually, iTunes and Apple Music (though not Spotify), but it debuted on global radio. In the U.S., it was the most-played song on Wednesday, outperforming Justin Bieber's "Sorry" and Adele's "Hello" (which have both gone No. 1). So even if Anti's shoddy release and initial free price point hurts her overall first-week sales, her decision to drop a single the traditional way should make for a strong debut on the Hot 100, where she has long dominated. Not that Rihanna couldn't pull off a No. 1 debut for Anti anyway, seeing as it's now available on iTunes. (Also, the album was streamed 13 million times in less than a day on Tidal, which does factor into the Billboard 200 album tally, but at an adjusted rate; the free downloads don't factor into Anti's charting position.)
But Rihanna is also a savvy rule manipulator. Months into Anti's inconsistent album cycle, reportedly around April 2015, she struck a deal with Samsung, which would sponsor her upcoming world tour with Live Nation and promote the album for little in return. Unlike Jay Z, who agreed to release 2013's Magna Carta Holy Grail exclusively on Samsung devices for a fraction of what Rihanna reportedly made overall, her commitments — as far as what's been made public — weren't nearly as invasive. All she had to do was film a series of creepy commercials, partner with the company on her ANTIdiaRy app (which gives fans behind-the-scenes content), and, on the day of the album's release, allow around 1 million Samsung users the opportunity to unlock free-download codes if they could find them in Room 8 on the app (or, you know, just look at her tweet).
The business of this particular free download was also cleverly opportunistic. On the surface, it seems like it'd do a disservice to Tidal: Who would want to pay to stream or download the album when she's already made it so simple to take it free of charge? Wednesday night, when I clicked on her link, Tidal didn't even prompt me for a code. I just filled in my name and email, and boom, one of the most sought-after albums of this year and last was all mine. But there's always fine print: That download didn't just give you an album, it offered you a free 60-day trial subscription to Tidal. Rihanna, via Samsung, has essentially bought you her album and two months' worth of Tidal content, a probable attempt at softening Tidal's image as some greedy oligarch. And, as others have pointed out, it's a great way for Tidal to keep tabs on every single person who downloaded her album but isn't signed up. Tidal now has your email; it can spam you with all the promo it wants without even having to ask for permission.
But like Adele, Rihanna isn't actually all that concerned with doing favors for big companies, even the ones she has stake in. For Rihanna, giving Anti away for free for a day is more a statement of control. Around this same time last year, Drake reportedly attempted to drop If You're Reading This It's Too Late as a free DJ Drama–hosted release on popular mixtape site DatPiff. That plan derailed, however, when his parent label, Cash Money, intervened and forced an iTunes sale (Drake has been partnered with Apple ever since). Rihanna could've similarly been at the mercy of Tidal, even after it blew her release, were she not equipped with an incomparable mastery of fan service: She worked on offense and seemingly self-managed the damage control, knowing that the most effective response to a leak is not to stick to the plan and hope for the best, but to own it. Rihanna might've escaped a release-day disaster just by understanding that music fans care the most about access; rather than allow leakers (in this case, Tidal) to hijack that access, she took what will likely be a short-term sales hit to give the album away herself under her conditions, not Samsung's or Tidal's.
It's a measure of authority she's been plotting for some time. Leaving Def Jam for Roc Nation (though not entirely) two years ago was a step toward creative autonomy, as has been her ability to reportedly run point on her career going forward, much like Beyoncé has. But brokering a deal to retain all past and future master recordings, as well as self-releasing music on her own label, Westbury Road? That is the move of someone whom Nicki Minaj would describe as a boss-ass bitch. Jay Z said it best himself, telling Vanity Fair last year, "What took me 15 or 20 years to get has taken her 10, and will take the next person 5 years." By following his lead but also forging her own path, Rihanna is, as she says, calling the shots, shots, shots.