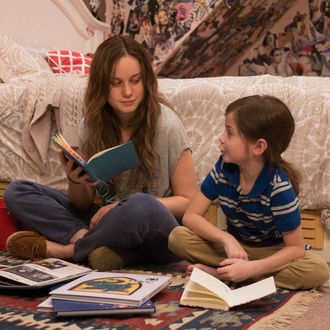 Photo: George Kraychyk/A24
Today was a big day for Room, which received four nominations: Best Picture, Best Director (Lenny Abrahamson), Best Actress (Brie Larson), and Best Adapted Screenplay (Emma Donoghue). It was an even bigger day for A24, the rising distributor and production company, which just nabbed its first Oscar nomination for Best Picture. But there's another reason why this is good news for the little movie that could: Now Room can, in theory, make some dough.
Released on October 16, 2015, Room reached a peak of 198 theaters the weekend of December 11–13, and has been gradually dropping its theater count since then. So far, it's brought in a total of $5,166,724 — making it the lowest-earning Best Picture nominee to have started decreasing its availability since the category was expanded from five films in 2009. Though, really, you can go back even farther than that. Not since 1989 has a film been out for as long and grossed as little as Room has and still been nominated for Best Picture. That year, My Left Foot, the movie that would get Daniel Day-Lewis his first Oscar, was nominated after having earned just $2,117,616 in three months.
Although a few films have been nominated with less money made than Room since then, in all three cases, they were still growing. In 2014, Clint Eastwood's American Sniper was only at $3,372,722 when it was nominated; of course, it still had some $313 million left to make once it went wide, en route to becoming the top moneymaker of that year. Michael Haneke's Amour got the nod in 2012 with only a $371,137 gross, but at that time, it had only reached three theaters; it would gross $6,739,492 by the end of its run. (It also hails from Germany.) And when Letters From Iwo Jima, also by Eastwood, was nominated in 2006, it had earned $2,594,775 in its first month of release, with another $11 million to come by the time it finished expanding its theater count.
For an American movie on the downward slope of its release trajectory, Room stands alone in how little it has made while still getting nominated for Best Picture. Now, this isn't a charge against Room or A24, just a measure of how unlikely this honor is; having peaked at only 198 theaters, the low-budget Room never even sniffed a wide release, which is generally thought to be 600 theaters or more. With a nomination under its belt, Room could now expand with far more confidence in its appeal to a nationwide audience, should its distributor choose to do so; possibly, A24 was waiting for the Academy nod, assuming that at the very least, Larson's more-or-less guaranteed inclusion in the Best Actress race would be enough to give it some punch on VOD. Either way, Room just got some of the best PR in the world.