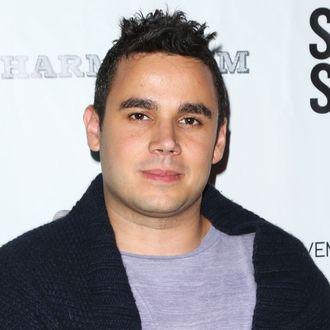 On to better things!
Photo: Paul Archuleta/Getty Images
Vampire Weekend co-founder Rostam Batmanglij has officially quit the band. He announced the news on Twitter on Tuesday, saying that while he'll still be around to "collaborate" on future Vampire Weekend songs with Ezra Koenig, his "identity as a songwriter and producer … needs to stand on its own." "There is so much amazing music — all of it dear to me — on its way to you," he writes. If you're already spiraling into a panic thinking VW just lost its MVP, there is slight cause for concern. Batmanglij did, after all, write a large part of VW's music and lyrics, along with Koenig, and either produced or co-produced all three of their albums. But his suggestion that this isn't a divorce should calm your nerves; his presence will likely still be felt on future VW records.
Also, get excited! Now that Batmanglij is creating for himself, he has every opportunity in the world to continue the streak of pop and indie gems he's worked on in recent years, particularly now that the demand for indie crossover in the pop world has arguably never been greater. While with VW, Batmanglij produced and wrote songs for Carly Rae Jepsen (who handpicked him for the job), Charli XCX, Wavves, and Cloud Nothings (on a collaborative album), and even himself, both as a solo artist and with Ra Ra Riot's Wes Miles.
But if that's total news to you, here's a quick rundown of just a few non-Vampire Weekend projects Batmanglij has had a hand in over the last few years.
Rostam Batmanglij, "EOS" (Rostam's latest solo song)
Santigold, "Chasing Shadows" (produced by Rostam, off 2016's 99 ¢)
Carly Rae Jepsen, "Warm Blood (produced and co-written by Rostam, off 2015's Emotion)
Charli XCX, "Need Ur Luv" (produced and co-written by Rostam, off 2014's Sucker)
Charli XCX ft. Simon Le Bon, "Kingdom" (produced and co-written by Rostam, off 2014's The Hunger Games: Mockingjay — Part 1 soundtrack)
Jenny Lewis, "Completely Not Me" (produced and co-written by Rostam, off 2014 Girls soundtrack)
Rostam Batmanglij, Best Coast, Kid Cudi, "All Summer" (produced by Rostam, from a 2010 collaboration for Converse)
Discover, "So Insane" (from Rostam and Ra Ra Riot's Wes Miles 2009 collaborative album, LP)