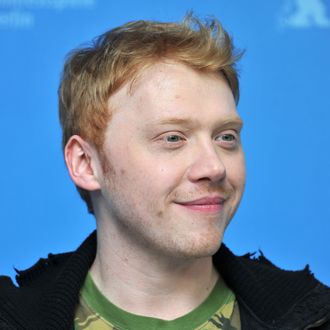 Oh, Rupert.
Photo: Pascal Le Segretain/Getty Images
Ron Weasley is the punching bag of the Harry Potter universe. He deals with the insults, the Weasley jokes, the schemes to make him worse at quidditch, but it all ends up okay, because he's a fundamentally good person — and also because he gets to kiss Hermione. Unfortunately for Rupert Grint, however, the last part of that wasn't so fun, making him the only person who has ever had trouble feeling attracted to Emma Watson (Bazinga! Am I right?). In an interview with People, Grint admitted he had a lot of trouble filming the kiss between himself and his co-star ("I volunteer as tribute," shout a million young men quoting the wrong franchise). "I've known Emma since she was literally 9 years old and we had this very brother-sister relationship," Grint said at an event at the Wizarding World of Harry Potter. "And it just felt very surreal. I have a memory of her face getting closer and closer. Like, 'Oh my God.' I can't really remember anything apart from that." Luckily for Grint, Watson has described kissing her co-star in similar language, saying, "It's like incest." (Ya burnt, Grint!)
At the same event, Grint, whose latest film, Moonwalkers, just came out, also revealed that he has been to the set of Fantastic Beasts and Where to Find Them and joked that "I think they made a huge mistake not casting me." Fantastic Beasts and Where to Find Them is set in the 1920s, but perhaps a time-traveling Ron cameo is in order.