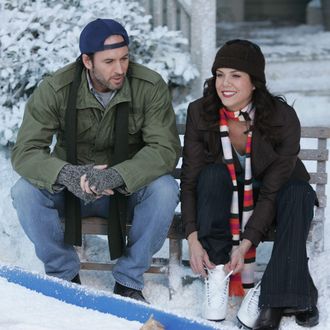 Photo: Justin Lubin/Warner Bros./Getty Images
Since the announcement that Gilmore Girls would be revived for Netflix, we've all been predicting (and hopefully wishing) what will happen in the new episodes. One thing that will certainly happen: coffee and heart-to-hearting at Luke's Diner. Scott Patterson, who plays the proprietor of Luke's Diner (named, aptly, Luke), is thrilled to return to Star's Hollow. After posting a picture of his plaid shirt on Twitter, Patterson elaborated:
"I am thrilled Warner Bros and Netflix have gathered us all once more for a return to Stars Hollow. We have an unbelievably talented cast, and with Amy Sherman-Palladino and Dan Palladino's rich writing and character development, the story continues its timeless arc," he said. "I'm excited to see where the characters are now, and find out where and how they develop. I am happy to be back working with my friends and cast-mates, but even more thrilled for the fans. All of this is because of them, and without our fans, none of this would have been possible. Luke's Diner is now open for business!"
Damn good coffee. Oh, wrong show.