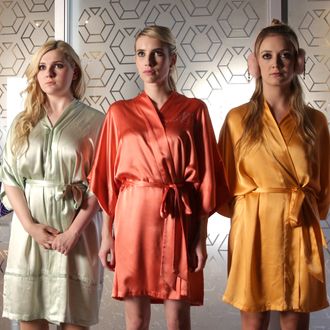 Time for a happy scream, queens!
Photo: Patti Perret/FOX
Ryan Murphy's comedy/horror anthology series Scream Queens will return for a second season, Fox announced at its portion of the TV Critics Association press tour. The setting, this time around, will be a hospital. "You will meet people with complex, bizarre cases," said Gary Newman, chairman and CEO of Fox Television Group. "This is something Ryan Murphy loves and had lot of fun with on Nip/Tuck and will infuse that sensibility into the next chapter of this anthology." 
 At first blush, the news might seem unexpected: By traditional metrics, the series was a decidedly modest performer, averaging just 2.7 million same-day viewers in the overnight Nielsen ratings. Given the massive promotional push the network gave Queens, those numbers by themselves probably wouldn't have merited a renewal just a few years ago. But the TV landscape has changed dramatically, and in the current environment, Fox's decision isn't completely bonkers (and had actually been anticipated for weeks by TV-industry insiders). Here's why this renewal make sense: 
It did better than the overnight Nielsen ratings would suggest.
Queens actually has a very sizable audience once delayed viewing and non-linear platforms (such as VOD and Hulu) are counted. Across linear and non-linear platforms, the show delivered 7.2 million viewers on average during season one, a massive 167 percent improvement on the aforementioned same-day viewership. Fox says that's the largest multi-platform lift of any show in the network's history. Now, it's true: Fox doesn't make as much money off of these digital and delayed viewers as it would if viewers watched the old-fashioned way (on TV). But it's 2016, and there are over 400 scripted TV shows on the air: Networks right now will take viewers any way they can get 'em. And 7 million viewers is not nothing.
The right kinds of viewers are watching.
Scream Queens had a heavy concentration of millennial viewers, particularly females. It actually stands as the season's No. 1 new comedy among adults under 35. Thanks to threats from Netflix and specialized cable channels such as Freeform, broadcast networks are having a very tough time luring such viewers into their ecosystem. Fox obviously would love it if Queens reached a broader set of viewers, but the fact that it does really, really well with a group advertisers truly covert? It's a big plus.
Its anthology format helps.
As with his American Horror Story franchise for FX, Murphy always envisioned Scream Queens as a show that would change things up dramatically from season to season. Beyond the creative advantages, this means Murphy and Fox have a second chance to expand the show's core beyond younger females. Instead of a college campus, season two will take place in a completely new, more universal setting (a hospital filled with freaky medical disorders) and will likely feature a mostly new cast (with a few holdovers). This means audiences who never checked out the show in season one can be sold what is essentially a brand new series, while at the same time holding on to the Scream Queens loyalists already hooked on the show. There's no guarantee season-one viewers will return, of course, or that a new marketing hook will prove more effective at building a bigger viewership base. But given how many new shows are being launched these days, any series with even a small bit of brand familiarity is valuable to networks.