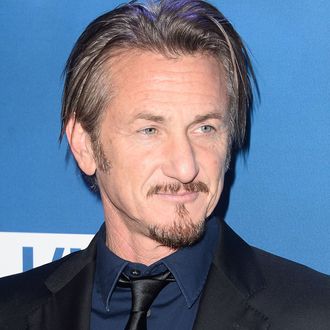 Oscar bait.
Photo: Matt Winkelmeyer/Getty Images
After news broke Friday that Joaquin "El Chapo" Guzmán, one of Mexico's most famous drug kingpins and escape artists, had been captured while trying to make a biopic about his life, you might have though that news couldn't get any stranger. But no, late yesterday, we all learned that Sean Penn had interviewed El Chapo for Rolling Stone and written a nearly 10,000 word feature on his experience. In it, Penn details the intricacies of his security measure by using burner phones and Blackberries. He explains how he first made contact with the drug lord through actress Kate del Castillo, who played a "drug lordess" on a Mexican soap opera — pretty sure "drug lord" is a genderless term, Penn — and once tweeted support for El Chapo. He even included some mild self-deprecating humor — at one point Penn writes, "I expel a minor traveler's flatulence (sorry)"; at another, he gives a full aside about cradling his penis in the jungle: "I throw my satchel into the open back of one of the SUVs, and lumber over to the tree line to take a piss. Dick in hand, I do consider it among my body parts vulnerable to the knives of irrational narco types, and take a fond last look, before tucking it back into my pants." With that, the illustrious chain of New Journalism, from Mailer through Thompson and Talese, finds its new home with Penn.
But onto the real meat of the issue: Why would El Chapo agree to such a potentially risky meeting? A meeting that, according to one Mexican official, led the authorities straight to his own encampment. Fame. Yes, the same desire that makes New York high school kids dance on tables moves even the mass murderer's soul. El Chapo wanted a biopic and El Chapo wanted a biopic done right. El Chapo does not want whatever the drug lord equivalent of "Jennifer Lawrence plays Joy, a woman who invents a mop, but not Joy Mangano, the woman who actually invented this mop" is (probably Narcos). So El Chapo tried to find someone who understands the movie business and he found Sean Penn, which is a clear sign that he doesn't understand the movie business yet (a studio head would know how to cover their trail). And Sean Penn got his junket interview. And everyone was happy, until, of course, El Chapo got caught.
But in what Alanis Morissette might call ironic and Harvey Weinstein would probably just refer to as "fate," now El Chapo is definitely going to get a biopic. Because that's what happens with every story that remotely involves Hollywood, from the invention of the talkies to that time Canada Ben Affleck saved Iranian hostages. The only issue is that the guy who plays El Chapo won't be getting the Oscar — no, that'll go to Sean Penn. El Chapo's the Mark Wahlberg to Christian Bale in The Fighter of this story now, the lead character who gets overshadowed by the wacky supporting turn. Everyone in the cast of Narcos is sending a selfie of themselves next to El Chapo's mug shot. Everyone in Hollywood is getting a spray tan, trying on some fake facial hair, and doing their best Spicoli impression. Who will it be? We have some ideas:
Shorty: 2016 release, starring Jennifer Lawrence in a wig as Sean Penn and Bradley Cooper as El Chapo. Director David O. Russell. This film is already being made.
Penn/Chapo: 2017 release, starring Sean Penn as Sean Penn and Luis Guzman as El Chapo. Director Oliver Stone. Authentic, serious, pendantic — Penn makes an Oscar run as himself, but loses to Jesse Eisenberg, who plays his Rolling Stone editor.
Dick in Hand: 2018 release, starring Will Ferrell as Sean Penn and Will Ferrell as El Chapo. Director Will Ferrell. A "passion project."
The Writer: 2019 release, starring Tom Hardy as Sean Penn and El Chapo as El Chapo. Director Alejandro González Iñárritu. In his next stunt/attempt to get at the truth of art, Iñárritu makes a documentary following Hardy (in character as Sean Penn) as he attempts to broker another meeting with El Chapo (now on the run again). Hardy is shot in the leg during filming, but El Chapo gets the Oscar.
The Interview 2: 2020 release, starring James Franco as Sean Penn and Oscar Isaac as El Chapo. Director Semaj Franco. Impressionistic, "inspired by Terrence Malick," at one point tape from the interview plays over 10-minute shot of a white butterfly. Nobody knows why Isaac agreed to be in this film. Probably Star Wars fatigue.
Powder: 2022 release, starring Christian Bale with a spray tan as Sean Penn, Michael Peña in his first big dramatic role as El Chapo, Charlize Theron as "Narrator/Ghost," Ryan Gosling as "Studio Executive," and Madonna as Madonna. Director Adam McKay. The true-life account of the making of Penn/Chapo, intercut with explanations of the drug war provided by Theron and Madonna. Penn sues, unsuccessfully, to stop its production.
The Meeting: 2030 release (a remake of The Interview 2), starring Dave Franco as Sean Penn and Ryan Guzman as El Chapo. Director Dave Franco. The moment when the young Franco started to eclipse the older. Includes an reference to now-cult classic The Boy Next Door in which El Chapo hands Penn a first-edition copy of The Iliad.
Thank you, Hollywood. All that we ask is that you mention us in your awards speeches.