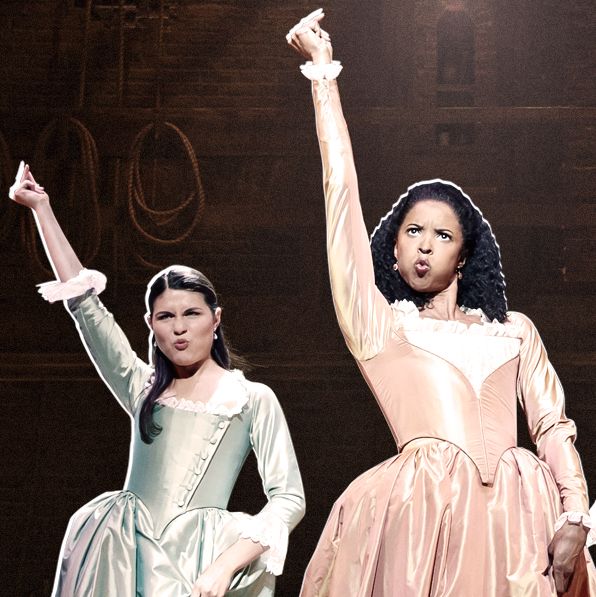 Photo-Illustration: Photo by Joan Marcus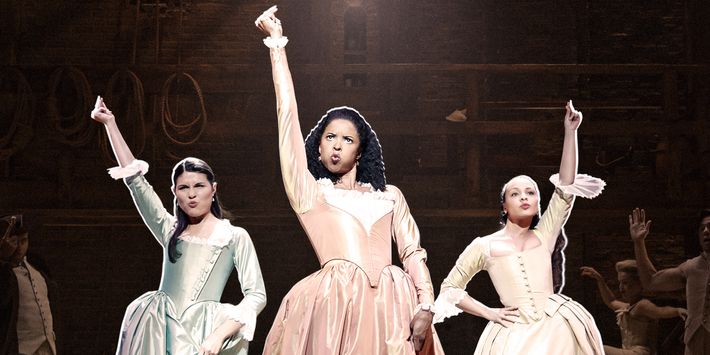 Should I listen to the cast recording before I see the show? It's a question one wonders before seeing any musical, and just like everything else in this world, it depends. Some people always go in 100 percent blank, having avoided all recordings; and some like to go in knowing every single line, being able to simultaneously hear the songs in their hearts and through their ears. Typically, the choice is whether to opt in rather than a choice to opt out, but when a show becomes as beloved and pervasive as Hamilton has, you have to really choose not to hear the music before seeing the show. That's just the power of Hamiltunes. There's no one right path, so this guide will walk you through several options.
The argument for going in completely cold. This is how I myself saw the show a few weeks ago. Going in cold is always an option, and my experience was utterly thrilling. (In fairness, I was familiar with the opening song because of the performance at the White House six years ago.) We tend to watch everything else cold — do you listen to movies before you see them? — and that works out pretty well; plus, for live theater, you get both the dazzle of the content plus the wonder of the onstage feats of strength. What could be better?
Well … in the case of Hamilton (and other shows, too, but we're only here to talk about one), what would be better is tiny bit of familiarity with some of the numbers. Because of how fast the lyrics fly, particularly in Hamilton's first act, and also how densely packed the information is at the top of the show, you're better off with some grounding in the material.
I'm interested in knowing … one song. Okay, that one song should be "My Shot." I'm not saying it's the best song in the show — though one could make a very compelling argument that it is — but knowing every word will be a boon. The song grows and grows onstage, so being able to focus less on every single word and more on the stagescape developing in front of you will let you be more carried away by the action of the show.
More than one song, please. I want to go in not quite cold, but more cold than not, honestly. If you think you're going to be able to see the show in the next, oh, year (remember, it also opens in Chicago in September), this is, I think, the best way. The first act blazes through a ton of dialogue, and much of it is funny — which means people laugh over it, and that means you miss a little. I did! And I was sad. If you want to give yourself a slight head start, listen to:
"Alexander Hamilton"
"Aaron Burr, Sir"
"My Shot"
"The Story of Tonight"
Those are the first four numbers (of 46 tracks on the OBCR). You could just stop after the first three, but "The Story of Tonight" is a real beauty, and your life will be enriched by having extra time to sing it to yourself; plus, if you're in the position to be making a toast, it's not bad to have in your back pocket.
Ugh, stingy! More than that, please. Fine, but we're gonna start skipping around a little more.
"The Schuyler Sisters"
"Guns and Ships"
That's tracks five and 18; yes, you'll be skipping a lot in between. Remember, the goal for this Swiss-cheesing of the OBCR is to elevate the theatergoing experience, not pick the best songs from the show. After you see it, listen to it all in all its glory! Listening to "Schuyler" in advance will help you pick up all of what Angelica in particular is referencing. She is the best. "Guns and Ships" comes a bit later in Act I, but if you need a little bit of a brush-up on your Revolutionary War goings-on, it's the place to start.
Mooooooore. Fine.
We're backtracking a little — this is track 15. "Ten Duel Commandments" has some of the show's most interesting choreography, and obviously, in the history of Alexander Hamilton, the idea of duels comes up a few times, so it doesn't hurt to know the rules.
Is that it? Kinda, yeah. I enthusiastically recommend not listening to more of the show than that before you see it. There are so few true surprises in life that are purely good.
I really wanted to listen to more than that. Okay, but I still think you should not listen to Act II in advance. Go ahead and listen to Act I, but: Skip "Helpless" and "Satisfied." That's tracks 10 and 11. The way they're staged is breathtaking, and the more you're able to just be along for the ride rather than predicting or guessing what's happening, the more you'll be transfixed.
Well, I want to listen to something from Act II, and I'm gonna. Fine. How about:
"The Room Where It Happens"
This is a real barn-burner, and while it technically "spoils" some of the information in the show, you're probably already familiar with the historical content. You can't spoil real life. That said, listen to Act II at your own peril.
You're killing me. Please, friend, give me something else to listen to.
Obviously you should listen to a huge amount of hip-hop and rap. But if you want to listen to other musicals in preparation for your Hamilton voyage, here are some recommendations for songs that are directly alluded to or referenced in the show:
"You've Got to Be Carefully Taught" from South Pacific
"Modern Major General" from The Pirates of Penzance
"Nobody Needs to Know" from The Last Five Years
All of 1776
All of Les Misérables
There's one very specific 1776 line in Hamilton, and if you're trying to brush up on your early American history in general, there are worse ways. As for Les Mis, Lin-Manuel Miranda speaks often and openly about how much he loves the show, and in addition to at least one direct line of melody, there are Les Mis–ish ideas throughout the show, both musically and onstage.
I'm not going to be able to see the show for a long time. So I'm just gonna listen to the whole thing obsessively, forever, actually. That's a good plan, too.