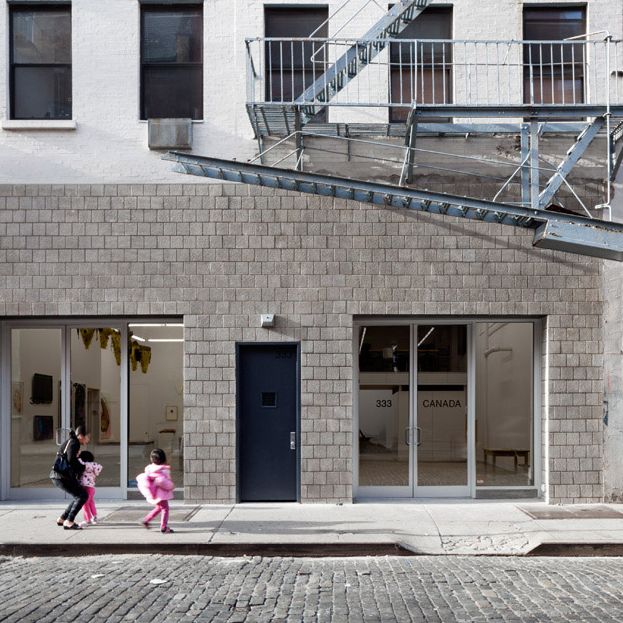 Photo: Barkow Photo/Canada Gallery
As I made my way around the Lower East Side galleries two weeks ago, a disappointed dealer said to me, "I heard what your vote is." She wasn't referring to my recent "endorsement" of Hillary Clinton. She meant my position on a procedural question now being debated around that burgeoning gallery scene. Namely, should the galleries of the Lower East Side continue being open on Sundays? Or should they switch over to the conventional (Chelsea) schedule of Tuesday through Saturday? Maybe it's quasi-gossip, but the question resonates with an art world in flux. My vote: Stay open Sunday. You're not quite ready.
Why? There are over 300 galleries in New York. Whichever galleries you visit, weekend days are busy. But they're busy on different days in different neighborhoods. There are crowds in Chelsea on Saturdays. However, the big day on the Lower East Side is Sunday. This is not a surprise or a coincidence: It's the one day when the Lower East Side is almost the only game in town.
Those who want to switch over to the standard closed-Sunday schedule maintain, rightly, that being open on Saturday and Sunday more or less means that, from now into the foreseeable future, Lower East Side dealers will never have regular weekend days off (and so essentially will only see other Lower East Side types and people all week long). On top of that, many of these dealers are young and have young families that they must now resign themselves to never seeing again on a weekend day. I know the art world is an all-voluntary army and everyone can do as they like, but try imagining a Lower East Side dealer bucking the tide, closing Sundays, and telling their artists that the gallery won't be open on the busiest walk-in-traffic day of the week. Even though the business of galleries depends less on walk-ins than on existing relations with collectors (and art fairs), artist complaints would come fast and lead to defections.   
I feel for dealers. (Even you, Larry and David.) In some ways, they're my favorite people in the art world. I love that they create aesthetic universes out of nothing and try to support art and artists and themselves while having to make ends meet, and deal with all manner of collectors, critics, curators, electricians, contractors, and endless obstacles to having even a semblance of a normal life. They're all missing a chromosome, but the New York art world would not be the same without a density of galleries. It's one of the great advantages this city has over all others in the global art world.
As an art critic, I go to around 125 galleries regularly, and there are a lot of gallery neighborhoods in New York to go to. As it is, it now takes me both weekend days to see all the galleries I need to see. Plus, I often go to the Upper East Side and elsewhere on weekdays. Most museum curators and directors are in a similar spot with even less time; ditto visiting gallerists and artists and all the rest. Making things more difficult, the Lower East Side is pretty geographically spread out, and much harder to navigate on weekdays and Saturdays — from Ramiken Crucible's second space in the basement of the Apple Bank on East Broadway and Grand to Canada just off the Bowery, from east to west. As "established" as the neighborhood is, people still aren't sure where everything is — making navigation tricky. As a test case, I recently asked a handful of local dealers if they knew where this or that gallery was, exactly; not one of them got it right. Moreover, a batch of super-interesting galleries are about to open their doors in this neighborhood. Meaning things are going to get bigger and more spread out.
I know that money people, collectors, advisers, and movers and shakers visit galleries whenever they want to. Not just on Sundays. But I can report seeing a lot of those sorts of people on that day. More than I see when I go to the neighborhood on weekdays and Saturdays. More important, there's something much bigger going on on Sundays on the Lower East Side: The New York art world is out touching antennae, seeing one another, stopping to chat and compare notes, and, at the same time, witnessing what looks to be something fairly special taking shape in this neighborhood. To lose this street-level public-pheromone-like group encoding is no small thing. And very particular to New York density.
This exact same argument came up 20 years ago, when Chelsea was the "emerging" neighborhood. Back then, my vote was the same as it is now: Chelsea galleries were open Sundays, and they should stay that way. Except I was wrong!
A little context: By 1994, Soho, getting bigger and more corporate — although we still had no idea what kind of high-powered Death Star economics were about to go down — a number of brave gallerists threw up their hands, risked everything, abandoned Soho, and opened in Chelsea. (That first wave included 303 Gallery and Matthew Marks, as well as the late greats Pat Hearn and Colin DeLand.) For anyone pining for "the good old days when young dealers could start a new neighborhood," it is a point of fact that Larry Gagosian had already been operating in Chelsea for years before other galleries joined him. Because Chelsea galleries were open Sundays, the Saturday Soho crowds remained in place and decamped to Chelsea the next day. That worked. However, by 1996, in addition to many other new spaces, a number of major Soho galleries opened in Chelsea, too. It was becoming a full-on art-gallery district. Among the transplants were Barbara Gladstone, Luhring Augustine, Metro Pictures, Andrea Rosen, and others. That was all she wrote. As I remember, it was Barbara Gladstone who instantly put her foot down and said, "Hell no! I want a life. I don't only want to see art people. I'm closing Sundays." And that's what happened all around.
She was right. I'd failed to see that Soho had already gotten too jam-packed and chaotic on Saturdays; too many crapola spaces had moved in, and good galleries were defecting to Chelsea and other neighborhoods. Soho was a zoo. Believe it or not, for Chelsea-haters — at least for someone who bases neighborhoods partly on ample street parking — Chelsea was quiet back then. Even forlorn. Peaceful. The High Line hadn't happened — but don't get me started on that. Gladstone rightly surmised that Chelsea was already strong and defined enough to claim its own schedule. It didn't have to cater to Soho to survive.
I think the Lower East Side has not reached this tipping point yet. First, Chelsea isn't dead. Yet. If it could ever die. But even if you think Chelsea is just a massive market-oriented beast, I can't imagine missing shows there. And even if more Chelsea galleries do move to the Lower East Side, the powerhouse dealers who own their spaces will likely stay put. Bully for them. As it happens, the rents on the Lower East Side have now risen to be almost commensurate with Chelsea. That's a pretty big stumbling block directly in its path. The Upper East Side is often said to be cheaper than the Lower East Side, and more gallerists have opened uptown to avoid the higher rents; some are going to Harlem. The ongoing success and flexibility of the Lower East Side is far from guaranteed. Closing Sunday now would only make things trickier than they already are for these dealers, most of whom operate on a shoestring and survive month-to-month.
I love their confidence, but I think it's just too soon for the galleries of the Lower East Side to make that kind of power move. It's still growing, becoming more of what it might one day be. And when the day comes of the ascendancy of this neighborhood, maybe Chelsea galleries will be the ones open Sundays in order to compete.