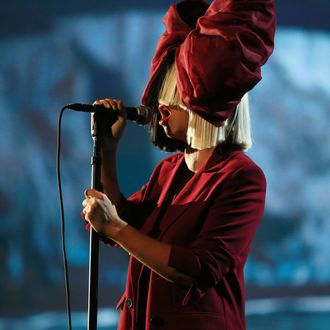 Sia.
Photo: Christopher Polk/2015 Getty Images
Sia unveiled her Kanye-produced, kind of Kanye–co-written collab "Reaper," another repurposed track featured on This Is Acting, late Wednesday night. As she explained to Rolling Stone last month, the song was originally penned for Rihanna, but the wig-wearing singer decided to keep it for herself. Well, more for her manager. "I'm not emotionally attached to it," she told the magazine. "It's a good, fun song, but I didn't anticipate it being on the record. But my manager really likes it so I put it on for him." Find out if your musical taste can best be described as "Kind of Like Sia's Manager" below:
Also, similar to Justin Bieber's Purpose, the full Acting track list hit social media earlier in the day — Sia just used marquees instead of graffiti:
1. "Bird Set Free" (from Capri Theatre, in Adelaide, Australia)
2. "Alive" (from Oxford Art Factory, in Sydney)
3. "One Million Bullets" (from the Academy, in Dublin)
4. "Move Your Body" (from Everyman Screen on the Green, in London)
5. "Unstoppable" (from Phoenix Cinema, in London)
6. "Cheap Thrills" (from the Danforth Music Hall, in Toronto)
7. "Reaper"

8. "House on Fire" (from Webster Hall, in New York)
9. "Footprints" (from the Logan Theater, in Chicago)
10. "Sweet Design"

11. "Broken Glass" (from Stubb's, in Austin)
12. "Space Between" (from the Forum, in L.A.)
The album, and the rest of its reject glory, comes out January 29.