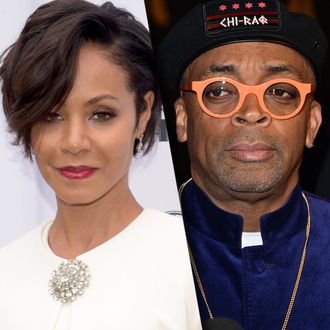 In the face of another year of all-white acting Academy Awards nominees and mostly white nominations in other categories, Spike Lee and Jada Pinkett Smith have announced separate plans to boycott this year's Oscars ceremony. Lee won his first, honorary Oscar last fall, but in a letter sent to the Academy, also excerpted on his Instagram account, Lee writes that he and his wife, Tonya Lewis Lee, "cannot support" the awards ceremony as it currently stands. After posting a series of tweets Saturday pondering the effectiveness of an Oscars boycott, Pinkett Smith released her own video on Facebook this morning, in which she cited similar concerns over the Academy's power to ignore, and therefore diminish, the accomplishments of people of color. She also said that she would neither attend nor watch the ceremony.
"How Is It Possible For The 2nd Consecutive Year All 20 Contenders Under The Actor Category Are White?" Lee writes in his letter. "And Let's Not Even Get Into The Other Branches. 40 White Actors In 2 Years And No Flava At All. We Can't Act?! WTF!!" The director points out that the real struggle lies in the offices of studio executives, who have the power to green-light projects with better roles for black actors, and that a lack of recognition at the Oscars is a symptom of larger systemic issues. "As The Great Actor Leslie Odom Jr. Sings And Dances In The Game Changing Broadway Musical HAMILTON, 'I WANNA BE IN THE ROOM WHERE IT HAPPENS'" Lee writes. "People, The Truth Is We Ain't In Those Rooms And Until Minorities Are, The Oscar Nominees Will Remain Lilly White."
In her video, Pinkett Smith emphasizes the power and influence that people of color have amassed. She asked if it was possible to "acknowledge ourselves in the way in which we are asking others to do," and to take the power to grant recognition away from a group that doesn't recognize the accomplishments of people of color. "Begging for acknowledgement, or even asking, diminishes dignity and diminishes power," Smith argues. "And we are a dignified people and we are powerful, and let's not forget it. So let's let the Academy do them, with all grace and love, and let's do us, differently."
Like Lee, who said that he meant "No Disrespect" to host Chris Rock, Oscars producer Reggie Hudlin, and Academy president Cheryl Boone Isaacs, Pinkett Smith acknowledges the difficult position her boycott puts on people of color involved in the awards show. "Hey, Chris, I will not be at the Academy Awards, and I won't be watching," Smith said. "But I can't think of a better man to do the job at hand this year than you, my friend. Good luck."
The Academy hasn't responded to either statement. Rock, however, has already taken to poking fun at the ceremony, calling the Oscars the "White BET Awards" while promoting a teaser for the show.
Update: In an interview with George Stephanopoulos on Good Morning America, Lee clarified his comments that he wasn't calling for an official "boycott" of the ceremony. He was just saying that he wouldn't be attending. "Here's the thing. I have never used the word boycott," said Lee. "All I said was, my beautiful wife, Tanya, we're not coming. That's it, and I gave the reasons. I never used the word boycott." He added, "To anybody: Do you. We're not going." What about host Chris Rock? "Chris Rock is a grown-ass man. He can do what he wants to do," said Lee.
He continued to reiterate his point that it's not about the Oscars but rather the studio executives and how decisions get made. Then, because he's really after our hearts, he threw in a Hamilton reference, saying simply, "We're not in the room."