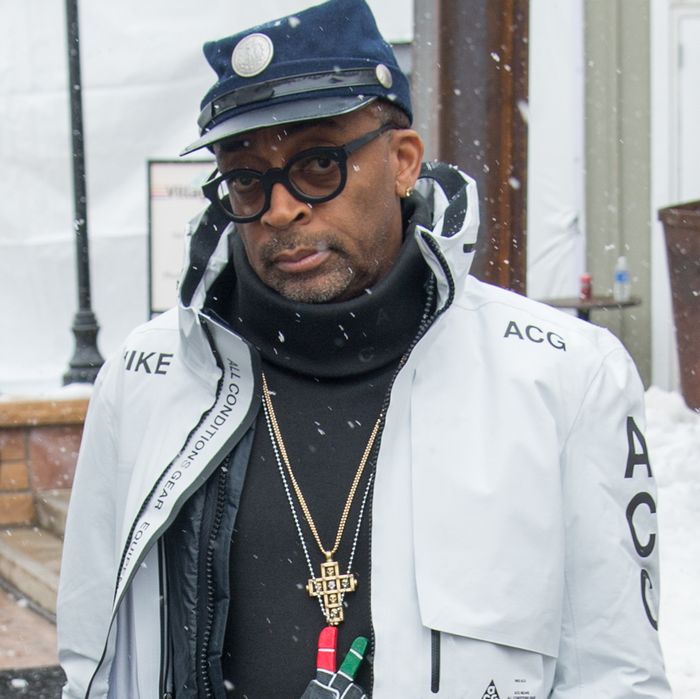 Spike Lee.
Photo: Mark Sagliocco/GC Images
Spike Lee is here at Sundance promoting his new documentary, Michael Jackson's Journey From Motown to Off the Wall (airing February 5 on Showtime), his second doc on the musical legend, following 2012's Bad 25. But he's also, at this reporter's request, become a sort of unofficial spokesperson for the #OscarsSoWhite campaign. Lee very easily could have shut down any non-Jackson-related questions, but when we spoke, he was in a terrific mood about the Academy's recently announced plans to diversify its membership, and ready to jab back at what he sees as ignorant commentary on the issue from everyone from Charlotte Rampling to Alejandro Iñarritú.
Spike Lee: [upon noticing I'm wearing a knee brace and walking with a cane] What happened to you?
Oh, I messed up my knee snowboarding in Vermont.
Hanging with Bernie, huh? You tore your ACL or something?
Sprained my MCL.
I tore my meniscus [sympathetic look].
Yeah, I remember you with one of these braces. So I wanted to talk about the Oscars. You wrote a two-part Instagram essay about not attending and going to the Knicks game instead, but why was it important for you to say you hadn't called for a boycott?
Because I didn't say it! Why attach a word to me that I didn't say? I'm not going to get into semantics — people can call it a protest or a boycott. It's an act that my wife and I thought long and hard on. What you're missing is I got the honorary Oscar, so I'm supposed to come! I'm not gonna be there! [Note: Lee was honored at the Governor's Ball in November, and those honorees are typically recognized during the Oscar ceremony in February, so his absence will be particularly noticeable.] And I think history is going to prove that I was right to not attend the Academy Awards, February 28, the year of our Lord 2016.
Was it a motivator, knowing what a bad look it would be for an honorary Oscar winner to not show up?
I wasn't thinking about that because it's not about me. It's bigger. It's not about Chris Rock hosting. It's not about the potential black presenters. Me and Tonya are not gonna be there. We're going to the Knick game against the Miami Heat. We'll be at the world's most famous arena, Madison Square Garden, 33rd Street between Seventh and Eighth Avenue at my two courtside seats. You will not see us on the Left Coast. I know we're going to be on the right side of history.
Have you talked to Chris Rock about it?
No! Why should I? He's a grown-ass man, he can do what he wants to do. As I said in other interviews, I support Chris either way. That's why I'm not calling for a boycott, because I'm not trying to influence what people want to do. People are adults. They can make their own decisions. We're not trying to present ourselves as leaders.
Chris joked on Twitter that he's hosting the White BET awards.
[Laughs] Well, I will tell you this: I know he's going to say something, so I'll see it. Just not live.
You'll fast-forward to his parts?
Nah, there will be links to what Chris is gonna say in his opening monologue. He's gonna be funny, too.
What do you think about certain recent statements made by actors like Charlotte Rampling, who said all this talk about diversity is "racist to whites"?
Yeah, but she's retracted that.
It came out of her mouth, though.
[Nods and rolls eyes] Her and Stacey Dash need to hang out. [Laughs] And they need to go with God! Both of them. [Laughs]
What about Michael Caine saying black actors just need to be patient?
Well, I like Mike a lot better than Charlotte Rampling, so I'll give him some slack.
Then there's Julie Delpy.
What did she say?
That she thought it was harder to be a white woman in Hollywood than to be black.
If that's true then let me ask you a question? How come no black women got nominated the last two years. What did she say? When did she say this?
She said it at Sundance.
She's here? Where's she at? [Looks around, laughs] What alternative Hollywood world does she live in? If she said it's easier for black women to be actresses than white women? What is her quote?
[Pulling up the article] "Sometimes I wish I were African-American …"
So she couldn't have gotten a nomination? So she can't get roles?
Here it is: "Compared to minority actors, women have it the hardest. Two years ago I said something about the Academy being very white male, which is reality. And I was slashed to pieces in the media. It's funny, women can't talk. Sometimes I wish I were African-American because people don't bash them afterwards. It's hardest to be a woman."
Whoa whoa whoa! Black people don't get bashed in the media? Where's she from? France? Maybe she should join Charlotte and Stacey. They have a trio! [Laughs] And all three of them go with God! [Laughs] Oh man!
I know I'm hijacking the interview with all this, but there's just so many people talking about diversity right now. 
It's good, though, and Matt Damon didn't start it either! [Laughs]
You seem to be pretty sympathetic to Academy president Cheryl Boone Isaacs.
At the Governor's Ball, the first thing Cheryl was talking about was diversity. She was one of the main impetuses for me getting honored. I think she really urged the Board of Governors. I'll say this, that Monday [that Isaacs had to announce Oscar nominations], it was MLK Day when she got up there. I felt bad for her because it was not a good look. She's the president so she's the one who has to be up front. She's the face of the Academy. It wasn't a feel-good moment.
You heard that the Academy just came up with this plan of trying to double its women and minority members by 2020.
I think that's the first step, but again, it has to be a two-pronged attack. You have to deal with the Academy and you have to deal with the studio execs, people with green-light votes. Have you seen Hamilton yet?
No! I can't get a ticket.
There's a great song in Hamilton: "[I Want to Be In] The Room Where It Happens," sung by the phenomenal Leslie Odom Jr. We're not in the room! We're not in the room! That's how you fundamentally change stuff, because that's going to directly impact the films, so therefore it's going to impact who gets put up for the nominations.
I was struck with how, throughout the year, when pundits talked about who could possibly get nominations, there was a handful of black men, and zero black women. The roles didn't seem to be there.
I disagree. The roles were there this year. They got overlooked. I don't have to get into it, but the roles were there.
So let's say you were in the room, if you were handed the presidency of a major studio today …
That ain't gonna happen. Go ahead.
What would your first act be?
I just think that the workplace and the product should reflect the diversity of this country. Look, any fundamental change in this country has been a battle. People aren't going to just give up — "All right, you're right" — and give up power. The history of the world doesn't work like that.
I'm a student of history. The civil-rights movement, [Marlon] Brando was right there with Dr. King, marching. Paul Newman, Shirley MacLaine, James Garner, even Charlton Heston before he went over. So there's a precedent of Hollywood being woke. People spoke up, and that's the thing I wrote in my essay. I'm tired. Why do I gotta be the one? Why are people calling me? You guys need to be speaking to the white nominees. I want to hear from the studio heads what they're doing about this. Why does it have to be on the black folks?
So we might need a Brando for today?
People spoke up back in the day a lot more than they do today. That's not to diminish George Clooney, who: thank you. Michael Moore, thank you. Jonathan Demme, thank you. There are people that are speaking out. Mark Ruffalo said he wasn't going to go, but now he's going.
How do you get in the room?
I suggested that they have a Rooney rule. Dan Rooney was owner of the Pittsburgh Steelers. He was also chairman of the diversity committee of the NFL, so in 2006 the NFL implemented a Rooney rule, where if any team had an opening in the head coach or senior executive positions, they had to interview minority candidates before they hired anyone. I want people to think that the Rooney rule is not a quota, because certain people get funny thinking about affirmative action. This is not a quota. This is an opportunity where qualified people get to interview for a position, and that rule has directly impacted the NFL and the hiring of minority coaches. There's not a commission of Hollywood, but Facebook and Pinterest have done their own kind of Rooney rule in their hiring practices, and studios should do the same. Because that does not reflect what this country is.
And you have personal experience with this. You had to use Kickstarter for Da Sweet Blood of Jesus.
Again, it's not about me. But I would just say this: I hope it appeals to people's basic bottom line. Forty-three percent of the movie tickets purchased this year or last year were by minorities. So forget about it being the right thing to do. You'd make more money! You're gonna make more money if your product is more diverse, and to make your product more diverse, you've got to have people in powerful positions to help tell you what stories you should be making. Because you don't know.
I have something else to say …
[Lee pulls out his BlackBerry, where he's constantly checking out news feeds, and shows me a headline from the Wrap that he finds particularly irksome: "Producers of 'The Revenant,' 'Sicario' Say that #OscarsSoWhite shouldn't focus on the Academy."]
It's very presumptuous for my man Alejandro [Iñarritú] to tell anyone, especially black people, what to do. We know what to do. Also, if it wasn't for [#OscarsSoWhite creator] April Reign, myself, my wife, Jada [Pinkett Smith] and Will [Smith], he wouldn't even be talking about this. So him and them guys, they should chill. You had many opportunities to talk about this before, you chose to be quiet, Alejandro. Correct me if I'm wrong, but I ain't heard him talk about diversity ever before.
[Spots another headline on the Wrap: "Danny DeVito Blames #OscarsSoWhite on 'Racist' America 'Built On Boards of Genocide.'"]
Oh, Danny's getting down! Damn, DeVito! Boards of genocide! Damn, Danny! Shout-out to Danny DeVito.
[Lee pulls up another article on his BlackBerry.]
Look at this! In 1963, Joan Baez, Bob Dylan, James Garner, Frankie Mankiewicz, Marlon Brando, Burt Lancaster, Paul Newman, Joanne Woodward, and Charlton Heston all marched with Martin Luther King. Where's that today?
Have you heard Macklemore's new single, "White Privilege II"? He talks about being conflicted about being white and marching for Black Lives Matter, so at least you know he was out there.
Yeah, but he isn't Hollywood. Shout-out to Macklemore, but I'm talking about who's stepping up?
Yeah, like what about Jennifer Lawrence? It's not like if she speaks up they'll stop nominating her for her annual Oscar. 
You've got to ask them! I can't speak for anybody. You know who got a nomination. Call 'em up!
Okay, we should probably talk a little bit about Michael Jackson. You've done two movies on him now. Why is he so important to you?
People need to be reminded of how great Michael was because sometimes all the other stuff clouds it.
Someone made a really interesting point, that black artists are not seen as having worked to get where they are.
Dream Hampton said that. She used Michael as an example, Miles Davis, and Basquiat. There's always this assumption that "black people are so talented," whether it be in music or in sports. Yeah, we're talented, but the work ethic is there. Michael Jackson saw the work ethic of his father. He saw the work ethic of Bwrry Gordy, the Supremes, the Temptations, Marvin Gaye, Stevie Wonder. He would stand in the wings of the Apollo Theater looking at James Brown and Jackie Wilson.
I always talk about this, how with Larry Bird, people were like, "He's not athletic, he can't jump. But his work ethic is phenomenal." And, like, Magic didn't have a work ethic? Kareem didn't have a work ethic? It's ridiculous.
Why does Michael mean so much to you?
I mean, I'm a year older than him. He's born in '58. We grew up together! Prince was born in '58, too. These are people I grew up with and through the grace of God I got to meet and know and befriend and work with them, too. I never thought about that growing up in Brooklyn, that that would ever happen, but it did.
Do you have another Michael documentary in you?
I would like to do Thriller next, but it's not up to me. It's up to the estate and the record company.
Any other artists?
I've been talking about a Stevie Wonder doc for a while. That'll have to be a ten-part series for Netflix! [Laughs] All right, are we good?
Yeah, thanks!
How long you gonna be recuperating?
Six weeks they tell me.
[Shakes head, shakes my hand]  All right, then. Stay off the slopes.
This interview has been edited and condensed.