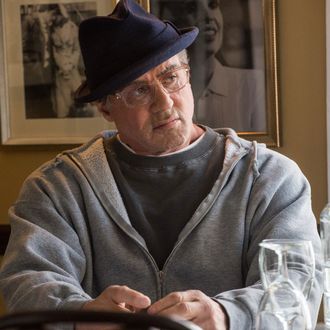 Stallone in Creed.
Photo: Warner Brothers
To Michael B. Jordan's presumable delight, Creed is definitely getting a sequel, MGM CEO Gary Barber tells Variety. But what will happen in this forthcoming Creed 2? It depends on whom you ask. According to Sylvester Stallone, he and director Ryan Coogler — who may be too busy with Black Panther to return — already started discussing sequel ideas, including one Godfather Part II–style idea about "going forward and backward and actually seeing Rocky and Apollo together." It's an admittedly "ambitious" plan, and one that Stallone indicates will also involve Carl Weathers reprising his role as Apollo Creed, even though Apollo died in Rocky IV. Is Weathers going to be playing a ghost, or will Apollo turn out to have been alive all along? ("If he dies, he dies returns in a sequel thirty years from now.") Stallone takes pains to emphasize that Weathers is still in great shape — they can't be trying to make a 67-year-old man play his 20-something self, can they? That way, Terminator: Genisys lies.
Another idea would bring the franchise back to its Russian-punching roots. "You'll have [Adonis Creed] face a different opponent, which I would say is a more ferocious, big Russian," Stallone imagines. "You can start to meld my experiences and then you start to bring different cultures into it. And you can see what's happening with the Russians today in America. The complication will come with [Bianca's] ambition, because she's not Adrian. She has places to go, things to see, the clock is running on her hearing." That's a much better idea. Please, go with that one.