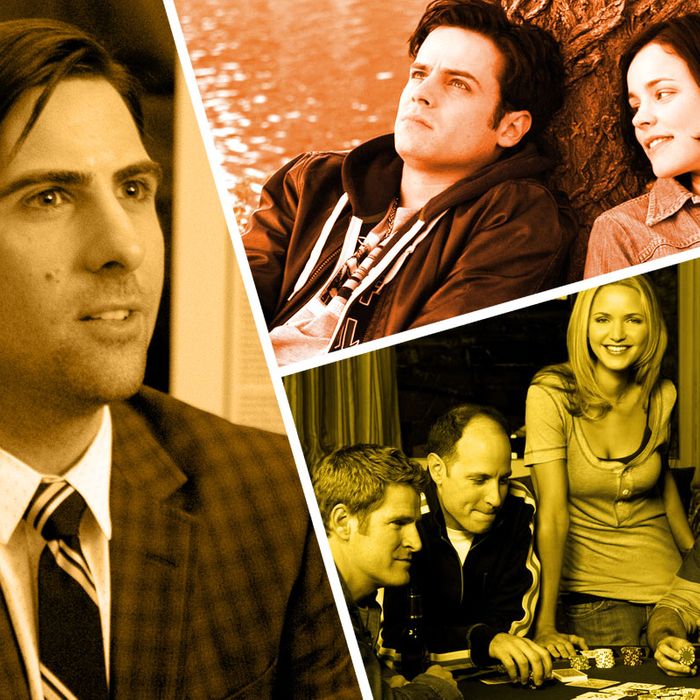 Photo: HBO, TBS, The Movie Channel
Welcome back to Stay Tuned, Vulture's TV advice column. Each Wednesday, Margaret Lyons answers your questions about your various TV triumphs and woes. Need help? Have a theory? Want a recommendation? Submit a question! You can email staytuned@nymag.com, leave a comment, or tweet @margeincharge with the hashtag #staytuned.
What do you recommend for people who like good comedy but not prestige drama? I have no shame about my distaste for prestige drama, but recommendations are harder to come by when you can't handle the violence of The Wire or Game of Thrones and you find Mad Men and Downton Abbey boring. My comedy tastes to tend fall into a few categories: dark (Dead Like Me, You're the Worst), absurd (Don't Trust the B—, Crazy Ex-Girlfriend, Broad City), gentle (Raising Hope, Black-ish), satirical (Better Off Ted, Veep), or combinations thereof (dark/absurd = Archer, gentle/satirical = Parks and Rec). What should I be watching? —Lila
Wow, Lila, this is a fascinating way to break down your comedy tastes. I don't know that I'll be able to categorize everything correctly. Here's an attempt, though:
Gentle: I love gentle comedies, too. Jane the Virgin is a real sweetheart of a show, though it does include a non-zero amount of violence. It's not gross or gratuitous or sensational violence, but the show does have a soap-opera-style murder subplot. But it really is a gentle show! Bob's Burgers is another show I mention in this column constantly, as is Playing House, both of which fill my heart with delight. Cougar Town is pretty gentle, too. Everybody Hates Chris never gets the love I think it deserves, but it's one of the better family comedies of the 2000s. If you like British shows, Gavin and Stacey is super gentle and charming. My Boys is an excellent sweatpants show, for when you need a weekend that's couch-centric but not miserable. Younger is not quite as good as the other shows in this category, but it's somehow so enjoyable anyway. My Name Is Earl, particularly since you already like Raising Hope, is a gimme. Undeclared might seem a little too wild to be categorized as gentle, but it has such compassion for its characters. Freaks and Geeks is considered the masterwork, but on a simple joy-delivery assessment, I prefer Undeclared. (Freaks is better in other ways! There's room to love everything!) Ugly Betty should be high on your to-do list, too.
Gentle/Satirical: Brooklyn Nine-Nine. I probably wouldn't categorize it that way — maybe more gentle/absurd? — but that's how you categorized Parks, and I'd group them together.
Absurd: Another Period, Burning Love, Childrens Hospital, Comedy Bang! Bang!, Drunk History. If you like weird, try Garth Marenghi's Darkplace, particularly if you like B-movies and sci-fi. I don't know where to categorize Happy Endings, but if Don't Trust the B— is absurd (which it often is), then I guess I'll stick Happy Endings here, too. (It's now on Hulu, so rejoice.) Unbreakable Kimmy Schmidt is genuinely absurd, though, and wonderful. Because you mention Dead Like Me, I'll insist you watch Bryan Fuller's other dramedies, Wonderfalls and Pushing Daisies, both of which I'd call magical before I'd call them absurd, but let's not split fantasy hairs. Both shows are extraordinary.
Satirical: Leave your regular life behind and watch Slings & Arrows right now. It's a brainy Canadian dramedy set within a Shakespearean theater company. I love it and have recommended it here before at least a few times, and it's just a real dream-come-true show for nerds like me. If you've ever thought, You know, I like this comedy, but I wish it were playing more with the themes of Hamlet, well, you're in luck. The 2005 series Kitchen Confidential probably doesn't qualify as a satire, but it groups most closely with shows like Better Off Ted, and it's one of those secret charmers that was just a little too ahead of its time. Since you like Veep, give The Thick of It a go — same vibes, different characters. Silicon Valley is worth it, too.
Dark: This is a tough category, because while Dead Like Me is certainly dark in some regards, I don't think of it as dark show per se — more ethereal and tragic than actually mired in misery. The Comeback is maybe the darkest comedy in recent memory, and while I can agree that it's a superb show, it causes me genuine distress to watch it. Your mileage will no doubt vary. Party Down is also very dark, but it's not spiritually crushing in the same way, and it has plenty of moments of levity and hilarity. Orange Is the New Black is also bleakly hilarious, but you mention not liking violence, and, well … there's a substantial amount of violence on the show. Girls I adore, and my esteem for it has grown and grown while watching other shows try, and fail, to imitate it. Awkward does its teen thing pretty well, though it runs out of juice after season three or so. If you like masculine stress humor, you might like Eastbound & Down. (That's not a dig! It's a very good show.) Bored to Death is dark-ish, but it's not tragic or depressing, even though its characters are often mopey. If you like BTD, you might also like Blunt Talk, also from Jonathan Ames; it stars Patrick Stewart and often feels like a David E. Kelley show in both good and bad ways. It's not good good, but I've seen every episode. Catastrophe is good good. Nurse Jackie I have very mixed feelings about, but its last two seasons knocked me out. Stick with it, or just start later in the series, particularly if you dislike slapstick, which the show weirdly tried to wedge in in its early seasons. If you have any way of getting your hands on The Minor Accomplishments of Jackie Woodman, do so. Same goes for the 2004 series Significant Others.
Dark/Absurd: BoJack Horseman. I almost didn't categorize this as absurd, but then I remembered that it's about an anthropomorphic horse.
Dark/gentle: This is mostly dreamy, human-driven stories, I guess? Maybe this is my favorite of all the categories: Transparent is way at the top of this list, even though visually, it's probably the sunniest show on TV. The show itself doesn't have a dark outlook, but many of its characters are miserable and volatile. Enlightened is similar, though its main character is dangerously optimistic. It's a beautiful show, but it's not a breezy show. The web series High Maintenance can also be absurd and satirical, but it's primarily dark and gentle — and savvy and terrific. Men of a Certain Age is more of a light drama, and even if you're not in the market for middle-aged-sad-dude stories (I feel you), at least give it a try.
I hesitate to even mention these classics, because if you're writing in to a TV advice column, I have to think you've already seen them, but just in case: 227, 30 Rock, 3rd Rock From the Sun, Arrested Development, The Carol Burnett Show, Cheers, Curb Your Enthusiasm, Frasier, Freaks and Geeks, Friends, Futurama, Girlfriends, The Golden Girls, King of the Hill, The Larry Sanders Show, M*A*S*H, Malcolm in the Middle, The Mary Tyler Moore Show, Mr. Show, Murphy Brown, Mystery Science Theater 3000, NewsRadio, Roseanne, Seinfeld, Sex and the City, The Simpsons, South Park, Sports Night, The Wonder Years.
And some catch-all honorable mentions: Ally McBeal, Flight of the Conchords, The Fresh Prince of Bel-Air, Getting On, The IT Crowd, The Office, Parker Lewis Can't Lose, That '70s Show.