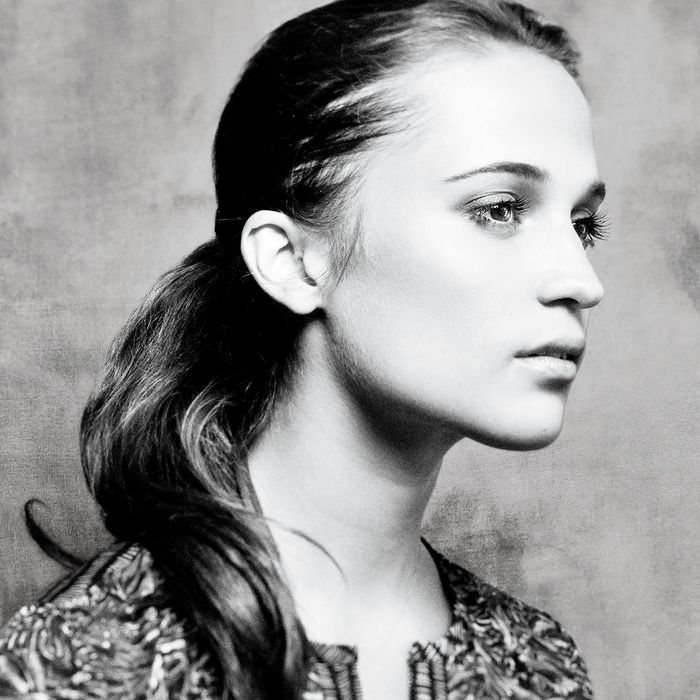 The Swedish starlet appeared in five films in 2015.
Photo: Jay L. Clendenin/Los Angeles Times/Contour by Getty Images
Even with her current awards-season ubiquity, you could be forgiven for not knowing how to pronounce Swedish starlet Alicia Vikander's last name (it's vuh-KAND-er), but after the year she's just had, you almost certainly know who she is. The 27-year-old daughter of a psychiatrist and a stage actress appeared in five films in 2015 — two of which, Ex Machina and The Danish Girl, positioned her strongly for Oscar and Golden Globe glory. (A role in the next Bourne movie is reportedly upcoming.) But she didn't exactly arrive out of nowhere. It just seems that way.
2002
At 13, while training with the Royal Swedish Ballet School, Vikander makes her acting debut in the macabre 19th-century-set Swedish TV drama My Embalmed Mother, playing a daughter of the titular character, whose husband has her, yes, embalmed and placed in the family home after she dies.
2003
Lands a role in another Swedish TV show, The Befallen, about people with supernatural powers, a cold-weather precursor to NBC's Heroes.
2005
Continuing to work in Swedish TV throughout her teens, the 16-year-old Vikander, playing hooky from ballet school, auditions for, and wins, a key role in A December Dream, that year's installment of national broadcaster Sveriges Television's children's Christmas series.
2007
A busy year: Veers into horror territory with roles in the Swedish short film Darkness of Truth and the TV mini-series Living Food, which certainly sounds terrifying. She also plays a dancer in the intersecting-narratives film The Rain and appears in the TV drama Second Avenue.
2009
Notches her first lead film role in Pure, a two-hander focusing on a young woman's relationship with an older conductor. The film's director, Lisa Langseth, gushes over her star: "You can look at her face, and you can see so many different levels of soul at the same time."
2011
Follows Pure with another leading role, this time in The Crown Jewels, as a young woman arrested for murder. The Hollywood Reporter praises Vikander for "commanding our attention even as the picture wobbles in and out of control around her."
2012
Vikander expands her non-Swedish reach with the Danish A Royal Affair, which garners an Oscar nomination for Best Foreign Language Film. She also gets a part, her first major English-language role, in Joe Wright's adaptation of Anna Karenina, playing the heartbroken Princess "Kitty" Shcherbatsky.
2013
"I love to see how far you're able to go, both in skills but also emotionally how far I can push myself," Vikander says about her role as an unbalanced young woman in the Swedish Hotell. She makes further Hollywood inroads via Bill Condon's WikiLeaks drama, The Fifth Estate.
2014
Gets more English-language work: in the fantasy Seventh Son (playing a half-witch-half-human), as the female lead in the Ewan McGregor crime thriller Son of a Gun, and opposite Jon Snow — sorry, Kit Harington — in WWI drama Testament of Youth.
2015
Apart from Ex Machina and The Danish Girl, Vikander appears in The Man From U.N.C.L.E. and the Bradley Cooper cooking drama Burnt and narrates the doc Ingrid Bergman: In Her Own Words. In a sure sign that she's truly arrived, she pops up in the tabloids (for dating Michael Fassbender).
*This article appears in the January 11, 2016 issue of New York Magazine.