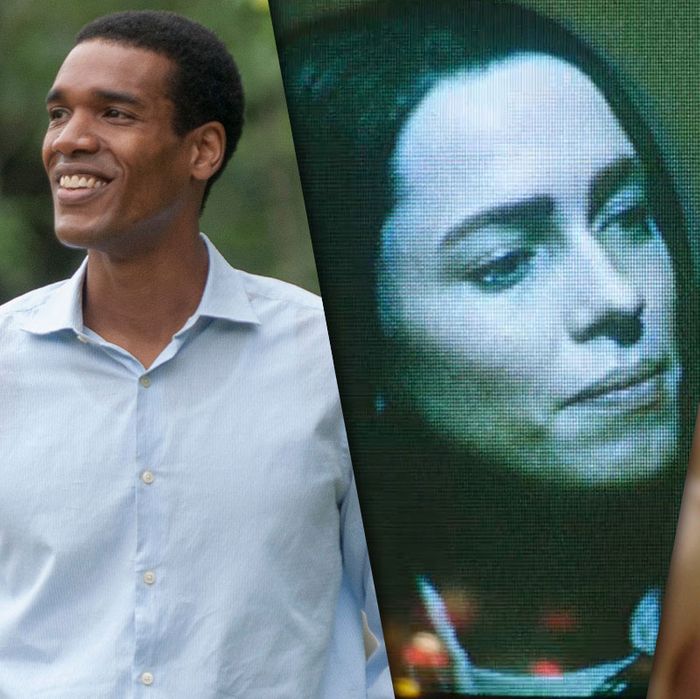 Photo: Sundance Institute
The 2016 edition of the Sundance Film Festival begins today, and as ever, Vulture will have a group of editors on the ground at Park City, reporting on all the movies you'll be talking about for the next 12 months. Will we discover a new Best Picture contender, as we did here with Brooklyn last year? Will debuting directors and formerly unknown actors become Hollywood's next A-listers? What kind of weird sex stuff are we gonna see this year? (It's a film festival; there's always some weird sex stuff.)
We'll endeavor to answer those questions and more over the next week and a half, but in the meantime, keep an eye on these 15 movies, the most buzzed-about entries in a lineup that will surely be full of surprises.
Southside With You
Before Sunrise, starring Barack and Michelle Obama? Color us intrigued by this directorial debut from Richard Tanne, which stars Parker Sawyers and Tika Sumpter as the young presidential-couple-to-be, embarking on their very first date. At least if Tanne ever revisits the Obamas for a sequel, as Richard Linklater has done every few years with the Before Sunrise trilogy, he'll have a wealth of material to draw from.
Goat
In this James Franco–produced drama, Nick Jonas plays a frat pledge who's in for the hazing of a lifetime. Given both men's gay-baiting tendencies, it's natural to wonder how much homoerotic ass-paddling we're in store for, or whether Goat aspires to something deeper and darker about how men operate within toxic power structures.
Christine
Word from Sundance insiders is that this is one of the strongest and most provocative movies at the fest. We're not surprised, since director Antonio Campos (Afterschool, Simon Killer) has never shied from the dark and controversial, and you can't get much darker than a look into the life and psyche of Christine Chubbuck, the 29-year-old TV-news reporter who killed herself on the air in the mid-1970s. Just as enticing, the film should provide a showcase for the oft-misused Rebecca Hall, playing the lead role. (There's another film about Chubbuck at the fest — a semi-documentary called Kate Plays Christine — completing Sundance's most unusual 2016 double-header.)
The Birth of a Nation
Nate Parker's first feature doesn't lack for ambition: The Beyond the Lights actor wrote, directed, and stars in this account of Nat Turner's 1831 slave rebellion, and he audaciously poached the title of D.W. Griffith's racist blockbuster to boot. Armie Hammer, Gabrielle Union, and Aja Naomi King fill out the cast for what's sure to be one of the fest's most-talked-about films.
Weiner
When New York City mayoral candidate Anthony Weiner agreed to be followed by documentarians Elyse Steinberg and Josh Kriegman, he was attempting to rebrand himself as something other than the congressman most famous for accidentally tweeting a picture of his junk. What Sternberg and Kriegman could never have anticipated is that Weiner would soon find himself in another sexting scandal, and from what we've heard, Weiner's second political meltdown is all captured on film. (As is his wife Huma Abedin's struggle between being a real-life Good Wife and Hillary Clinton's top aide.) The fact that Sundance Selects already nabbed the theatrical rights and Showtime nabbed the distribution rights before the film's first screening means there's likely scandal to spare.
Love & Friendship
Nothing could keep us away from this reunion of director Whit Stillman and his Last Days of Disco leading ladies, Kate Beckinsale and Chlöe Sevigny. In Love & Friendship, the talented trio turns the clock back a century for a period piece based on Jane Austen's unpublished early novella, Lady Susan, starring Beckinsale as a new widow eager to mate again, and Sevigny as the old friend who comes to help her. Stillman has an unparalleled gift for high-society comedies of manners, so this is basically like getting an invitation to the greatest cotillion ever.
Nothing Left Unsaid
Vulture Jada has long been fascinated by famed socialite Gloria Vanderbilt, ever since she interviewed her in 2009 for an erotic novel Vanderbilt wrote in her late 80s. Now, at 91, Vanderbilt's taking questions from her famous son — CNN's Anderson Cooper — in a documentary by Oscar-nominated director Liz Garbus (What Happened, Miss Simone?). One can only hope it details Vanderbilt's affairs with the likes of Gene Kelly and Frank Sinatra, as well as her four marriages — one to director Sidney Lumet. Truly, a Wasp for the ages.
Manchester by the Sea
If you haven't seen Kenneth Lonergan's stunning, long-shelved Margaret, please go remedy that, and then come back to this article. (It will take about three hours — that Anna Paquin–starring drama isn't a short sit — but we promise it'll be worth it.) Now that you're all caught up, you'll know why we're so excited that Lonergan has directed another film, this one featuring Casey Affleck as a man who becomes the primary caretaker to his teenage nephew.
Lovesong
We put Sundance alum So Yong Kim on our 100 Women Directors list, and she's back at the fest this year with this competition entry starring Jena Malone and Riley Keough, whose romantic feelings for one another are complicated by their attachments to other men. Given what a welcome live wire Malone was in the last few Hunger Games films, we're eager to see what she can do with this kind of spotlight.
Other People
Most of the time, the opening-night film at Sundance is a quickly forgotten toss-off — like last year's strained comedy The Bronze, which still hasn't been released — but ever since Whiplash came out of nowhere two years ago to start Sundance with a bang, attendees have come into Park City with a more ambitious, generous outlook. Can this year's big opener, Other People, a comedy starring Jesse Plemons as a gay writer tending his to sick mother, Molly Shannon, make good on those renewed expectations?
Lo and Behold: Reveries of the Connected World
The documentary world's greatest character, Werner Herzog — the man who got shot while doing an on-camera interview, and who once ate his own shoe after losing a bet — has made a movie about the internet that looks like it might be predicting the end of civilization. Honestly, what more do you need to know?
Certain Women
Sundance staple Kelly Reichardt reunites with her frequent muse Michelle Williams (who starred in Reichardt's Wendy and Lucy and Meek's Cutoff) for this Montana-set drama about women in flux, which also adds Kristen Stewart and Laura Dern to the mix as co-leads. If the dude-heavy lineup at this year's Oscars has got you down, it's nice to know this vehicle for talented actresses is on the horizon.
Sing Street
John Carney's Once was a Sundance hit that spawned a Tony-winning Broadway show, while his follow-up Begin Again scored a giant Weinstein buy in Toronto a few years ago. It's natural, then, to expect big things from his latest music-driven movie, this one about a teenager starting a band in 1980s Dublin.
Little Men
Ira Sachs was last at Sundance with the warm, lived-in Love Is Strange, and his new film is another New York story, this one exploring gentrification via two boys whose very different families can't get over their class woes — at least, not until the boys resolve to take a vow of silence in order to force their families into a negotiation.
The Hollars
Several years after spinning a bunch of short stories by David Foster Wallace into his directorial debut, Brief Interviews With Hideous Men, John Krasinski steps behind the camera again for this film about a young man dealing with his pregnant flame (Anna Kendrick) and tumor-stricken mom (Margo Martindale). But never fear, Halpert-heads: Krasinski is in front of the camera, too, playing the young man in question.