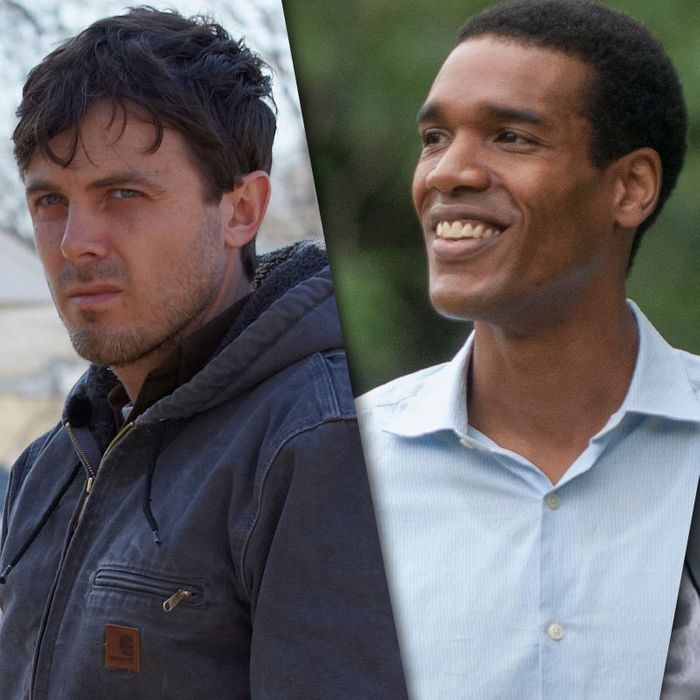 Are trophies in the futures of Manchester by the Sea, Southside With You, and The Birth of a Nation?
Photo: Sundance Film Festival
We've still got a month to go until Chris Rock hosts the Academy Awards, but after several major films popped over the last week at the Sundance Film Festival, we're beginning to get a glimpse of what next year's Oscars might look like, too. Several Best Picture nominees have emerged from Park City in recent years — including Boyhood, Whiplash, Beasts of the Southern Wild, and this year's Brooklyn — and our new crop of awards-season contenders includes a movie about the Obamas' first date, a slave-uprising drama that broke Sundance records, and one of the most irresistible movie musicals of recent vintage. Here are four films worth keeping an eye on.
Manchester by the Sea
One of the fest's first big hits, this story of a broken-down Massachusetts man (Casey Affleck) who becomes his nephew's caretaker earned a $10 million streaming commitment from Amazon and, if the film's rapturous reception is a good barometer, should soon pick up a theatrical distributor. Writer-director Kenneth Lonergan has been nominated for two Oscars — one for scripting his directorial debut You Can Count on Me (which also earned a nod for lead actress Laura Linney) and the other for writing Gangs of New York — but this sensitive drama will likely contend for even more, including Best Picture, Best Director, and Best Actor for Affleck, whose character, steeped in grief, simply can't put his tragic past behind him. Also watch out for Michelle Williams, who only gets a handful of scenes as Affleck's ex-wife but makes the goddamn most of them: An extended late-movie confrontation between the two former lovers is so electrifying that it alone could launch Williams into the Best Supporting Actress race.

The Birth of a Nation
Nate Parker's historical drama made history itself this week when Fox Searchlight bought it for $17.5 million, by far the biggest sale in the history of the Sundance Film Festival. That's a remarkable development considering that Parker had to scrap for years to raise the meager budget for this movie, which he wrote, produced, directed, and stars in as Nat Turner, a gifted preacher who led a famous slave uprising in 1831 Virginia. After two years dominated by #oscarssowhite headlines, expect Parker's Nation to factor heavily into the next awards race; there's no shortage of categories in which he could contend, though the film is so dominated by Parker's powerful performance that I think he's likely the only actor from it who'll court Oscar attention.

Southside With You
As I write this, no studio has yet picked up Richard Tanne's charming little love story about Barack and Michelle Obama's first date, but a deal ought to be imminent. As star Tika Sumpter movingly noted at the film's premiere, it's awfully rare for an actress of color to get a major role like this, and Sumpter makes the most of her characterization of Michelle as a driven lawyer who finds her stiff façade weakened by the persistent president-to-be. I hope that studio suitors will realize that there's an audience hungry for love stories with black leads, but beyond the apparent populist play, Sumpter ought to have a place at the awards-season roundtable that has recently been so lily-white.

Sing Street
John Carney's Sundance classic Once was a soulful delight that eventually spawned a Broadway musical. His follow-up, the Keira Knightley starrer Begin Again, displayed a smooth studio touch but, for my money, lacked the personal inspiration of his first film. Think of Sing Street, then, as the best of both worlds: This musical comedy about a down-and-out Dublin teen who starts a band of misfits works as a mainstream crowd-pleaser, but it's filled with the little details and generous empathy toward its characters that distinguished Carney's debut. Sing Street is almost certain to contend for the Golden Globe for Best Comedy or Musical, and depending on whether the Weinstein Company can find an audience for it — though its cast of young Irish actors is enormously appealing, there's no big name to hang your hat on — this could become an art-house hit that even coaxes Oscar voters to sing along.