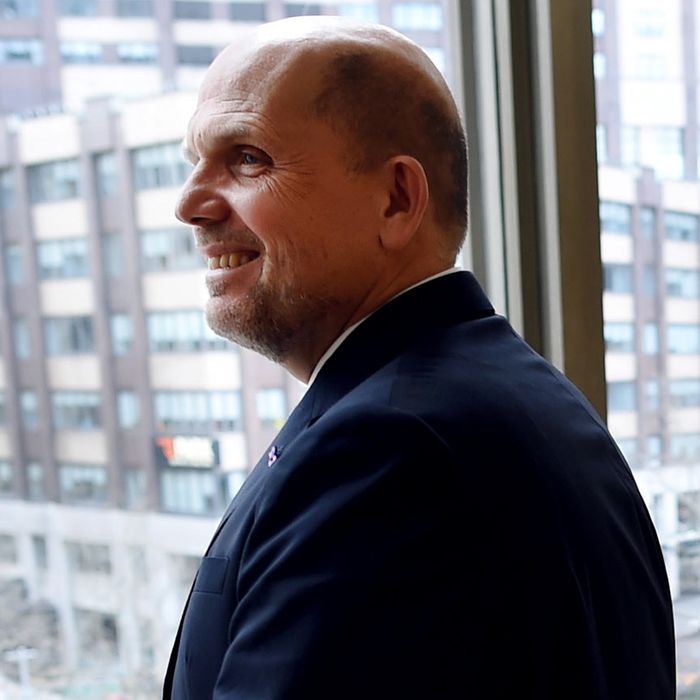 Jaap van Zweden will take over the Philharmonic in 2017.
Photo: Timothy A. Clary/AFP/Getty Images
Shortly after announcing that Jaap van Zweden would become the next music director of the New York Philharmonic, the orchestra's executive director Matthew VanBesien (having a van in your name is apparently a plus when leading an orchestra so loyal to Beethoven) explained the selection committee's rationale. "We were very much concerned not only about the what but the how," he said. "We knew that whatever he was conducting, he'd be all in."
Every appointment of a music director, like every presidential election, is at least partly a reaction to the incumbent. The current leader, Alan Gilbert, is bold in his programming and judicious in his interpretations. Van Zweden promises consistently intense performances, but his artistic vision seems open to negotiation. Hiring the un-Gilbert was not the point, VanBesien says, and neither was the predictable choice of a middle-aged European strongly rooted in the romantic tradition. "We started with a list of virtually every conductor alive. Jaap's fit with the orchestra, his commitment and strength, and what we felt the results would be — that trumped the other variables." Mutual passion dictated the decision more than strategy, and both parties compare the relationship to a whirlwind romance three years in the making. "I met my wife, and after an hour I told her that I was going to marry her. I had the same feeling with this orchestra," van Zweden says.
That first encounter took place in 2012, when van Zweden returned to the very first piece he had ever conducted, Mahler's Symphony No. 1. "It was a very moving moment," he says — one replete with connections across oceans and decades. It was Leonard Bernstein, his predecessor as New York Philharmonic music director, who first prodded van Zweden to conduct when he was concertmaster of the Royal Concertgebouw Orchestra. Mahler, too, had close ties to both orchestras, as did the legendary Dutch Mahler specialist, Willem Mengelberg. Van Zweden remarks that old Amsterdam and New Amsterdam share a history that expresses itself in music. "Even the word Yankees comes from putting together two Dutch names, Jan and Kees," he says.
A prodigious violinist, van Zweden spent 17 years as an orchestra member before he ever grabbed a baton, so he knows how it feels to be led. Still, empathy evidently only goes so far. The musicians of the Dallas Symphony Orchestra, where he has been music director since 2008, complained loudly and publicly about his high-handed and demanding behavior last year, an incident that caused some concern at the Philharmonic. "We talked to him about this," VanBesien acknowledges. The orchestra ultimately decided that his was rudeness in the cause of music.
"He holds himself to an incredibly high standard and expects the musicians to do so, too. The New York Philharmonic players respond to that. His motivations all emanate from creating the best artistic results, and if he can be challenging or demanding, he's the guy in the box and he has to figure out how to get those results. What the players here have seen is warmth, and an incredible respect for what they do." All of which suggests that, at least as seen from David Geffen Hall, the Dallas musicians may have gotten a browbeating they deserved.
A strong believer in the continuity of an orchestra's DNA, van Zweden says that even after all these years, he still hears Bernstein's signature in the Philharmonic's playing. Orchestras change personality more slowly than they change personnel. "I remember being in the orchestra and a new member would come in, and it took them just a few weeks to adjust to that DNA, to the soul of the Concertgebouw. Generation by generation it's staying there." Still, every music director leaves an imprint, and van Zweden said that he hoped his would be an appreciation for strong colors. "I love to exaggerate sometimes the differences of paint."