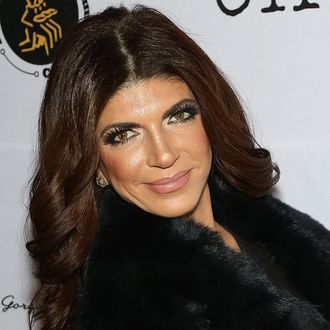 Inmates got puns about Meatpacking.
Photo: Manny Carabel/Getty Images
Even in prison, people have the sense of humor of fifth graders, apparently. According to the New York Daily News — which obtained a copy of Real Housewives star Teresa Giudice's recent memoir, Turning the Tables: From Housewife to Inmate and Back Again, about her 15-month stint in prison for bankruptcy fraud and conspiracy to commit mail and wire fraud — there was so much sex in Giudice's prison cell, which she shared with four other women, that it got the nickname of the "Boom Boom Room" (Meatpacking is so over; Danbury Correctional is clearly where it's at). Giudice also discovered that a number of her fellow inmates went "gay for stay" during their time behind bars. She witnessed her prison hookup on her second night in the cell: "I could see two women … writhing around … I cannot believe this is happening!" Though this all sounds like an episode of Orange Is the New Black, Giudice does not mention an incident where she was served a tampon sandwich by an angry Russian woman with a heartbreaking backstory.
Though she was given the nickname "Hollywood" at first, Giudice eventually adapted prison life, getting her inmates to do her nails and tailor her jailhouse gear. She bought $5.20 sunglasses at the commissary (a far cry from her Tom Fords, but we all make sacrifices), read constantly (after reading The Secret, she made a vision board that included her goal of making $40 million to "take care of my girls and help needy children"), and worked out for six hours a day. Giudice was released from prison on December 23. Her husband, Joe Giudice, is set to start a 41-month prison term in six months.