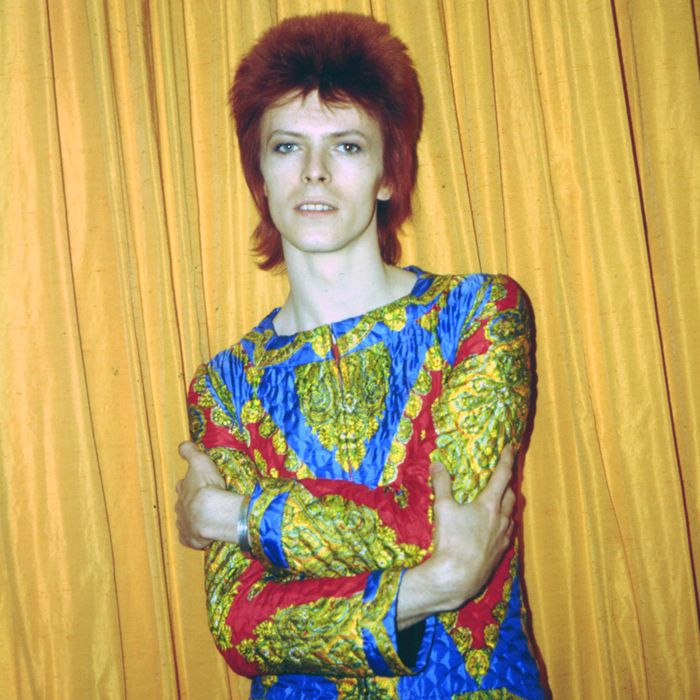 David Bowie.
Photo: Michael Ochs Archives
"Facebook has really improved since it switched to a 100% David Bowie platform" was a tweet that stumbled on my feed late Monday night, speaking a truth that's only proven truer in the days since. Bowie's death sparked social-media remembrances from all corners, soon matched by a deluge of published tributes focused on every imaginable aspect of his life and interviews with past collaborators.
Mere days after his death, it still feels odd and wrong to refer to Bowie in the past tense, especially since Blackstar is still so new, and the rest of his music feels so vital. However, saying he "was" something doesn't negate his impact — especially because, as the following tributes illustrate, his legacy runs so much deeper than sex, drugs, and rock and roll. The tendrils of Bowie's existence snake through all facets of culture, inextricably linked to social revolutions, art movements, and technological progress. Everywhere you turn, there seems to be a new way to celebrate all that Bowie has given us; simply put, everyone has something to say about the matter. The only downside to all this Bowie appreciation and analysis is that there's not enough time to read it all. We attempted anyway, and these are the Bowie tributes we've enjoyed the most, at least so far. Obviously we're biased, but you'll find some of Vulture's homages here as well.
David Bowie was…
… a pop-music visionary who changed culture in specific ways:
"We Always Knew Who David Bowie Really Was," Judy Berman, Flavorwire
A personal remembrance that cuts through the clichés to illustrate Bowie's massive influence. "I think David Bowie was an artist who could construct identities and embody them so convincingly, then deconstruct them and move on so quickly, because he knew that makeup and costumes and backstories and sexual proclivities were above all a tantalizing way to put across ideas that are more difficult to convey through pop music than through perhaps any other artistic medium."
"Thanks, Starman: Why David Bowie Was the Greatest Rock Star Ever," Rob Sheffield, Rolling Stone
Sheffield summed up what so many of us thought after Bowie's death — "Somehow I really thought he'd outlive us all. After all, he'd outlived so many David Bowies before" — but then cherry-picked highlights (and even lowlights) of his musical career to zero in on what made him great: "He assured his fans we didn't have to give up on life, didn't have to play it safe, didn't have to fall into a rut — and he proved it was possible in his own music."
"Rebel Rebel: The Fantastic Voyage of David Bowie," Stephen Thomas Erlewine, AllMusic
"He openly stole from his inspirations while he also possessed a gift for show. He intuited innovation and turned it into theater, his hybrids often ushering the underground into the mainstream. Perhaps Marc Bolan was the first alien to play glam, and certainly Kraftwerk honed the teutonic rhythms of Krautrock prior to Low, but to generations of listeners, it seemed as if David Bowie invented these styles outright. Such was the power of his sound and vision: even when his antecedents were apparent, Bowie made music that felt startlingly original and entirely personal."
"Let's Dance: David Bowie's Everlasting Influence on Pop Music," Maura Johnston, Noisey
Bowie's sonic blueprint hovers over today's pop music in often unexpected, abstract ways, simply because it's so pervasive, as Johnston points out: "Removing David Bowie from the last half-century of pop would result in its edges being less pointed, its colors being less vibrant, its playfulness being reined in sharply; talking about how Bowie influenced it is like talking about how oxygen affects the breathing process."
"David Bowie and the Return of the Music Video," Matthew Trammell, The New Yorker
"David Bowie's androgynous appearance, his interstellar motifs, and his mind-bending visuals set standards that an unsuspecting public didn't notice were being set. He pulled audiences across genres toward him, at a time when music was pushed out to targeted demographics in stratified categories that now seem antiquated."
… an ally of the black community:
"Brother from Another Planet: Bowie and Black Music," Greg Tate, MTV News
"David Bowie ranks as high in our electric church's Afrofuturist pantheon of demiurges as Jimi Hendrix, George Clinton, and Miles Davis. That's for his outrageous aristocratic style, not-just-skin-deep soul, badass brinksmanship, and all-around Alter-Negrocity. Not to mention the Starman's own sui generis take on The Funk. Bowie remains that rarity — a white rock artist whose appropriations of black kulcha never felt like a rip-off but more like a sharing of radical and bumptious ideations between like-minded freaks."
"'Plastic Soul': David Bowie's Legacy and Impact on Black Artists," Mashaun D. Simon, NBC News
DJs and collaborator Ava Cherry, among others, recall how Bowie championed a young Luther Vandross, hung out with Prince, and called out MTV for not playing enough videos by black artists.
… an experimenter with a complicated sexual history:
"In Memory Of My Great Gay Saint, David Bowie," Alex Frank, Pitchfork
"His body was so thin and lithe that he bore the elegance of a female swan. He never even needed to actually be gay — to have sex with men — to be gay. He was one of us whether he ever really was one of us. Bowie's gender and sexuality were probably more outerspace alien than anything found within the narrow confines that we've created here on Earth — and we loved him."
"human/alien/human," Jes Skolnik, personal blog
A powerful personal essay about mourning Bowie and embracing his status as a misfit icon that also acknowledges his complicated past — including (and especially) the sexual relationship he had with an underage fan, Lori Maddox.
… someone who inspired raw personal reflections:
"Grieving David Bowie, a True Rock Star in Life and in Death," Lindsay Zoladz, Vulture
"I lost someone close to me in his early 20s, the kind of person who acted when others hesitated, who traveled to the places he dreamed about, who did instead of didn't," writes our staff critic. "Maybe I'm crazy or sentimental, but in recent years, I've come to suspect that he knew. Like some kind of angel or devil had materialized at some point and whispered in his ear exactly how much time he'd get, and he took this information as a blessing rather than a curse. He got to work. At the risk of sounding crazy or sentimental all over again, I found myself feeling this morning like David Bowie knew, too."
"Reflections of a Bowie Girl," Ann Powers, NPR Music
Powers traces her personal journey as a "Bowie girl," reflecting on how her personal relationship with his music grew and changed over the years — and how his influence morphed along with it.
"Just Like That Bluebird," James Ward, personal blog
A raw, stream-of-consciousness take on grieving Bowie, from a U.K. resident. "I need to contextualise. This is a blog post about the death of David Bowie. But it isn't about that. It's more selfish than that. It's embarrassingly self-indulgent. It's about the death of David Bowie and the way that I reacted to that horrible fact. I've never experienced grief like this about a public figure before. But I have experienced grief. And I recognise that this is grief. And it hurts. It hurts so much."

"A beautiful exit," Dara O'Kearney, personal blog
Professional poker player Dara O'Kearney — who was immersed in Ziggy online fandom during the mid-'90s — reveals that he had a years-long email correspondence with a mystery man who turned out to be Bowie himself. He keeps the details of their emails mostly private (although he reveals Bowie once gave him some suggestions for things to do in New York), and concludes by calling him "the closest thing to a father figure I've had in my life."
… a generous collaborator:
"Iggy Pop on David Bowie: 'He Resurrected Me'," Jon Pareles, the New York Times
 "The friendship was basically that this guy salvaged me from certain professional and maybe personal annihilation — simple as that. A lot of people were curious about me, but only he was the one who had enough truly in common with me, and who actually really liked what I did and could get on board with it, and who also had decent enough intentions to help me out. He did a good thing. He resurrected me." 

"'David Bowie Changed My Life': Nile Rodgers Remembers His 'Let's Dance' Collaborator," Rodgers as told to Lori Majewski, Yahoo
The Let's Dance producer tells the story of how Bowie changed his career trajectory after a chance 1982 meeting in the club. "When I made Let's Dance, Chic had broken up; I had had six failed records in a row. For me, at that young point in my career, I was just accustomed to having hit records. I couldn't understand making six records in a row and having them all fail, whereas prior to that, every record I made was a hit. I was all by myself, and David and I formed a partnership. It was the two of us against the world. I never felt more loved; I never felt like a person trusted me more." 
"David Bowie Guitarist Carlos Alomar: 'He Was So Damn Curious,'" Alomar as told to Kory Grow, Rolling Stone
"He was very easy to connect with. He was happy. He and I shared one gigantic, human thing: We are so damn curious. I wanted to know about everything from his Spiders From Mars; he wanted to know everything about what working with James Brown was like. I wanted to know what the hell is up with all that orange hair and all that glam-rock stuff; he wants to know about the Chitlin' Circuit. He listened to jazz; I played jazz. It was a meeting of the minds."
"How David Bowie Helped Nina Simone Out of a Slump," Alan Light, Time
A brief, touching anecdote about how a 1974 vote of confidence helped the singer-songwriter regain her musical footing.
"His Mind Was So Open": Joey Arias on Performing with David Bowie and Klaus Nomi on SNL," Paper
Joey Arias remembers how the legendary 1979 SNL performance with Klaus Nomi came together and played out, from buying Thierry Mugler pieces with Bowie's $1,000 allowance, to meeting Iggy Pop and Bette Midler at the after-party.
… a sci-fi hero:
"Why David Bowie Was a Geek Icon," Abraham Riesman, Vulture
"David Bowie was nerddom's impeccably styled patron saint. In the coming days and weeks, he'll be compared to other departed musical megaliths, from Lou Reed to Otis Redding to John Lennon. And, yes, he was as sonically influential as all of them. But would Reed have dressed up as an effete Goblin King in Labyrinth? Would Redding have ever starred in The Man Who Fell to Earth? Would Lennon, donned in drag, have played anthemic story-songs about being a gender-fluid extraterrestrial? Only Bowie was crazy enough."
"Anthems For The Moon: David Bowie's Sci-Fi Explorations," Jason Heller, Pitchfork
A detailed analysis of Bowie's fascination with (and absorption of) sci-fi, with a special emphasis on the books and movies which informed his earliest work.
… a really funny dude:
Adrian Belew, Facebook post
The guitarist humorously recalls how Bowie plucked him from Frank Zappa's band for the 1978 Heroes tour, noting that Zappa was not pleased by the maneuver — the only thing he said to Bowie was, "F••• you, Captain Tom," because, as Belew noted, "Frank had demoted David from Major Tom to Captain Tom."
"David Bowie: Commencement Address at Berklee," 1999
Boston.com dug up and linked to Bowie's commencement speech, which he started with a joke — "How does a tuba player answer the telephone? 'Hello, Dominoes'" — and also featured references to Dunkin' Donuts and an unpaid bill from Berklee alum Reeves Gabrels.
… someone whose death transformed his art:
"'Look up, I'm in heaven': Bowie's haunting farewell Blackstar is a triumph," Caryn Rose, Salon
A stunning, eloquent musical analysis and examination of Blackstar and its promotional rollout, and how it seemed to portend Bowie's death.
"David Bowie and the sad, inspiring history of making art while dying," Geoff Edgers, the Washington Post
Edgers connects the dots between art, writing, and music created by people aware of their own mortality, and how their different approaches inform our own perspective.
"Decoding Blackstar," Carl Wilson, Slate
Wilson acutely captures how Blackstar's music took on new meaning after Bowie's passing — how last Friday's jubilation wore off once the album's enigmas became crystal-clear portents of his death. "Mask, mime, and misdirection were fundamental to Bowie's art, and he exited, as ever, with the finest legerdemain: Blackstar fell like a velvet cloth, and when it lifted, he was gone. So when I hear the album now, it's with a stereo effect of before in the left ear and after in the right."