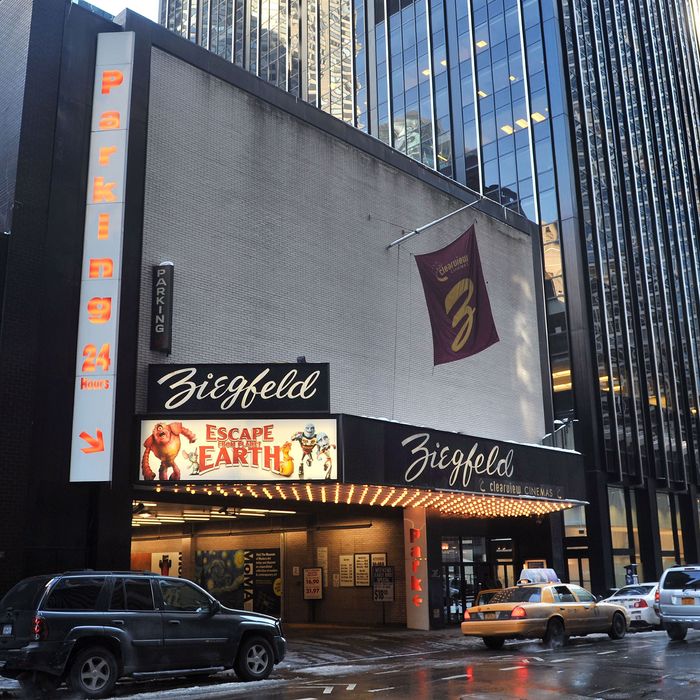 Closing in a few weeks.
Photo: Henry S. Dziekan III/WireImage
The history of the Ziegfeld — Manhattan's largest movie theater, whose leaseholders announced Wednesday that it would be closing in a few weeks — is one of really lousy timing. Opened in 1969, it arrived in Times Square just as the neighborhood was going to hell, and nobody wanted to go there after dark. Within just a few years, the film-exhibition business began moving to the multiplex model, and a 1,100-seat auditorium soon became an questionable business. It soldiered on for decades, increasingly rumored to be in financial difficulties, but also regularly booked for events that required movie magic: premieres, 70-millimeter screenings of classics, major-event films like Star Wars: The Force Awakens. (Lately, it's been losing a lot of money.) The building's not going to be demolished, at least not imminently. Instead, its owners will turn it into a ballroom, to host product launches and parties. They run a similar business out of an ornate former bank at Broadway and 36th Street called Gotham Hall.
Maybe it was the name that was the kiss of death. The theater's predecessor, the building put up on (more or less) the same site by Florenz Ziegfeld himself, opened in 1927 and had all of two good years before the stock-market crash. Within six years, it had failed and been turned over to showing movies, and later became a TV studio. In 1963, it was returned to Broadway use — just in time for Broadway's business to start caving in on itself — and the building was razed in 1966. Stephen Sondheim used a lightly fictionalized version of it as the dramatic backdrop to a musical about midlife regrets. Really, you have to wonder whether, now that the newer Ziegfeld is going to become a party space, the event-planning business will find a way to collapse, just to keep the theme going.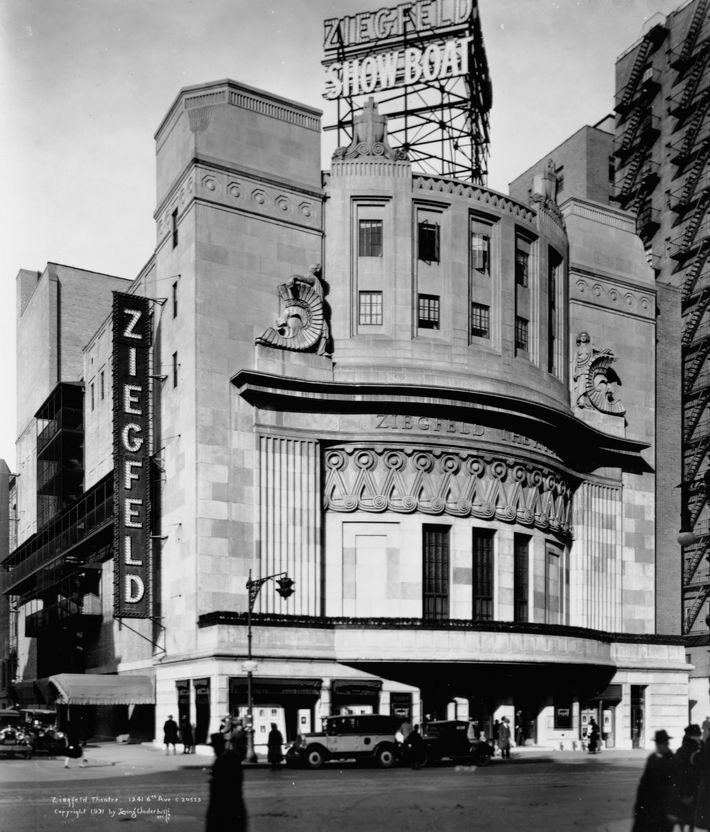 The Ziegfeld — the latter one, the one we will have for another few weeks — is also a victim of poor architectural fortune. Were it a grand old thing like the Belasco or the Morosco, it would surely have been landmarked by now. Unfortunately, it had the lousy luck to have been built in the age of the joyless concrete box, and it is, externally, about as graceful as your average Korvette's. On grounds of prettiness, rather than cultural utility, the present building is entirely expendable. More bad timing.
Of course, this is terrible news. We have all become accustomed to the dull thud of discovering that an institution we loved has lost its lease, which does not make the thud any less dull. New York, where the movies began and where aesthetes hang on for dear life despite the ridiculous rent, surely deserves to have one giant screen on which to unspool, say, a freshly restored print of Lawrence of Arabia. I suppose Radio City Music Hall, which itself survived a near-death experience in 1978, can be called upon for moments like that.
Often, when a building is about five decades old, it goes out of style and falls out of step with hard commercial realities, and it is written off as worthless. Consider the handful of prewar Broadway theaters that were torn down in the early 1980s and replaced with the Marriott Marquis hotel (arguably the least pleasant building in New York). It seemed logical and commercially necessary: Broadway as an institution was crumbling, half the stages were empty, there was no future. And then … something happened. Within just a few years, the Shuberts and their ilk began to figure out how the Broadway-show business might be made to work again. Today, the 40 remaining Broadway theaters are not nearly enough to meet the demand. Shows often can't transfer from downtown or London because there aren't any stages available. In short, we all allowed an unfettered real-estate market to destroy an irreplaceable resource, mostly out of shortsightedness. Something similar happened with a certain railway station of which you may have heard. You probably haven't gone to the Ziegfeld in a while, which is at the root of its problem. You also, probably, would prefer it to whatever will take its place.
The Ziegfeld is approaching 50, and definitely out of step. But it's not impossible to see something over the horizon: a future wherein a lot of people have six-foot movie screens in the living room, and buy their opening-night tickets not to the multiplex but via Netflix, and the whole crappy sticky-floored business has begun to shrink away. If such a thing ever does happen, we will want a premium theater for certain extra-special events that don't work at home: the impeccable Close Encounters of the Third Kind restoration, the Chaplin film with a live orchestra. By then, if recent history is any guide, the Ziegfeld Ballroom will have given way to a 60-story glass condo tower with a very expensive, slightly tacky spa. And we will have blown it. Again.