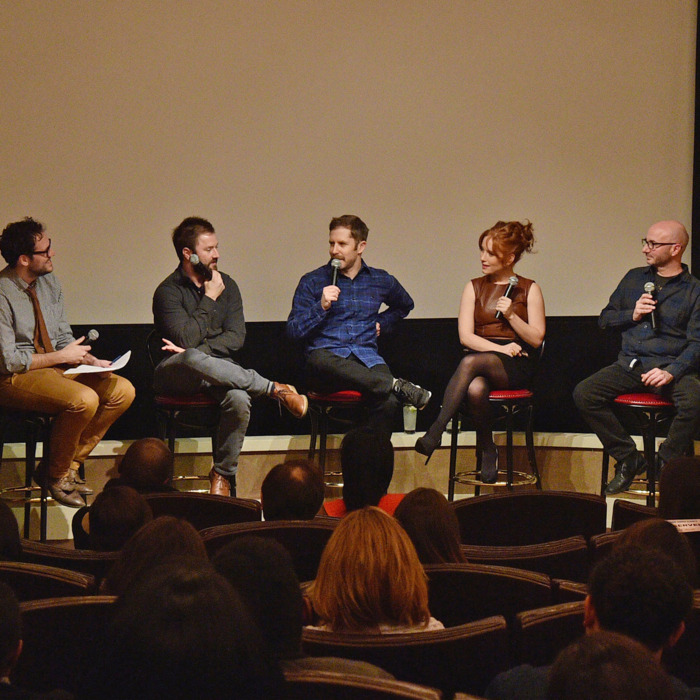 Vulture's Jesse Fox with The Grawlix members Adam Cayton-Holland and Andrew Orvedahl, plus Maria Thayer and Dean Lorey
Photo: Bryan Bedder/Getty Images
Many things have changed about the new TruTV scripted series Those Who Can't in the four years since it was created by the three-man comedy troupe the Grawlix as a pilot for Amazon, but none more than the show's female lead. Speaking last week with Vulture's Jesse David Fox at a screening of the show, which debuts on February 11 and follows the misadventures of a group of bumbling high-school teachers, the two attending Grawlix, Andrew Overdahl and Adam Cayton-Holland (Ben Roy was the absent troupe member), recalled how they approached their female character when making the Amazon pilot.
"We were like, it's a TV show, you have to have a love interest," admitted Cayton-Holland. "That's how it works, right?" That character became Abbey Logan, the high-school librarian. The group cast comedian Nikki Glaser in the role, but didn't give her much to do. "In the pilot, Abbey just sort of lived in the library and served only to flirt with Adam's character," explained Overdahl. "She was a terrible character." Amazon ordered six more episodes, but they never saw the light of a laptop screen.
That rejection had a silver lining in that it provided time for some critical retooling. "By the time we got around to making it again, we were like, no, we're not doing a Ross and Rachel thing here," Cayton-Holland continued. "We just want to have Abbey be one of the gang, to have all these people on equal footing." Added showrunner Dean Lorey, who was also on the screening panel, along with current Abbey Maria Thayer, "We were saying, what if she's just one of the guys? Like, what if we just make her purely funny?"
Well, TruTV ordered a second season ahead of the show's premiere, so evidently that's one answer to those what if's.