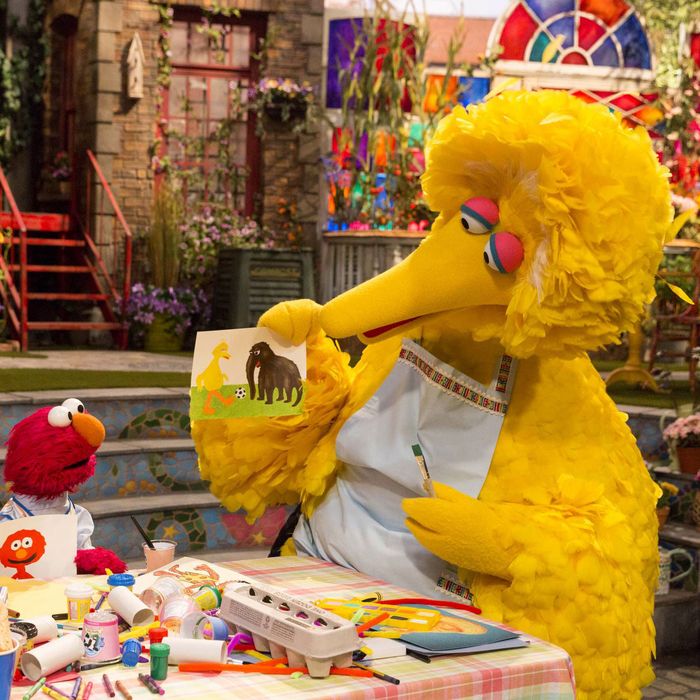 Everything's a-okay, mostly.
Photo: HBO
When Sonia Manzano retired from Sesame Street at the end of last season, she did a round of media appearances to help all of us bid bon voyage to Maria. I was listening to some NPR podcast or another (she appeared on a few) on the subway, and as she chatted about Sesame Street's legacy, the evolution of Maria and Luis's relationship, and her favorite characters and segments, I cried. My children won't know Maria from Sesame Street was one thought. But …I don't have children. I am aged and will someday be but a speck of dust swirling through our universe isn't a new crisis, nor does it usually reduce me to tears. Mostly, change is just hard — a concept the show itself tries to help kids with — and being forced to confront the fact that Sesame Street was different now, and had morphed without me even knowing, made my heart seize. It felt like the new owners of your childhood home cutting down the tree in "their" front yard.
Now entering its 46th season, Sesame Street has changed — as does any 46-year-old entity. This iteration will air new episodes first on HBO and then nine months later on PBS, which is both a huge affront and a nonissue. The show was originally designed to help educate and empower poor children in particular, and there are few things less synonymous with empowering underprivileged children than HBO. In the two new episodes made available to critics, the encroaching clutches of privatization is not what feels so different from the Sesame Street of yore. The biggest change is that the show is a half-hour, not an hour. Still, it's close to business as usual, or at least as usual as in the last several years: It's still incredibly Elmo-centric, to the chagrin of those who preferred the more Big Bird–focused early years, though our fuzzy red friend grates less than the lavender fairy Abby Cadabby, introduced in 2006, whose true purpose remains unclear. New to the cast is the young Nina, who on the first episode babysits Elmo and Abby during a sleepover. She coaxes them through their bedtime routines, but keeps criticizing Abby's for not being relaxing enough. Look, Nina, if Abby says she does this every night, it clearly works fine for her — let a fairy go to bed how she likes! Elmo and Abby share a commanding portion of the real estate these days, and old faves like Telly are nowhere to be found.
These seismic shifts really started in 2002, when the show changed gears a bit, first to appeal to younger audiences (in the 2–4 range, rather than 3–5), and also with the discovery that those younger kids could and liked to follow longer, more developed stories than previously thought. Continuing in that vein, gone are the more elaborate pop spoofs — "House of Bricks," for example — which were the signature of former head writer Joey Mazzarino. There are still familiar faces popping up, like Alan Cumming as "Mucko Polo" or Tracee Ellis Ross introducing words that start with the letter B. I figured after that B segment, we might see an old favorite "Letter B," or the "Let It Be" homage, but no such luck: Those veteran recurring segments are long gone. Once upon a time, for every new idea and hambone-y celebrity segment, there used to still be a chance of catching "Here, fishy fishy." Ten years ago, say, you might not have recognized Murray from your own childhood, but you could still see an updated version of the "10 Turtles" song in the same episode. The show stopped mining the archives years ago, and it's poorer for it.
The paring down started before the big HBO move, though. Sesame Street launched its half-hour episodes last year, airing them in the afternoons, with the hour-long episodes airing in the mornings. The abbreviated versions — with longer segments than O.G. Sesame, but fewer in any given episode — were a hit, and here we are. There's a new set, an updated theme song (as happened every few years, anyway), and a new closing number that emphasizes growing "smarter, stronger, kinder" every day. It is a ferocious earworm, I will warn you.
What has always separated Sesame Street from other children's programming is that its earworminess was intense, but not hellacious. Having "If Moon Was Cookie" stuck in your head doesn't make you question existence. One can certainly max out on the tune to "Elmo's Song," but if you hear enough of PBS's Caillou's blathering, you pray for the cleansing fire of the end-times. Current kids shows like Paw Patrol and Peppa Pig both approach a level of torture that, even during its Abby Cadabby-est moments, Sesame Street does not attain. That aspect of the show — maybe the most essential — is mercifully intact. Last season introduced a letter-of-the-day song, and the moment I heard it, it burrowed its way into my brain. I doubt it will ever truly, fully leave. As it's the letter of the daaa-aaaay soared through my mind for the 10,000th time, though, I realized I didn't want to shake it quite as badly as I thought. The little refrain felt safe and cheerful and reliable, feelings any of us need, but children especially. Sesame Street used to air 130 new episodes a year; now it's 35. It started on PBS; now it's an HBO show. The audience is younger, and might watch on their own screens, and maybe just one video at a time. But it's still Sesame Street.