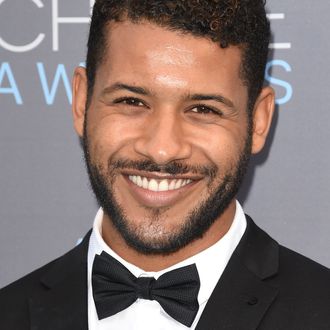 Jeffrey Bowyer-Chapman.
Photo: Jason Merritt/2016 Getty Images
Lifetime's scandalous scripted series UnREAL returns for its second season this summer with more drama, more bitchiness, and more … masculinity. The creators of the show, Marti Noxon and Sarah Gertrude Shapiro, decided to step it up a notch in the dating world and go where ABC's The Bachelor hasn't: black suitors. Vulture caught up with cast member Jeffrey Bowyer-Chapman at Sunday's Critics' Choice Awards to hear his thoughts on the move, which evidently has him and his co-workers enthused.
"There is no better time for it than right now," the actor, who plays Jay, said on the red carpet. "It's really interesting to do it on a show like UnREAL, where a room full of white female writers, for the most part, are touching on issues of race. I feel like it's going to reach a very broad audience and make people think about racial issues in America in ways they haven't."
Bowyer-Chapman also noted that one of the great things about being an actor is the ability to double as an activist. "To properly depict humankind we need to include all levels of diversity whether you are gay, straight, black or white, Asian, Indian, in a wheel chair, or crutches, or you know, seven feet tall or two feet tall," he explained. "If we are going to properly tell our story of what it is to be human in 2016, we need to start including everybody."
B.J. Britt landed the coveted role as the new leading man on Everlasting, the dating series within the series. His character Darius Hill, a Dallas Cowboy quarterback with swagger, will provide a new angle for UnREAL, which has already proven it's not afraid to tackle contemporary issues (often with a satirical approach). "I really commend the writers for making moves that maybe the real producers of other reality shows aren't making, and it gives us a real opportunity to comment on social issues, especially race, without commenting on that directly," Constance Zimmer, winner of this year's Critics' Choice Award for Best Supporting Actress in a Drama Series, said. "It will be interesting to see the stories that come out of it on the show. We are not in the writers' room right now. We have only heard bits and pieces, but it seems like they are really going to go for it and really make a stand, and I think that is really wonderful."
"Yeah, and you know, the second that it's not something that's an issue is when we won't have to talk about anymore," added Shiri Appleby, who also walked the red carpet with her fellow castmates and co-creator Marti Noxon.
With this next season of UnREAL keepin' it real, will The Bachelor finally follow suit? "I wouldn't be surprised actually," Noxon said. "I think that there is a way that this show is talking to the other show and they are reacting a little bit. So, wouldn't that be wonderful if that happened?"
Yes. Yes, it would.