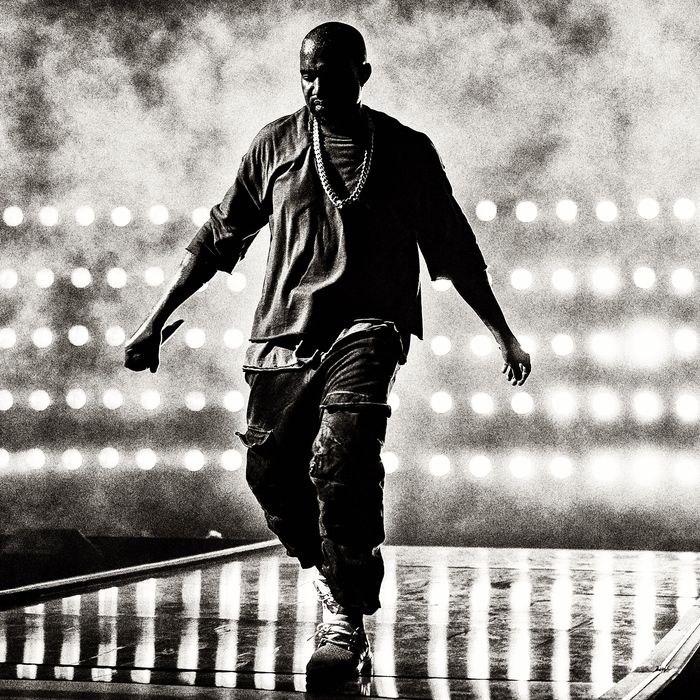 Photo-Illustration: Christopher Polk/Getty Images
Update: In accordance with Kanye's ever-changing mind, this post now refers to Swish as Waves.

In the lead-up to the February 11 release of Waves, the self-declared greatest album of all time, Kanye West has rebooted his G.O.O.D. Friday (or Monday, or whatever day he damn well pleases) song series. On January 1, after a hint from Kim K. on Twitter, "Facts" arrived, followed in subsequent weeks by two more tracks — "Real Friends," featuring Ty Dolla $ign, Boi-1da, Havoc, and Frank Dukes, and "No More Parties in L.A." featuring Kendrick Lamar and Madlib. Another song, featuring Chance the Rapper, is expected any minute now. In the meantime, yesterday's Waves track-list reveal leaves us with plenty to discuss. Naturally, Vulture editors Lauretta Charlton, Kevin Lincoln, Ira Madison III, and Dee Lockett thought it was time to argue over what to expect as Yeezy Season barrels forward.

Lauretta Charlton: I'm pumped about this rollout, but I wish it didn't begin with "Facts" because, let's be honest, that song is garbage. I appreciate the "Jumpman" nods ("Couches, couches, couches, which one should I pick?!" is a hilarious stand-in for Future's Japanese restaurant of choice), Ye showing love to Young Lord Metro Boomin, and the excellent Father's Children sample (a not-so-subtle jab directed at Numero Group), but my overall reaction was, dude's heart is just not in it. So I'm glad it was just him dicking around in the studio, and that the song didn't make the future "best album of all time."
Ira Madison III: "Facts" is trash (not sorry), and since it won't be on Waves, I'm actually looking forward to this new era of Kanye. I've loved every Kanye era equally; I'm not one of those Yeezus detractors. I think he gets better with each album. He's revisiting his roots, seemingly, but I don't think it'll be as simple as that. If Waves is a response to Late Registration — as "Real Friends" and "No More Parties in L.A." seem to be — I don't think the album will be a retread. I think it's a natural sequel, a reflection on what his life is now. Maybe this is how he's figuring it all out. One thing I like about recent-era Jay Z is the fact that he references his come-up, talks about it frequently. Ye seems to operate under the idea that nothing's changed, that he's still in the same struggle. But dude was rapping about how working shifts at the Gap is slave labor. Now he's talking about his assistant crashing his new car. We ain't in Kansas.
That said, Ye talking about family now is very different from how he used to talk about family. It used to be about his mom, his squad. Now, on "Real Friends," he talks about never seeing any of his old friends. On "No More Parties in L.A.," he thanks E! for paying the whole family; the disconnect of hearing Ye rap about holding it down for the family when that family is the ultrawealthy Kardashian empire is weird as hell. And shouting out E! for keeping the family paid? It's like Ye is still rapping about the same topics, but there's some weird alternate universe where he doesn't acknowledge the new universe he lives in.
Kevin Lincoln: So: I like "Facts." Use this to file me harmlessly away as a Kanye apologist, or consider it like I do: that Kanye should be allowed the creative leeway other artists are, to mess around and put out trifles just because he feels like it. Of course, he never will be, and that's partly by design; when you occupy, and make no qualms about trying to occupy, the position of Our Culture's Greatest Musical Artist, every song you drop will be treated like an event, with the scrutiny and criticism events provoke. That's okay. But to me, "Facts" was Kanye goofing, trying something different — it's a sneaker diss track based on a song that features Future saying "Nobu" six times in a row — and that's cool by me.
In 2016, on Waves and through the rest of G.O.O.D. Fridays version 2.0, I want to see Kanye flex. With "Real Friends" and "No More Parties in L.A.," he's already reaffirmed, at least for me, that he's a songwriter and producing mind of unparalleled ingenuity and power. I'm not worried about what he can do. I'm interested in what he chooses to do. That's always been the hook with Ye, after all. He sings brokenhearted love songs in hysterical Auto-Tune. He creates a rap opera so ambitious, it seems to feature the whole Hot 100. He turns industrial noise into a dance soundtrack for the Decline and Fall of the American Empire. Based on what we've seen of Waves, the new vision might be something like Bright Lights, Big City for the TMZ Era.
Dee Lockett: Another Kanye apologist at your service! Look, I think we can all acknowledge that "Facts" was a clear-cut Future/Drake parody, albeit a poorly executed one. Much as Kanye may credit Drake as personal motivation — as he did pre–Watch the Throne and has pre-Waves — he's not above clowning him when it's deserved. And let's keep it 100: With Drake, it's almost always deserved. If we're supposed to think of #EveryFriday as a G.O.O.D. Fridays reboot (remember, King Push told us it won't happen until everyone is "super, super focused"), then keep in mind that not every single from the original series was good enough to be a My Beautiful Dark Twisted Fantasy leftover either. "Don't Stop!" was, to me, a letdown of a Ye, Pharrell, and Lupe (a.k.a. Child Rebel Soldier) collab, and while that Justin Bieber "Runaway Love" remix is still the jam (Raekwon, y'all), it felt like a throwaway.
As we look at the rollout for Waves — and Kanye's mastered the art of the album rollout — I've been curious what would and wouldn't make the cut. "Monster," "Devil in a New Dress," and "So Appalled" each turned out to be strong, early indications of what Kanye was cooking for MBDTF; hardly anything about Cruel Summer or WTT could've predicted Yeezus. "All Day" still sounds stuck in the latter era, and now we know it won't be on the album. Neither will "Only One," "Facts" (yay!), or "FourFiveSeconds" (originally billed as both a Kanye and Rih song). The good news: We're finally getting official full-length versions of "Wolves" and "Fade" to go along with "Real Friends" and "No More Parties in L.A." Based off those four songs, I'd say the Yeezy SZN we're approaching looks part 808s & Heartbreak, part Late Registration, and part never-before-heard from Ye.
LC: It's an interesting idea — what Kanye chooses to do versus what we know he can do. Kanye seems more confident than ever that he can do absolutely anything he wants, including but not limited to palling around with Elon Musk talking about "the futch," becoming "the Steve Jobs of the Gap," and taking a seat in the White House by 2020. That said, I do fear a retread on Waves. Unlike "Facts," I love both "Real Friends" and "No More Parties," but both seem a little too safe, especially after Yeezus. Also, I'm sad that we have apparently heard the last of his collabs with Paul McCartney. There was a rumor that "Piss on Your Grave," the Hendrix-esque track off Travis Scott's Rodeo, was originally a West-McCartney collab intended for Waves. I wouldn't mind more of that direction from Kanye in 2016: acid-laced, psychedelic, dark, distorted. I was pulling for "All Day" to make the album because it sorta fits into that vibe. 
IM: I think it's actually kinda hard for Kanye not to be innovative or relevant, to be honest. Kanye manages to be relevant even when he's not demanding we pay attention to him. I'm always thinking about Kanye: the man, the music, trying to understand him. Even if the album isn't weird in that readily apparent sense, he's always made dark, thoughtful records (his most hopeful was probably Graduation, but that also has "Flashing Lights," one of his best and most jaded songs). I'm concerned about Kanye as a celebrity, but I've never questioned that the music we get won't be effing dope.
KL: I agree with Ira here in a major way, which is that, whatever it is — his genetics, his psychological makeup, the way he was raised — the dude can't help but blaze trails. I definitely understand hearing "Real Friends" and "No More Parties" and feeling, after the hydrogen bomb of Yeezus, that Kanye was backtracking, returning to his roots, indulging in nostalgia — doing something he'd done before, God forbid. But to me, both songs still feel essentially and integrally weird, whether it's the lane-switching flow of "Real Friends," the about-to-blow Madlib beat on "No More Parties," or Kanye's own demeanor on both: regal and petty and prime time on E!, a true American monarch. Like Lauretta, I do want to see Kanye invent a new sound, a new headspace; there aren't many rappers, or artists in general, who seem to always be knocking down walls. But at the very least, both recent tracks provide a strong base for Kanye to build on, an aesthetic and thematic core, and from what I've heard of "Fade" and "Wolves," they seem a little airier, more experimental. Regardless, I feel confident in saying that the six remaining tracks — and the official studio versions of "Fade" and "Wolves" — will surprise us in some major way. If there's one thing Ye isn't interested in, it's being predictable, and it may be that alone — that fear — pushing him to a new place.
DL: Kanye's unflinching ability to pop a wheelie on the Zeitgeist proves to me that he could retread and you'd hardly recognize it. It's possible for him to take from the past and launch those elements so far into the future, it'd be until 3016 before other artists even begin to understand how to imitate it. Only now are artists even starting to scratch the surface on 808s, let alone Yeezus. After listening to his and Miley's "Black Skinhead" remix — which leaked online and was either made three years ago, three hours ago, or both — I'm not so sure I mind him reinventing his own wheel. Of course Kanye should be thinking forward, but that comes second-nature to him, as Ira notes. Another colleague recently pointed out to me that soulful Kanye is my favorite Kanye — I could listen to "Everything I Am" on loop, and I think "All Falls Down" is his best work. Like Ira, I want to see Kanye engage with his celebrity more intimately. It moved me to tears to hear two of the most famous black men on the planet, Kanye and Jay Z, access their paternal instincts and rap about their unborn sons on "New Day" (that was Ye's original "Only One," in my opinion). I connect with "Real Friends" because Kanye is the realest when he's rapping about family. It took time for Kanye to be comfortable putting those thoughts on wax (not even "Family Business" was about his own), and it's still rare. I watch KUWTK; I see the divide between his blood and his in-laws. And even though it's the most exaggerated version of family politics TV has ever seen, that doesn't make it any less real. In 2016, I want to learn more about how it feels to be Kanye: husband, father, workaholic.
LC: On the flip side, though, I do think Waves has the potential to end up being weak based on the fact that Kanye seems less interested in his music than fashion and celebrity these days. I hope that's not the case, but I wouldn't put it past him. He's unpredictable, which also means he could drop something substandard for his catalogue.
IM: I trust Yeezy. Well, to an extent. Sometimes he's wack as fuck when it comes to misogyny, for example, but Yeezus had some of the best music we've ever heard from him, and he was deep in the Kardashian Brigadoon by then, so I don't think he's gonna fall off. Kevin's right in that his new stuff is a bit of a throwback, but it still has some weird stuff going on that shows me he's going somewhere new. Starting with the song titles alone. "Nina Chops"? Did he just misspell ninja? There's also the half-joke, half-fear that the contoured ectoplasm known as Kylie Jenner left on Kanye's track-list announcement ("Kylie Was Here") could be a bonus track. I doubt it, obviously, but the extent to which I trust Yeezy stops when he's letting that Instagram model attempt to steal focus from what should be his big moment.
KL: I think what all of this comes down to, for me, is just how singular Kanye is. Like, I love Drake, and I love Future, and I love Kendrick, and so on and so forth. But no rap album since My Beautiful Dark Twisted Fantasy has pulverized me like Yeezus did. He's a force of nature, an ecosystem of his own. After Lil Wayne raised the specter of Rapper As Perpetual-Motion Machine, and in contrast to the maniac production of Future and the omnipresence of Drake, Kanye's deliberate pace is a different way to be. In a strange way, my expectations are celestial, but still within reason: I just want him to keep plying his peculiar worldview and (so far) unimpeachable taste. Of course, this all changes as soon as he makes a lame album, but one thing I keep coming back to is: The person who would be angriest about a lame Kanye album is Kanye himself.
DL: Guys, if Kanye makes a bad album, shoot me in the face. I know it's possible, but I refuse to live in a world where Kanye drops a brick, as Pitchfork's Jayson Greene swears is inevitable. I'm already struggling with the one blemish on Britney's catalogue (you know the one); don't make me do the same with Kanye. I think Ye is creatively incapable of making a bad album, and that's not just the Kanye apologist in me talking. Bad songs? Duh, he's not actually a god. An entire bad album, though? I just don't see it in his cards. Unlike his previous albums, I think Kanye approached Waves with a blank slate. He said in his last interview of 2015 that he presently has nothing left to prove to anyone, which was never the case with the rest of his oeuvre. What kind of music does Kanye make when he's creating without strict purpose? The most freewheeling songs of his life, I imagine. Or maybe, just maybe, the most lackluster. Either way, all I know is there's no album I'll care more about this year than Waves.