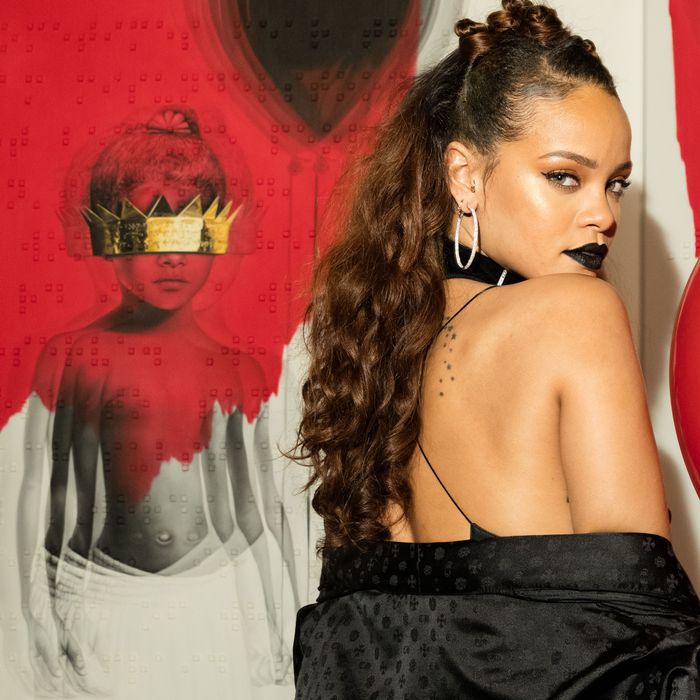 Work, work, work.
Photo: Christopher Polk/Getty Images
Let the red balloons fly: Rihanna's Anti has arrived. Released as a free download Wednesday night, after a hiccup from Tidal earlier in the day and numerous delays, Rihanna's first album in four years finally exists. Now that it does, what do we make of it? Between her dance-hall chune with Drake, a Tame Impala cover (!), and countless odes to the blaze, Rihanna has, as usual, given us tons to talk about. Vulture editors Dee Lockett, Jillian Mapes, Ira Madison III, and Lauretta Charlton spent the night in RiRi land and have returned with some first impressions on the whole shebang. (Look for a review from our music critic, Lindsay Zoladz, in the coming days as well.)
Could Tidal have botched this release any worse? Or might the leak and free download have been the plan all along?
Dee Lockett: I have a hard time accepting that Tidal dropped the ball this hard on its first marquee release, but so many signs are pointing to just that. Some poor intern (or maybe even Rih herself) supposedly uploaded the album by mistake on Wednesday afternoon and took it down within seconds; a couple of hours later, the whole thing leaked online to no one's surprise. The plan, according to Forbes at least, was for Tidal to drop the album at midnight with a subscriber-only stream and a limited-release free download for everyone. That's obviously not what happened. Just before 10 p.m., Rihanna unlocked her eighth room (part of that silly Samsung scheme), the whole album went live on Tidal, and then she tweeted out free download codes (which are still live, by the way). If we're to believe Tidal actually flubbed Anti's release and perceive this as a bad thing, how does the service recover? Tidal's been an easy target for mockery from the jump, but this kind of screwup could burn bridges, with both artists and members who paid for exclusivity they certainly didn't get. Don't be surprised if Kanye's Waves drops first on kanyewest.com, lest Tidal leak that, too, intentionally or not.
Ira Madison III: Was this all a marketing ploy? Part of me wants to believe that, but the other part of me knows that — from all of the single releases that went nowhere to all these damn rooms you had to unlock on something called ANTIdiaRy.com — it was belabored. Like, just relinquish the vocals, and let us get on with our lives. Tidal has always seemed confusing to me, too, and has yet to become a real thing.
Lauretta Charlton: I don't know anyone who has managed to make it through all eight rooms, but I'm assuming some die-hard Navy members have and they found the promised free download code for the album. Things could have been much worse if this ridiculous marketing stunt ended up being an endless labyrinth of rooms to unlock that led absolutely nowhere.

What happened to all the singles? Is it better without them, or lacking?
DL: I loved "Bitch Better Have My Money" and enjoyed "American Oxygen," but neither makes much sense on this album. "FourFiveSeconds," with its raspy vocal accents and folk roots, absolutely would've — but then, that song's over a year old. Musically, Rihanna's never dwelled on the past, and I'm happy she took the risk of starting fresh. (She could've easily just thrown those three songs on the deluxe edition, but she didn't.) Then again, maybe it wasn't so much a risk as it was smart business. None of those songs performed especially well, and they divided critics. "Work," though, now that just feels like a hit, not in the least because it features Drake (with whom she's reached No. 1 before). That's the clear play for radio, and I think "Kiss It Better" will be too based off early reaction from the Navy. But I love that the majority of the singles gave practically nothing away about what the rest of the album sounds like.
IM: "American Oxygen" worked best as an Instagram caption. I have literally only liked "Bitch Better Have My Money," which was a jam, but you're right, it doesn't fit on this album. I actually love "Work" as a single. It's a dance-hall jam, it's got my boo Aubrey on it — what's not to love? Sure, she's giving you a bit of Lady Saw and Elephant Man on it, more than she ever has, but that's par for the course with this genre. I think "Kiss It Better" could definitely kill on the radio, but also "Consideration" is a murderer. SZA puts in that work.
LC: I thought "American Oxygen" was moving and timely in the moment, but there's just no rhyme or reason behind how to release an album right now. The traditional rollout (single, build radio momentum, drop video, release another single, repeat until album release date) just isn't proven to work, even for superstars. I don't think the three singles released prior to the Anti leak last night were terrible; I think Rih's team realized the public's opinion of those songs had already calcified and they weren't that good, so they left them off. That was a smart decision.  
Jillian Mapes: "BBHMM" and "FourFiveSeconds" were such definitive moments of 2015, I get why they're not here — they're their own thing. And "American Oxygen" straight-up sucked, sooooo.

Are you feeling the chilled-out stoner vibe, or do you miss the bangers?
IM: At first, I'll admit I was on team For Those Who Have Considered Hating Anti When Her Bangers Were Enuff. I wanted a "Please Don't Stop the Music," an "S&M," something to really shut the club all the way down. But then I got high and bought some street tacos and chilled out to the album as it was meant to be listened to (sans million-dollar gold headphones), and it kind of just … washed over me? The vibe is just so relaxed and self-assured, and if you're not expecting songs to dance to when you're on club substances at 4 a.m. in West Hollywood, then you can really just appreciate the direction Rihanna is taking herself in. This is her 808s & Heartbreaks, her 4. It's not what we expected at all, but I think it's necessary for Rihanna to continue to stay relevant and necessary.
LC: I want to listen to this album and imagine smoking multiple joints with Rih and Melissa Forde while chilling on a beach in Hole Town. Thanks.
DL: I'm with Lauretta. If Rih has gone full Wiz Khalifa, I'm here for it. The thing about Rihanna is even her sappiest, chilled-out stoner tracks are bangers. "Kiss It Better" might be a Miguel-esque rock ballad, but it bangs. And, of course, there's a woozy DJ Mustard production ("Needed Me") for the club's sake, which sounds as savage as Rihanna claims to be. "Work," for sure, is the obvious banger here, but even that's understated. There's no "We Found Love" or any bombastic EDM drops on this one, and I'm not mad about it.
JM: Rihanna's best work up until this point has almost exclusively been bangers, and the No. 1s roll deep. We know she can do that, so generally I'm in favor of the new direction, though parts of Anti work better than others for me ("Woo," for one, is a meandering throwaway that caters to her hip-hop base). Besides, a number of Anti's best songs — "Work," "Consideration," "Desperado" — are defined by the kind of increasingly pointed "only Rihanna should sing this" attitude that can make a Rih banger really pop off in recent years. She's certainly not the first pop star to go all "Radio say 'speed it up,' I just go slower," and she does it with purpose. Anti is a late-night album that's looking for something; sometimes it's a baseball-bat blunt, sometimes it's sexual conquest, but mostly it's Rihanna herself. She's looking inward, which is real hard to do with any amount of emotional depth on a banger, y'know?
Is this the best Rihanna's voice has ever sounded? "Love on the Brain" and "Higher" are really something.
IM: When I said Rihanna needs to relinquish the vocals, she really did relinquish some vocals. She sounds amazing on this album. She's not only become an artist, but she's gotten her voice to the point where she can back it up. It was kind of pointless to see Rihanna in concert before; I saw the Glow in the Dark Tour, and she was fine, but I was there for Kanye and N.E.R.D. When I saw her again, she was grinding on a pink military tank, and it was all very desperate and like a post-breakdown, pre-Vegas Britney concert. (Not good.) But here she is serving vocals and notes that were previously foreign to Miss Fenty. She started giving us glimpses of this with her live performances, and now here's the final result. I'm living for it.
JM: This is absolutely the best Rihanna's voice has ever sounded. "Higher" is a feat for her, her little vocal run on "Needed Me" is lovely, I like what she does on her Tame Impala cover, and I dig her down-low tenderness on "James Joint." That said, I think SZA edges her out a little vocally on "Consideration." That's a bold move, getting SZA on there so prominently.

It took a village to build this album, as the credits show. Any standouts?
DL: Exciting as I think it is to see songwriting and production creds on there from the Weeknd ("Woo") and No. I.D. ("Higher"), naturally, all I can pay attention to is who's missing. Kanye announced at the Grammys nearly a year ago that he was executive-producing the album, but lo and behold, he's nowhere to be found on this album. Not a single cred or hint of his associates (unless we're still calling Travis Scott that). And no Young Thug, whom Kanye blabbed to the radio would be on there. Conspiracy theorists will try to convince you that Ye flexed his Twitter fingers to drag Wiz Khalifa and Amber Rose yesterday all to divert attention away from Rihanna's release, which, depending on how long he remained involved, he may have known was planned to drop last night. I … sort of buy it? Kanye and Rihanna have never had beef before, but if they've had some career-shifting falling out (rumor has it she cut him from the album), and Kanye was gone off the Henny just enough, sabotage isn't that far-fetched. Not that it had any chance of working.
JM: Getting back to the matter at hand: I think it's actually pretty smart for Rihanna to not have a big-name executive producer on this thing (at least according to the credits). Perhaps more than any of her pop peers, short of Katy Perry, Rih has been pegged as a singles-only artist. That's a game where people are just falling over themselves to give credit to so-called genius producers songwriters — who, yes, are typically men. Rihanna worked with an absurd amount of people on this album, some of them well-known studio figures — Timbaland, DJ Mustard, No I.D., the list goes on but is devoid of the usual pop names she's worked with before (Dr. Luke, Max Martin ) — but none come anywhere near stealing her shine, which is exactly the way it should be on an album that shows Rihanna's interest in the album (as an artistic format) itself. All that said, shout-out to Kuk Harrell, who worked on production for nine of these songs; I also liked Boi-1da's production on "Work."

What are some of the album's best songs, moments, lines, etc.?
DL: That Tame Impala cover, are you kidding me? What I love about Rih is when she goes indie or left of center, she does it shamelessly. We're talking about a woman who has sampled the xx's "Intro" and Avril Lavigne's "I'm With You" — she's not about subtlety. She even sampled Florence and the Machine's "Only If for a Night" on an Anti bonus track, and there's a very obvious melodic reference to Dido's "Thank You" (a.k.a the semi-sample in Eminem's "Stan") on "Never Ending." My God, Rihanna once spun Michael Jackson and "Tainted Love" for hits; she doesn't play. I love that of all the Tame Impala songs, she covered "New Person, Same Old Mistakes," the closer on last year's Currents, one of the most acclaimed white-boy rock albums of 2015. What's more? She nails it. It's so predictably straightforward, right down to the breakdown in the middle, that you'd think it'd be boring. But because Rih's voice is so bewitching and you rarely hear her in this element, you wind up completely under her spell. Other contenders for best moment: Rih's casual dirty-talk on "Yeah, I Said It" — "I want you to homicide it." This filthy ether on "Needed Me": "Baby, don't get it twisted / You was just another nigga on the hit list / Tryna fix your inner issues with a bad bitch / Didn't they tell you that I was a savage?" And Rih and SZA's Fugees flow on "Consideration," because Fu-Gee-La for life.

JM: You kinda covered it, Dee, but I'll add: The lyrics of "Needed Me" are endlessly quotable for those of us who, uh, definitely have our demons and use pop music as a power source for personal inspiration. Also, "Man, fuck your pride" on "Kiss It Better" — which is like if Beyoncé and Miguel had worked on a song for 4 together. What a phenomenal power ballad; it sounds simultaneously timeless and like the last five years of R&B-pop."Desperado" is a song that I foresee having on repeat a lot, too.

LC: Snap judgement: "Consideration" is my standout. It reminds me of a Portishead song, and SZA and Rih sound beautiful together.
Where does Anti stand among the rest of Rihanna's oeuvre?
DL: No two Rihanna albums sound alike, and I don't think you can make a similar argument for any other pop star of her generation. I never know what I'll get from a Rihanna album: She constantly surprises me with her creative choices, even if all they are is selecting which songs make the final cut. After "Diamonds," did you think Rih would pass on multiple Sia submissions — songs that Sia thought were good enough to make her own solo album? Your fave would never. The slight against most female pop stars not named Adele is that they can't sing; no one hears it more than Rihanna. She showed us with "Stay" that vocals are an area for improvement that she's willing to sacrifice the time to exercise. But even I couldn't have predicted the limits to which she'd stretch that muscle on this album. I knew she'd striven for a modern take on a classic rhythm-and-blues album (for once, justifying her place in the R&B category award shows always toss her in), but I never imagined she'd pull it off just as well as Anderson .Paak did this year, too. This, in my opinion, is her most cohesive album yet. As I've seen some say, it also feels like a capital-A album from her, not what we're used to. But maybe we've all been underestimating Rihanna. That ends here, with Anti.
IM: Rated R is Rihanna's best album, hands down. It has pop hits like "Rude Boy" and "Hard," but it's also a dark, metallic-sounding departure for Rihanna's sound. Even her subsequent albums didn't continue in the Rated R direction, instead reverting back to form with even more of a pop sheen. Anti feels like an extension of Rated R, in that it's bold experimentation and different from everything else she's put out. It's a bit too soon to say, but the album feels like something that will stick with me, and ultimately one of the strongest exhibits of Rihanna at her best.